Despite visual impairment, Venkatesh Naik has been helping people in ways more than one during the pandemic
May 18, 2021, 6:27 p.m.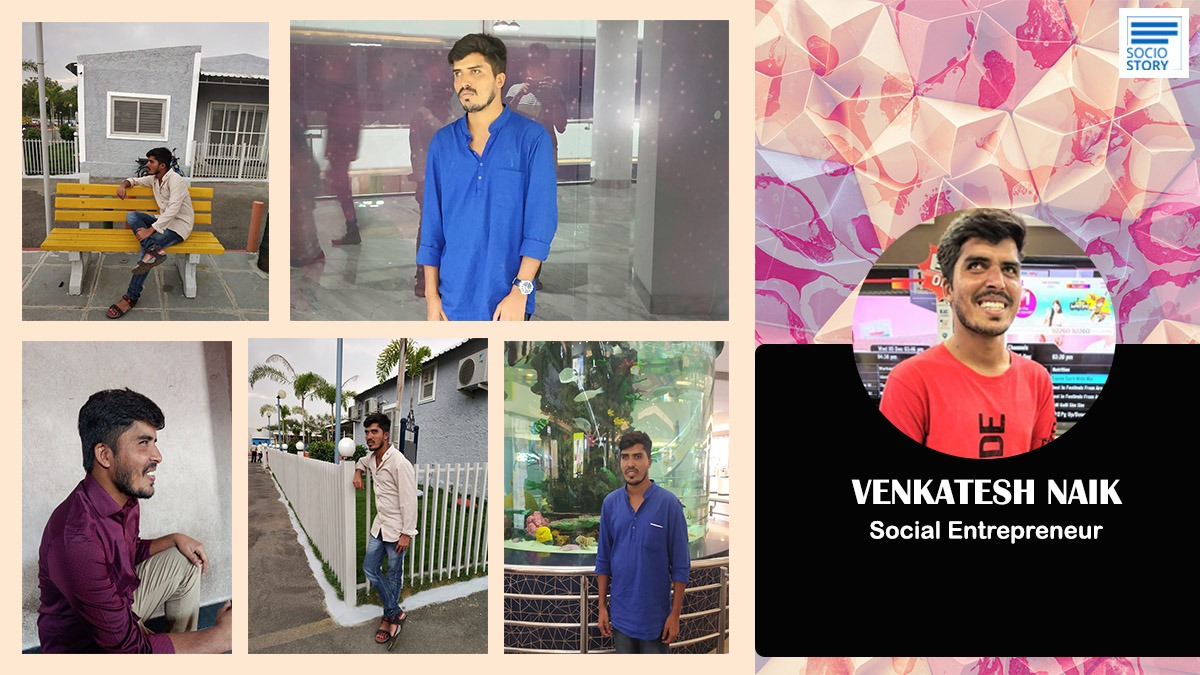 By:Reshma Jain
It is said that 'Kindness' is a language which the blind can see and the deaf can hear. Indeed, the saying holds true and to prove it, we bring to you the story of 24-year-old Venkatesh Naik, a visually impaired person from Telangana. To put in a few words, Naik is a strong-willed young man who believes that disability cannot deter one's will to contribute to the society or to extend help to the needy.
Naik was born with visual impairment but was not completely blind. Until his eighth grade, although with a decreased vision, Naik managed to read and write and perform other activities as well. However, due to Retinitis Pigmentosa (RP), Naik lost his vision completely and his condition worsened over time. Life had become quite challenging after Naik turned completely blind.
After Naik lost his vision, schools did not give him admission. Hence, he took a gap for a year and tried to explore other options and opportunities. Later, he joined a school with special needs in Hyderabad and pursued his higher education. While pursuing his B Com, Naik started to volunteer in organizations working in various fields like education, health care, animal protection, etc. However, Naik realized that people started to avoid him because of his disability. This ignited a spark in him to take up initiatives individually and work for the welfare of the people.
Naik co-founded an organization called 'Diksoochi for Persons with Disability (DPWD)' - an online resource centre for the disabled. It also empowers people with disabilities and makes them self-reliant through its skill development and training programmes.
Apart from DPWD, Naik has been encouraging people to donate blood/plasma. After a personal experience (in grade 12) when he learnt about the difficulties in finding donors, Naik started to bridge the gap between the donors and the patients by facilitating the entire process. During Covid while patients struggled to get plasma, Naik started a drive for plasma donation. "This initiative was started to create awareness among people who recovered from Covid to donate their plasma to save other patients suffering with Covid. People who have recovered from Covid, hospitals and COVID care centres can fill the form created by us to help distressed patients," shared Naik, a social entrepreneur adding that a lot of benefitted from the initiative during the pandemic.
DPWD is also coming up with a short-term training for the visually impaired teachers to provide online resources to become a successful teacher- an exciting curriculum designed for the visually impaired teachers in Telugu to gather accessible resources from different sources to become a successful teacher regardless of impairment. "There are number of visually impaired teachers working in schools, colleges, universities and business schools, teaching different subjects to the non-disabled students along with differently-abled students by adopting best global teaching practices with the help of technology," said Naik by further adding that now there is a need for better technical development, hence DPWD has taken this initiative to train these practices to the visually impaired teachers in Telugu.
Naik while sharing his other experiences said that there are many hurdles in everyday life which people like him need to overcome. However, Naik believes when the situation is not in our control, look for what best you can do with whatever you have. "It's ok if I have lost my vision, but I still can help people. During Covid, people from rural areas were finding it very difficult to access medical facilities/Covid centres and other requirements like food and water. I managed to arrange food and shelter for them and also connected them to the local doctors whom I knew personally," shared a confident Naik who loves being independent.
"How you are born and where you are born is not in your control but how you want to live and where you want to stand is in your hand. So, act accordingly to stand at a place which you wish to," concluded Naik who is brilliant in web development and other areas of information technology.
Important : If you are making an impact in the world, Please send us your story at : manoj@sociostory.in and we will try to cover you.