Diana awardee Shrey Saxena has been making strides to bring an impact
Aug. 2, 2022, 1:36 p.m.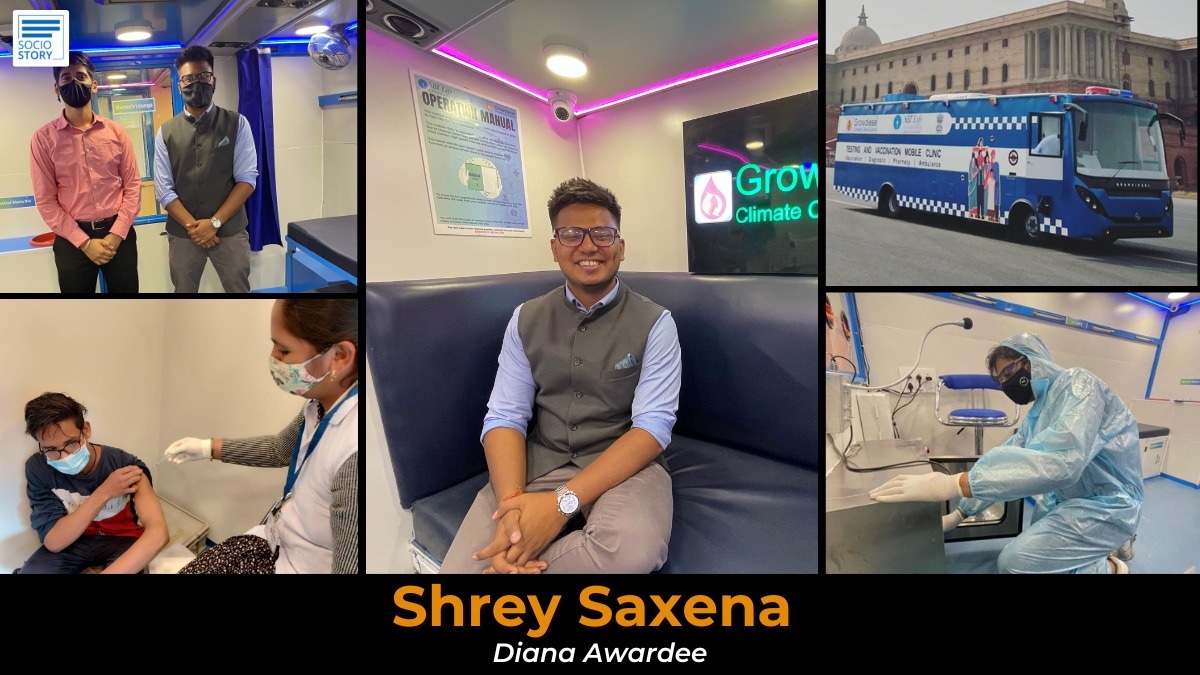 By: Reshma Jain
In April 2020, the world came to a standstill due to Covid-19 pandemic, and the whole world saw a fall in the healthcare systems. India saw a dramatic collapse in the healthcare infrastructure, people at the bottom of the pyramid were the recipients of this catastrophe at that point.
The Delhi government was looking for a solution through which they could increase the Covid testing services and at the same time they could keep all their frontline medical workers extremely safe. That was when young entrepreneur Shrey Saxena pondered on the possible solutions as he was already working with the government and knew that they were looking for a solution through which they could increase the Covid testing services.
While contemplating on his thoughts, it occurred to Saxena that instead of people going to the testing centres, what if the testing centres come to them? That's when the idea of Covid testing mobile clinics was born. He then discussed this idea with the Delhi government and his idea was appreciated. However, he was informed that there was not adequate funds to execute this project.
However, a determined Saxena wanted to execute this project and he explored the best available possibilities. He took the help of the Delhi government and they helped him in getting a second-hand bus from the Central Reserve Police Force. Saxena then reached out to his network and started to raise funds because he had to convert an old bus into a full-fledged mobile clinic. It is said, 'where there is a will, there is a way,' and Saxena was successful in executing his project and adding feathers to his cap, he is a recipient of the Diana award by the British Royal family for his innovative social projects.
Let's look at the 'HOW' element of the story.
An engineer by qualification, Saxena got in touch with a few of the pharma biotech lab experts who could provide a safe and sterile environment inside the bus for the frontline medical workers. In less than 10 days, Saxena could raise funds, mobilize a community for performing the tasks and executed the project on the ground.
Through this initiative of Covid testing mobile clinics, they were able to serve more than 1,000 people every single day and after the success of this initiative, it was followed by the phase of vaccination. The team started to get a lot of requests to make Covid vaccination mobile clinics. This time, after the success of their first initiative, Saxena was very confident and he was able to raise more than Rs. 1.5 crore. He finally made a Covid testing and vaccination mobile clinic powered by artificial intelligence.
From April 2020 to the present month, five mobile clinics are on-road and they have been able to serve more than 2 lakh people.
The 'WHO' element of the story
At Growdiesel, they convert organic waste into compressed Biogas, plastic waste into green diesel and any kind of organic oil into biodiesel. The mobile clinics were blended with B100 biodiesel. In Delhi, the initiative was flagged off by Mr. Vijay Dev, IAS, Chief Secretary. In Haryana, the project was flagged off by Manohar Lal Khattar, Chief Minister of Haryana.
"The biggest challenge was to arrange resources during the time of lockdown. Shops were closed, shortage of labour was there and most importantly the government wasn't giving any funds for the project. We raised funds through donations and prestigious CSR partners. The administration helped us in mobilising resources, permissions to procure material and labour," shared Shrey, a second-generation social entrepreneur at Growdiesel.
The 'WHEN' element of the story
Saxena's first stint with social entrepreneurship was at the age of 14 in the computer lab of Cambridge School. His venture generated an additional 6 figure revenue for the school every year since 2013. He is an internationally recognised public speaker and has worked with various organisations in the past since the age of 18. Saxena is also a TEDx and Joshtalk speaker and has taken multiple sessions on social entrepreneurship and communication at various organisations such as HCL, Adobe, Monotype, IIT Delhi, IIT Bombay, IIM-Calcutta, IIM-Shillong, Sonalika tractors, Amity University etc. He has served as an area director for non-profit District 41, Toastmasters International which caters to North India, East India, North-East India, Nepal, Bhutan and Bangladesh and has mentored over 50 individuals personally.
He also shaped a social initiative by HERO cycles in which volunteers from 15+ countries participated in order to educate 2000+ children on cleanliness in the villages of Himachal Pradesh. He has always believed in innovations that can change the lives of people. At Growdiesel, he feels blessed to fight climate change through actions by converting waste into biofuels.
"I am truly humbled to receive The Diana Award by the British Royal Family for my innovative social project 'Covid Vaccination and Testing Mobile Clinic that runs on biofuels'. I am quite grateful to receive this award along with special appreciation letters from Duke of Sussex Prince Harry and Duke of Cambridge Prince William," concluded the young entrepreneur.