Disturbed by the plight of people with disabilities, Kapil Aggarwal decided to empower them
Jan. 14, 2021, 7:34 p.m.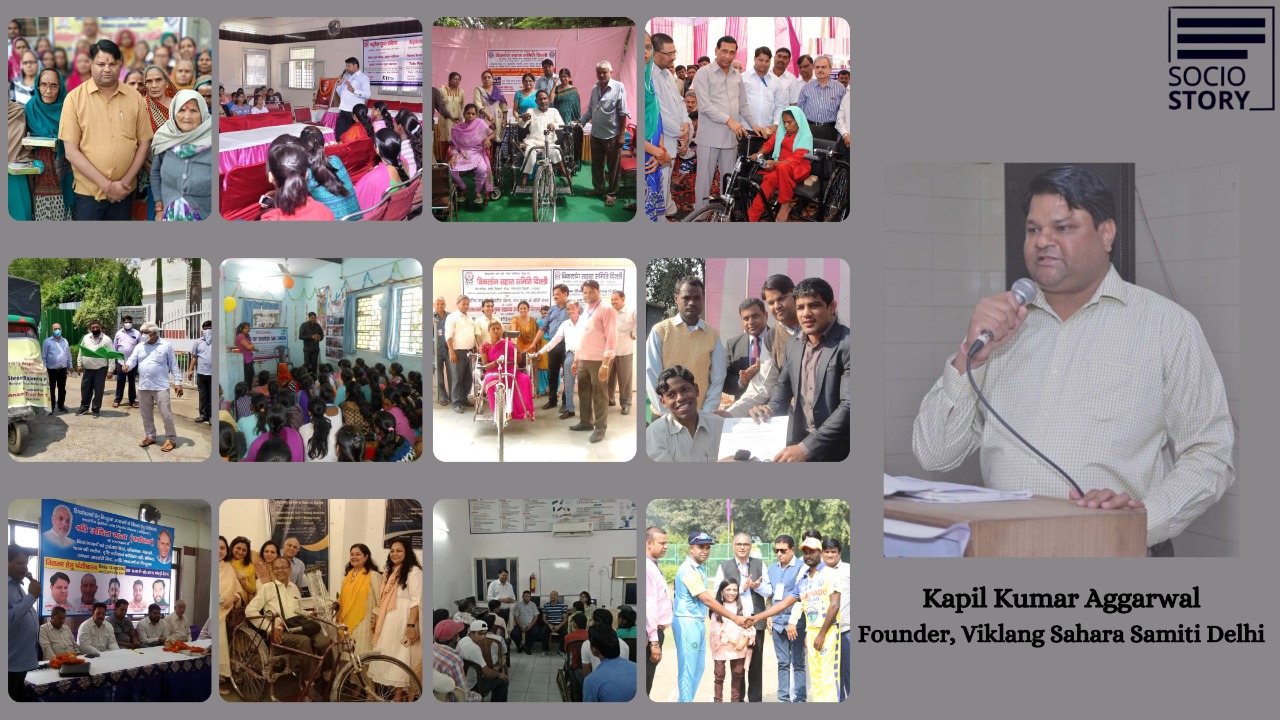 By:Reshma Jain
While Pradeep, a polio-survivor has set up a mobile accessories stall, Suraj has set up a tea stall. While Mange Ram is now a cutting and tailoring instructor, Seema works in a boutique after completing a skill development programme. All of them, despite their disabilities, are earning their livelihood. But who has provided them a platform or trained them in their respective fields?
Before we learn more about the organisation, let us see what made Kapil Kumar Aggarwal set a platform for the Persons with Disabilities (PWDs). Aggarwal noticed that PWDs are one of the most marginalized and neglected section of our society. Disturbed by the plight of the PWDs, he decided to do something. This led to the formation of Viklang Sahara Samiti Delhi (VSSD), a non-Government organization working towards the welfare and education of PWDs coming from economically and socially deprived backgrounds.
VSSD was formed in 1994 with an aim to spread awareness for inclusive development and education for PWDs. The focus lies on mainstreaming PWDs and under-privileged youth through support for availing the facilities and providing committed as well as quality vocational training with employment assistance for their self-sustainment for economic growth.
Aggarwal who is based in Delhi, said, "We are working on skill development training like computer basics, tally, DTP, cutting and tailoring, beauty courses etc, for PWDs. After the successful completion of training, we refer these candidates for job placements. We also provide aid, guidance and counselling through Viklang Margdarshan Kendra, Sports Activity."
A few of the training programs include:
Skill Development Training: VSSD is focusing on providing vocational training to the youth for developing commercial skills along with traditional education to get lucrative employment/self-employment, which plays a significant and remedial role in balancing the socio-economic conditions of the individuals or their families.
Self Employment (APNA ROZGAR YOJNA): Self-Employment project aims to create the demand of the skilled workforce of persons with disability in various industries by way of carrying job mapping drives and making the candidates competent and skilled to perform the job. Self- employment helps in defining an individual's place in the community specially to help the disabled citizens, live a normal, dignified and independent life.
Employment Assistance: Routine support is being provided to the PWDs for their registration in Special Employment Exchange and in Vocational Rehabilitation Centre (VRC) Placement Service referred to specialized agencies.
Nirmaya Health Insurance Scheme of National Trust: This scheme is for the welfare of persons with Autism, Cerebral palsy, Mental Retardation, Intellectual Disability and Multiple Disabilities. Enrolled beneficiaries are facilitated with Nirmaya Policy for their treatment through National trust.
Distribution of Aids/Assistance: VSSD ensures full rehabilitation management for PWDs every year. It includes - surgery/mobility, aid/appliances like caliper, crutches, tricycle, wheel chair, stick and other appliances through various Aids & Appliances camp at Delhi and nearby area. The services delivered to PWDs are at free of cost and the aids & appliances are manufactured in VSSD workshop.
Matrimonial Services: VSSD also extends support to people who can or cannot afford their marriage, or cannot find their life partner because of their physical disabilities. VSSD has started an online form i.e. Marriage registration for PWDs for all over India.
Community Based Rehabilitation (CBR) Services:
Assistance Disability Certificate, railway concessions certificate through Hospital.
Assisting for DTC Bus Pass from area DTC Bus Pass Section. Individual counselling, services and guidance.
Awareness and Disseminating the latest information about Govt. schemes Policies/Benefits/Concessions for disabled persons and marginalized class of society.
Guidance and assistance to get Pension from Govt.
Speaking further on the need for women empowerment, Aggarwal said, "Strengthening the economic role of women is important to reduce poverty, improving health and education outcomes, and achieving other broad development goals. Hence, we are running a Skill Development Program for Women having Disabilities and after the successful completion of their training, we are providing them employment and assistance for creating their livelihood opportunities."
Sharing the future plans, Aggarwal, said, "Our aim is to raise the awareness for inclusive development and education to the PWDS. We would also work towards mainstreaming PWDs by providing them the needed support for their self-sustainment and economic growth."
Important : If you are making an impact in the world, Please send us your story at : manoj@sociostory.in and we will try to cover you.