Dogs do speak but only to those who know how to listen
April 22, 2020, 2:34 p.m.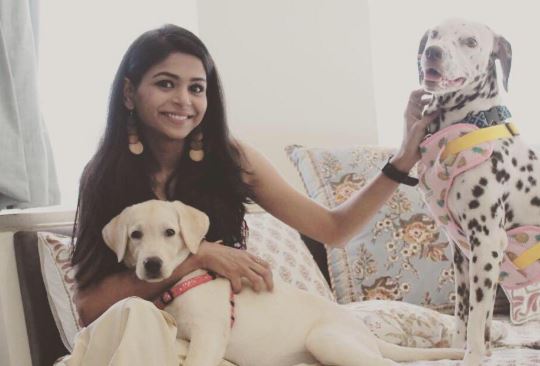 This is the inspiring story of Delhi-born Harsha who grew up among pets, mainly dogs. This provided a natural learning of love, care and loyalty. From early childhood, she developed the habit of feeding stray dogs.
As she grew up, she realized that society gives dogs a raw deal. It set her thinking- Is my routine of feeding just a few dogs every day enough? So she made it her mission to save as many of them as possible, and give them a life of dignity. This helped her decide to form her own NGO for her furry friends.
Harsha says, "The idea popped up in my head in February 2018. It was an emotional decision, but I knew what I was getting into, and was ready to make a commitment towards this cause.
Finally, on 1 April 2018 we started the shelter with 5 kids." Very appropriately, she named her NGO, 'Tiny Tails Home'.
'Tiny Tails Home' came up by collecting funds from animal lovers. Moreover, it also gave an edge to women empowerment as it is a scratch- to- end women-led organisation. "Starting from adoptions, taking care of meals, arranging medical facilities, and further, reaching out to the public for better arrangements, everything is done solely by me and my female colleagues," Harsha proudly says.
The NGO is completely dependent on donations from kind-hearted donors through various social networking platforms. They pitch in to manage expenses, rent, food, electricity bills, medical aid, helper's salary, etc.
'Tiny Tails Home' has a team of seven dedicated angels. Besides its Founder Harsha Vats, Co-founder Himashu Gautam manages the health and well-being of the inmates; Monica Gupta looks after the foster and new cases; Ruchi Gupta is in charge of the ration; Rima Sarkar manages the finances; Sugandha Khera deals with the social media stuff, provides medical help to the kids, and takes care of the day-to-day operations at the shelter; Vikas Kumar has been with the NGO since Day-1 and cooks for the furry kids, cleans them, and takes them to the vet.
'Tiny Tails Home' is successfully providing a safe haven to the rescued puppies. Many have got foster homes. One has recently got her wheelcart. Most of them have been sterilised. 'Every dog deserves a home; every home should have a dog', is the sweet motto of the group.
The team plans to soon start an ambulance service which can provide onsite treatment for homeless dogs in distress when they cannot be brought to the shelter, and to sterilise and neuter as many dogs as possible. The NGO will hire more people whenever required to achieve its goals.
Harsha emotionally says, "It's a commitment for a lifetime; we cannot back out as so many lives are involved. We'll stick to our ground as long as we live." Tiny Tails Home would appreciate support in any form to make a better world where humans can peacefully coexist with other species.

Important : If you are making an impact in the world, Please send us your story at : manoj@sociostory.in and we will try to cover you.