Donning the hat of a good Samaritan, Mahesh Talari is a life savior for many
April 17, 2021, 9:09 p.m.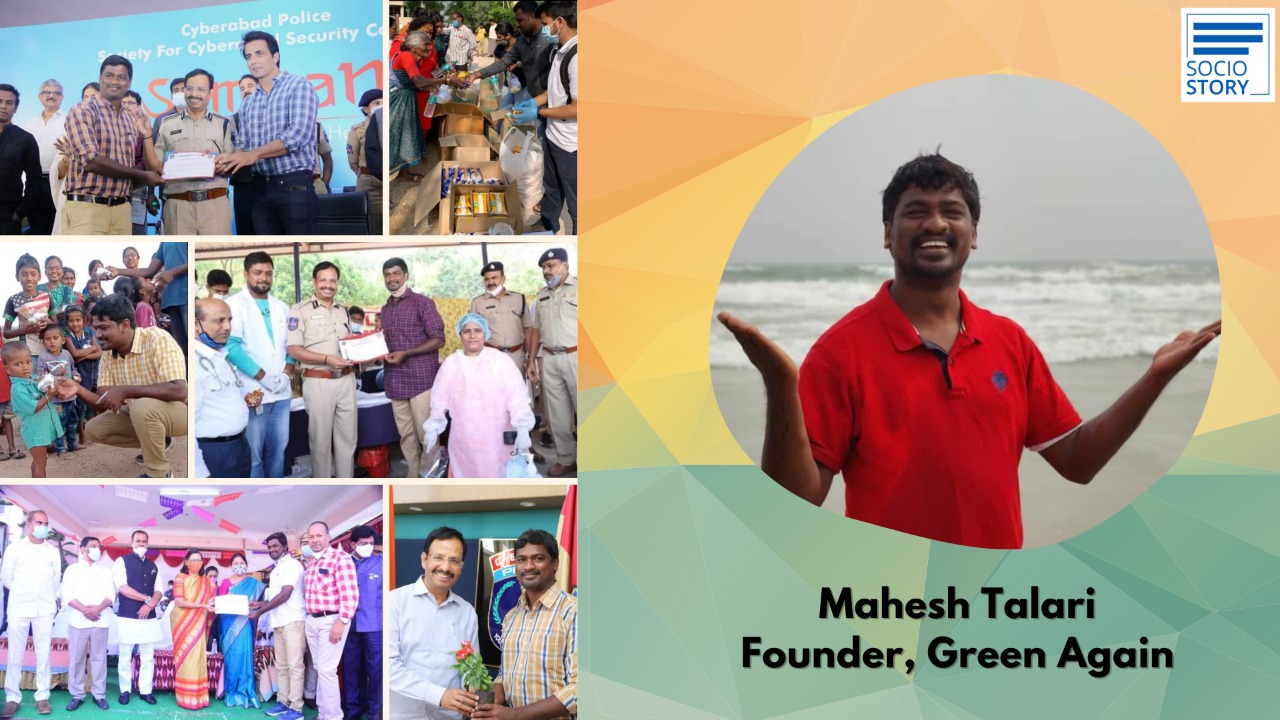 By:Reshma Jain
It is said that your little effort can give others a second chance to live life and if there is one person whom I can immediately relate to, then it is Mahesh Talari, a young and kind-hearted man from Hyderabad. Mahesh has been a ray of hope for thousands of people as his effort of organising blood donation camps has saved the lives of many during the pandemic.
The corona pandemic, as we all know, had brought normal life to a grinding halt. Life was a challenge and still remains to be a challenge. In these crucial times when the entire medical fraternity is working hard to save lives and give the best possible treatment, availability of blood and plasma has become a herculean task. But what made Mahesh to work on a solution for this issue and what made him realise his calling to serve people?
When Mahesh visited a private hospital in Hyderabad to get his nephew treated, he observed that a lot of people, especially from the rural areas were unable to arrange blood for the ones in need. "The condition of a few children, during the pandemic, had become severe due to unavailability of blood units at the right time. That is when a thought struck me and I had decided to do something for them," shared Mahesh.
That is when Mahesh pitched in and started organising blood donation camps. The first blood donation camp was organised in Bhongir last April. His efforts and zeal helped people in large. "Since donation camps were not organised during the lockdown, officials from the Thalassemia and Sickle Cell Society (TSCS) in Hyderabad had requested for more such camps," shared Mahesh by adding that the Cyberabad Police Commissioner VC Sajjanar extended his support after which 30 more camps were organised.
Since every blood donor is a life saver, Mahesh said that he has collected around 12,000 units of blood during the pandemic. "One blood unit can be used for three needy people if it is divided into RBC, WBC and plasma. It was an achievement when my service reached more than 30,000 people during a crucial time."
"Every day, we need thousands of blood units for the needy. Spreading awareness, especially in rural areas, on the importance of blood donation is the first step. Majority of them are not aware that donating blood is good for one's health. Its recovery system is in our body itself as within hours, the process starts. Nowadays all hospitals and blood banks have replacement options for units of blood," stated 28-year-old Mahesh who is the founder of Green Again NGO and was into flood-relief works and blanket donation drives.
Mahesh who was recently felicitated with the Good Samaritan Award by the Rachakonda police for his good work said that all the blood donation camps received a good response from people. "All the blood units collected through camps were collected with help from Cyberabad and Rachakonda Commissionerate and some youth organizations," said Mahesh who was into social work from his childhood and had volunteered in various NGOs when he was in school.
Mahesh, from the past few years has been working on the cause -Blood donation for Thalassemia patients who need consistent blood transfusions. "We need to organise blood donation camps in rural areas so that every individual need not travel to the city for a unit of blood," concluded Mahesh who dreams of a country where no one dies due to lack of blood.
April 17 is observed as World Hemophilia day – an international awareness day for hemophilia and other bleeding disorders. Hemophiliacs may require blood transfusions to treat excessive blood loss. We hope that more and more people come forward to donate blood and save the lives of their fellow beings.