Dr Joshi's cycle yatra reaches Agra
Oct. 28, 2022, 12:24 p.m.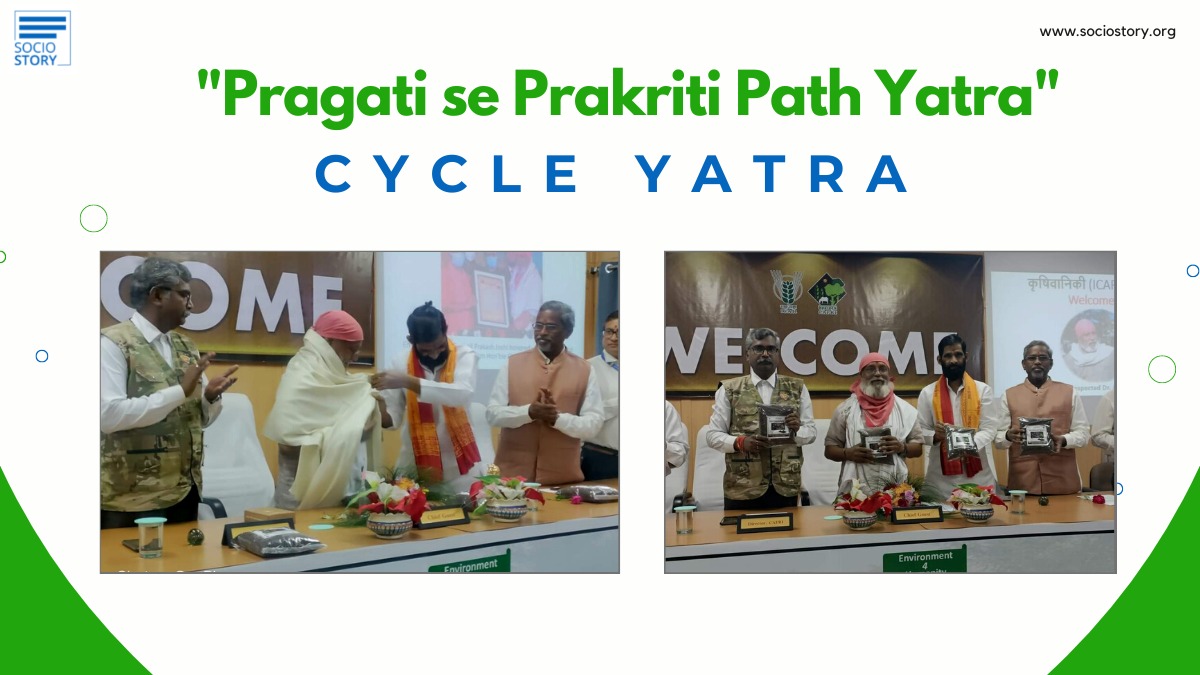 By: Reshma Jain
While the team embarked on their cycle yatra from Dholpur to Agra, on the 27th day of the Bicycle Yatra for Nature Pledge, Dr Anil Prakash Joshi interacted with the villagers and participated in plantation drives. He sensitised and encouraged the villagers on the need to protect and conserve nature by following simple sustainable steps. Meanwhile, the entire team celebrated an eco-friendly Diwali.
On October 28, Padma Bhushan Dr Anil Prakash Joshi was welcomed and felicitated by Uttarakhand Mahaparishad at Rajputana Palace in Agra. While cycling from Chanderi, Kurwai, Ambanagar, Jhansi, Gwalior, Dholpur and to other districts/cities, most of the people and commuters on the road were curious to know about the cycle yatra. Dr Joshi had briefed them on the purpose of this 35-day Path Yatra for environment awareness. He also emphasised on the role each of us play in protecting our mother Earth. During his yatra, he had also met CM of MP Shivraj Singh Chauhan and had interacted virtually with Goodwill Ambassador UNEP and Indian actor Dia Mirza.
Dr Joshi also interacted with students at ICAR (Central Agroforestry Research Institute) Cafrey, Jhansi institute and Rani Lakshmi Bai Central Agriculture university. During his journey, he also stressed on the need to revive a dying river in village Devri, Morena district in Madhya Pradesh.
Speaking to Socio Story, Dr Joshi, said, "Issues like climate change have a direct impact on farmers as they are the ones closely working with air, water, soil and other natural resources. Hence, villages play an important role in contributing towards the conservation of nature."
He firmly believes that we can bring about sustained economic growth in rural India by leveraging local resources. He has therefore focused on improving local markets, local resources, and local knowledge. These initiatives, which aimed to create a decentralised economy, have produced amazing outcomes.
Numerous water millers around the nation, particularly in mountainous locations, have adapted Dr. Joshi's research and technique to restore abandoned watermills. In numerous states, including J&K, HP, and Uttarakhand, economic and social changes in the countryside following the rebirth of the mill industry have sparked revolution. A new glimmer of hope has emerged for the underutilised water millers, thanks to new mill applications for various local resource utilities.
Dr. Joshi encouraged farmers to revive traditional agriculture with new inputs because he focused on local resources. He encouraged hundreds of farmers to use more productive techniques.