Dr S C Shankare Gowda- A Doctor with Magical Hands and a Big Heart
July 24, 2020, 8:56 p.m.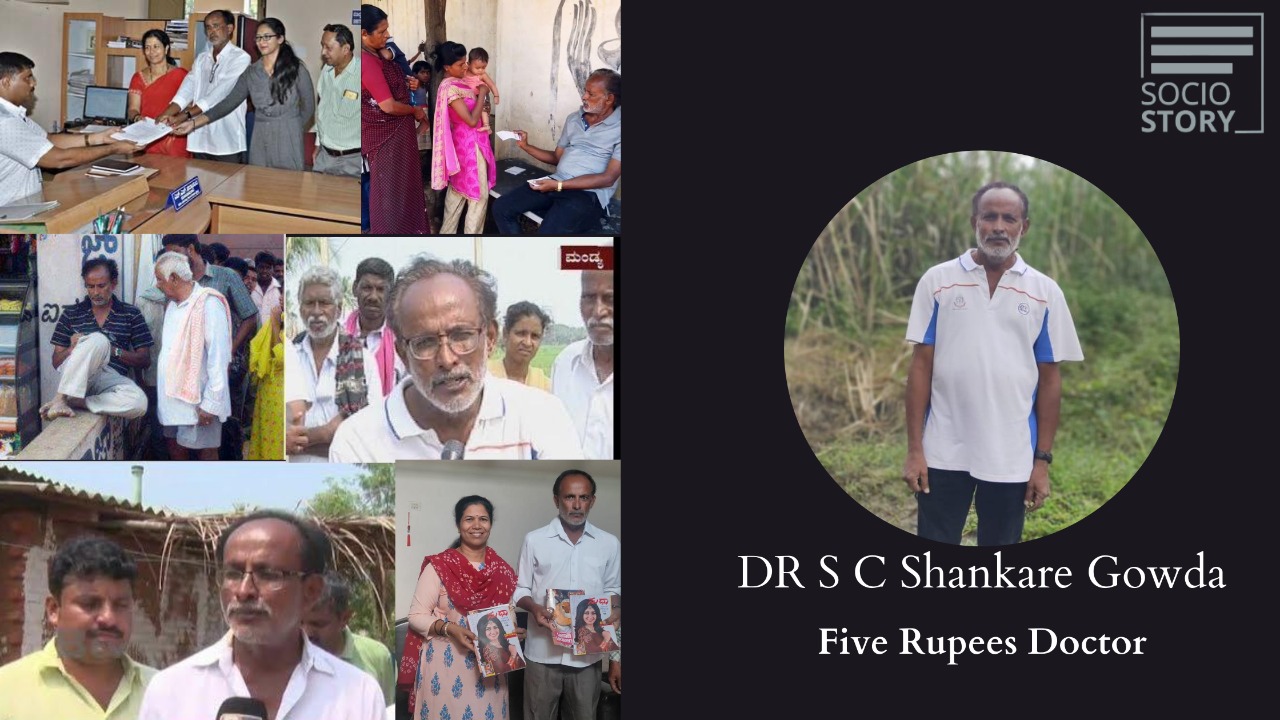 By:Reshma Jain
If I were to describe Dr S C Shankare Gowda, then I would have put it in these simple terms- a flag-bearer of hope, a life-saver and a Samaritan. But, I would like all of you to know what makes him so? Fondly known as 'Five Rupees Doctor', Socio Story presents you the journey of Dr Gowda who is a living legend from Mandya in Karnataka.
For the past 38 years, Dr Gowda who is a skin specialist has been charging just Rs 5 per person for providing treatment. Surprising, isn't it? But this is just the beginning of the story. Apart from the consultation and treatment, Dr Gowda prescribes good, affordable medicines to his patients. He has been treating all types of skin diseases with an almost full success rate.
But what made this humble man do this relentless service and what is the reason behind not increasing the charges? Well, Dr Gowda was inspired by the service and dedication of Dr K Govinda, former professor of Mysuru Medical College Research and Institute. "When I was a kid, I used to visit Dr Govinda for my medical consultation. He used to treat hundreds of patients and dedicated his life to people. Since childhood, he has been my source of inspiration and this led me to render my services," said the Five Rupees doctor.
But as Dr Gowda grew up, he saw his inclination towards Engineering. But his family wanted him to become a doctor, for a few reasons. So, life again took a turn for good. He did his MBBS from Kasturba Medical College of Manipal and also pursued his Diploma in Venereology and Dermatology (DVD).
"After pursuing MBBS, a thought struck me. I thought that I could use my knowledge for the benefit of the people of my village and surrounding areas. So, I started to practice by charging Rs 5 for consultation, treatment, check-up, etc. (basically a complete medical package). After that, I never felt to increase my charges. I wanted to give back to the society, especially the people in rural areas," added Dr Gowda who treats patients in his village in the morning and then at his clinic in Mandya in the afternoon.
On an average, Dr Gowda now treats more than 200 people in a day. When Dr Gowda started practicing, he used to treat 10 patients a day. Slowly, the word spread and people started to believe that he has 'Magical Hands'. Now, people from across the country visit him for consultation as he is known for treating diseases which could not be cured at big hospitals. However, this humble man does not offer any private appointments. People need to travel to Mandya and stand in a queue to get his treatment.
A native of Shivalli, this famous physician is also an avid agriculturist. He loves transplanting seedlings, cultivating crops at his farmland.
It was quite interesting to know a few more facts during a conversation with his daughter Ujwala. Dr Gowda (64 years) does not own a phone, a computer and has no access to the internet. However, he has advanced knowledge of diseases. He has a small clinic and manages everything on his own. He does not bother about his clinic aesthetics, his looks or appearance. When he goes to his village, this real hero treats his local folks on the side of a bakery, by the road or on his farms.
For his humanitarian service, Dr. Gowda has been honored by Kalpavruksha Trust with Karnataka Kalpavruksha award and has been felicitated by a number of organisations.
Important : If you are making an impact in the world, Please send us your story at : manoj@sociostory.in and we will try to cover you.