Eco-Fitness is now trending, make it your lifestyle for a sustainable living
June 22, 2022, 4:12 p.m.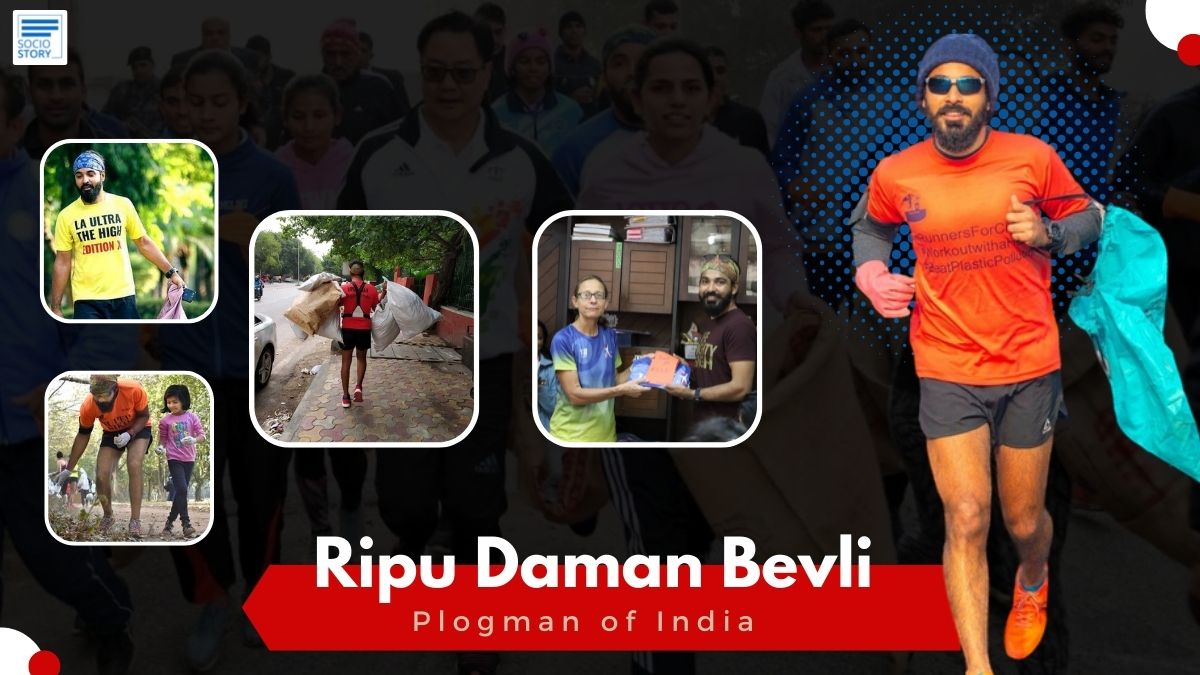 By: Reshma Jain
An ex-techie turned marathoner and environmentalist Ripu Daman Bevli famously known as 'Plogman of India' is credited with starting India's first eco-fitness trend, combining FIT India and Swachh Bharat to fight the garbage crisis in the country. He is the Pioneer of the Plogging movement in India and the creator of the Litter Free India movement.
In 2016, Ripu started running long distances, and that's when he saw how at running events there is a blatant misuse of resources and there's a lot of plastic pollution. Also, he wanted to fight against people's littering habits. Sights of litter and trash disturbed him when he used to train in the mornings. So, he introduced the concept of 'cleanup' to the running group and it became the cool-down activity after training where everyone would jog and pick up litter.
It's been quite a few years since he quit his corporate and startup career to make the mission of a Litter Free India, his full-time commitment & work. He was appointed as the 'Plogging' Ambassador of India and was also the first FIT India Ambassador. The Government of India adopted the Litter Free India mission and close to 1 crore (10 million) people have participated in the last few years.
One of his initiatives is 'Run to Make India Litter Free' - 50 cities run & clean-up in 50 days. After 2 years of work on the ground, Ripu organized one of the biggest campaigns- Run to Make India Litter Free with RElan where Ripu ran and cleaned up 50 cities in 50 days. It became an unprecedented campaign - having started solo from Kochi in South India in September 2019 and by the time he reached Delhi, close to 50 lakh (5 million) people had participated. Our Prime Minister Narendra Modi called to congratulate him on 'Mann ki Baat' and gave a clarion call to the nation to join in.
Another interesting initiative is 'Eco-Fitness - Trash Workout & Plastic Upvaas'. Instead of calling people to join in clean-ups, Ripu created a holistic workout - Trash Workout. It is a set of exercises that could be done with picking up litter. It's a holistic workout because it not only improves your physical, mental and emotional wellbeing but also fights the societal misconception that the litter on the streets is not our responsibility. The mission statement was 'Make cleaning up other people's litter the coolest thing to do in India'. With the workout, that goal was achieved and people from ages 4 to 80 years had participated in the movement.
Along with that, he created the mantra of 'Plastic Upvaas'. 'Upvaas', in Hindi, means fasting. The logic was that Indians observe 'Upvaas' on the most auspicious days for the welfare of their loved ones. The world today does Intermittent fasting for better health. So why not observe fast on that one thing destroying our health and the planet at the same time - single-use plastic.
Apart from his novel initiatives, Ripu set the first world record for the longest plogging run by an individual of 50 kilometres in Kota, Rajasthan in January 2020. It took 9 hours 15 mins for him to complete it, and by that time he had filled up 11 bags of trash.
Awarded as the Cosmopolitan's Social Activist of the Year 2020, Ripu shared, "I have conducted trash workout workshops, plogging drives with over 100 schools and institutes around the country. Children, schools, and colleges are the biggest target group and focus areas. One example of the impact created : The first school we started our workshop within Gurugram by taking the onus of cleaning the local mandi right outside the school. The whole area was like a dump yard with polythene bags and food waste littered everywhere. Once every two to three weeks, we would clean-up the place in the morning and the kids would speak to the vendors and shoppers alike - request them to not litter and use cloth bags (reusable). They also put-up small banners and drawings to raise awareness. In 3-4 months' time, the polythene bags were out and shopkeepers had boards asking shoppers to carry jhola (cloth/jute bags). The locals kept the place clean and there was no clean-up required afterwards."
The most memorable moments are always with children and schools, expressed Ripu. "Their enthusiasm and participation give me hope that we are creating leaders of change who will guide us to a better and more sustainable future."
He further added that the biggest challenge is to sustain the movement and grow it to reach the masses in a way that creates a real impact on the ground. One of the ways we are looking to grow the movement is to make it a regular part of the school curriculum. This would require adoption by the Education Ministry and boards like CBSE subsequently.
In 2021, before the deadly second wave, Ripu ran a campaign called 'Ride for Change' to promote zero-emission zero waste travel. He would cycle to various cities like Indirapuram, Dehradun, Palampur, etc. and conduct clean-ups in these places along with the locals. During this 5-week campaign, a cumulative distance of 26.000 KMs was cycled. In the process, it reduced 7 tons of carbon emissions and collected 1.8 tons of litter.
Awarded as Earth Day Network Star March 2021 and Sony BBC Earth Champion August 2021, Ripu said, "My goal is to build at least one eco-fitness community in every district of the country in the next 24-36 months. India has about 773 districts, so it's going to be a herculean task but we will build campaigns and activities to take us to this goal. Also, in the next year, we plan to take our message of Plastic 'Upvaas' to the world. Something like a Global Plastic 'Upvaas' day where the world shuns plastic packaging and generates minimal to zero waste for a period of 24 hours. That would be a momentous day in our fight to beat plastic pollution," shared Ripu who was nominated as the Climate Warrior of the Year 2021 by Cosmopolitan.