Education is the key to empower children, says Manish Rai of Ek Pahel NGO
Nov. 1, 2020, 3:48 p.m.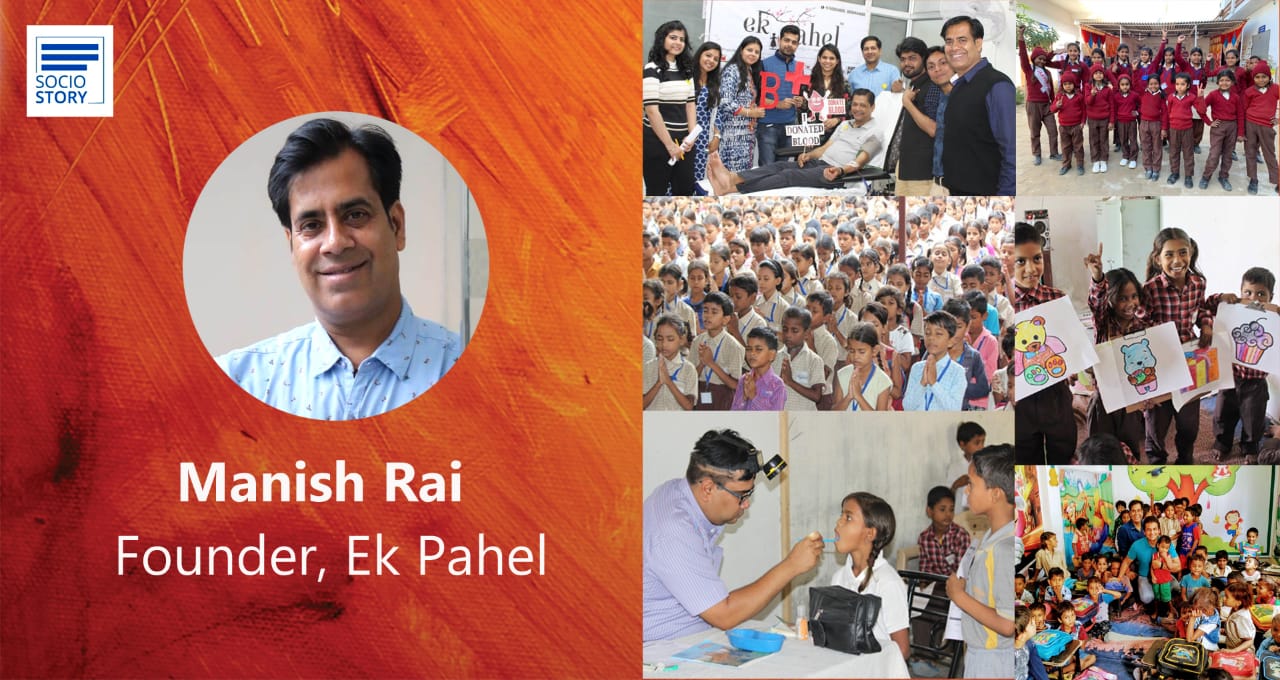 By: Reshma Jain

From a very young age, Manish Rai used to get upset on seeing the poor children begging on roads and working as labourers at homes, in restaurants, in factories and being deprived of their basic right to education. But unlike most of us, he resolved to do something about it. He believes that 'Education is a key to empower children and remove poverty in a single generation'. Moreover, his father was an inspiration because he used to go an extra mile to provide free tuitions to the needy children. The sudden demise of his father when Rai passed out from school affirmed his decision to help the needy. Along with a few like minded people, Rai founded Ek Pahel B.R. Memorial Welfare Society in December 2009.
With Ebha Garg, Dheeraj Arora, Ankit Khandelwal as the co-founders of Ek Pahel, the team had the zeal to transform the lives of the marginalized children and women. Ek Pahel envisions illuminating the lives of underprivileged children and women of India through education, enrichment and empowerment to transform them to be responsible future leaders.
From imparting quality education to providing better healthcare facilities and overall development of underprivileged children and women, Ek Pahel has organised a lot of activities to socially empower children and women of marginalized sections of the society. Through multiple initiatives, the NGO has reached out to poor and needy children, youngsters and women to help them. They provide free of cost education, provide access to healthcare and enable skill development of children and women.
"We started our school under one tin shed with 30 children and after years of struggle and endeavour, we were able to build classrooms, labs, washrooms and provide a school environment nearly on par with private schools. The shine in the eyes of children and the smile on their faces is something that energises us and keeps us going," stated Rai.
Some of the projects aimed to provide education, enrichment and empowerment include:
-'Prakashpunj'
They run a primary school 'Prakashpunj- Ek Pahel Pathshala' in Dayalbagh, Agra, for underprivileged children and women, where they impart free of cost high quality education to 500 underprivileged children and adult education to women. They also sensitize children and their families on the need and importance of education through 'Nukad Nataks' (street plays).
-'Sehat Ka Aangan'
The first key to happiness lies in the corridors of good health. In order to endow children and women with happiness, they initiated a project called 'Sehat ka Aangan' under which they create health and hygiene awareness amongst students and women through nukad nataks, run various health check-up camps focusing on preventive as well as curative treatment of children and women, provide essential vaccinations including BCG, Polio, MMR, and DPT for underprivileged children supported by the NGO. Doctor's Card for free check-up by any of the 10 doctors on panel of Ek Pahel, adolescent health education and counselling is also provided.
-'Pratibha Darpan'
With the aim to recognize and promote creative talent of underprivileged children, Pratibha Darpan was initiated to impart IT skills through computer classes by trained computer professionals, to organize hobby classes like painting, handicraft, candle making, dancing, etc. and to organize personality development classes competitions.
-'Niyojit Parivar, Khushaal Aangan'
The size of a family directly impacts its financial condition and consequently the overall well-being of the children, women, families and communities at large. Therefore, to ensure a better life to children and women, they initiated a project 'Niyojit Parivar – Khushaal Aangan' where they sensitize poor families about the alarming need of small families and family planning.
"Recently, we started a small social enterprise of candles and soaps to provide employment to young girls studying at Ek Pahel so that they can earn while they learn as well as add financial sustainability to NGO," added Rai.
Speaking on the future plans, Rai said, "We would like to include skill development in varied fields as part of curriculum for all students from class VIII onwards. We would like to expand our social enterprise by reaching untapped markets and provide employment to more poor/needy girls and women to increase their social and economic capacities."
"You have not lived until you have done something for someone who can never pay you back," concluded the team members of Ek Pahel.
The impact created by Ek Pahel is as follows:
High quality free of cost education and access to healthcare facilities to 500 less privileged children throughout the year
Vocational training to needy and unemployed youngsters/students under National Skill Development Corporation (NSDC) programme
Self-defence camp for more than 350 girls and women
Sensitisation against acid attackers through 'nukkad natak' – with a reach more than 5,000 people
Legal advice and aid to women facing domestic violence, dowry harassment and property issues-
Organised over 30 'Rakhitam' blood donation camps
Provided grocery to more than 500 families and 4,000 migrant labourers during lockdown.
Important : If you are making an impact in the world, Please send us your story at : manoj@sociostory.in and we will try to cover you.