"Embrace pain and burn it as a fuel in your journey of life," states Geeta Castelino
March 10, 2021, 8 p.m.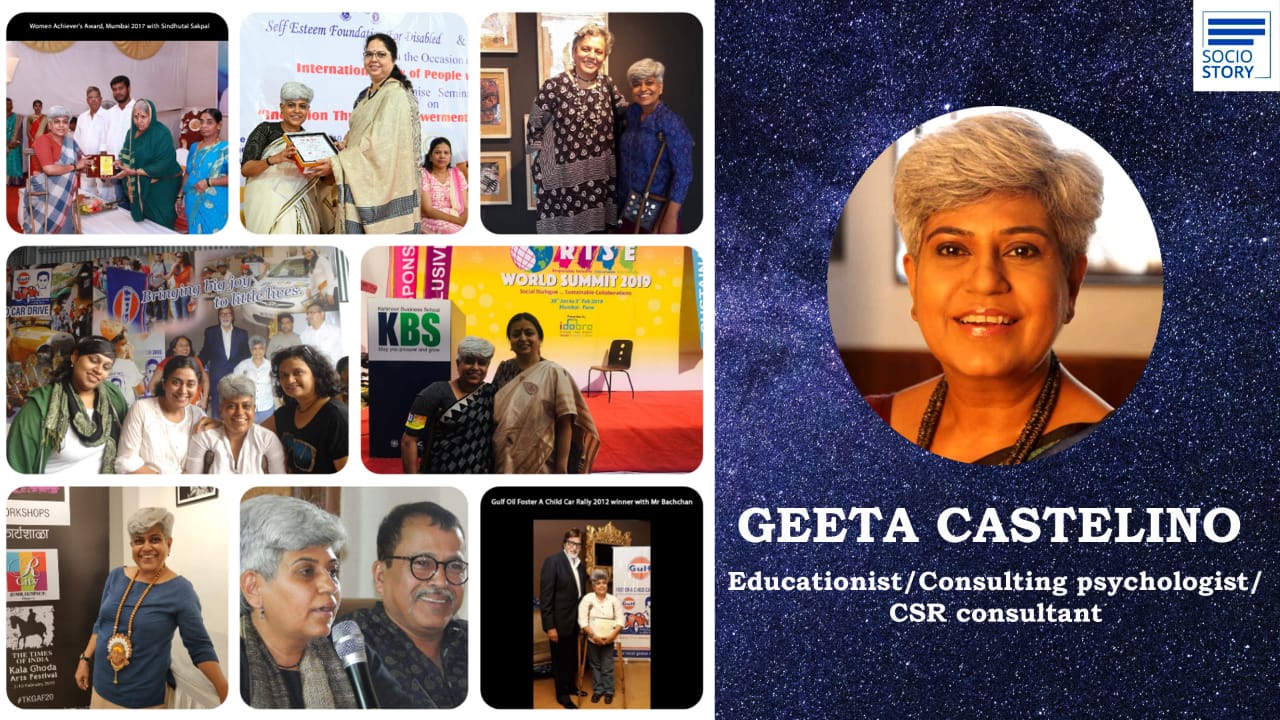 By: Reshma Jain
She is a consulting social psychologist, an educationist in the field of art, design and fashion technology, a corporate trainer and a CSR consultant for corporates & NGOs. She has been designing and developing curriculums in fashion and related careers from the past two decades and has been on various educational boards / universities. She has taught 'History of Indian Costume and Textiles' in Edinburgh College of Art, Scotland. She was also the fashion editor of lifestyle magazine- 'btw'- by the way, published by Chitralekha group and had gained a lot of popularity with her column 'Fashion-Passion' in Loksatta- VIVA.
She is one of the founder members of the renowned Kala Ghoda Association and has successfully curated various art festivals in India. She has won 5 International awards, 9 National awards, 4 State awards in Art & Design and her name is included in the International Biographic Research Foundation's Directory (1997) of 'Who's who of the most distinguished personalities in the world'. This inspiring icon has also acted as a child artiste in the Hindi movie 'Mere Apne', a directorial venture of Gulzar.
This was no mean feat. But why? Because this brave soul has made an indelible mark in the country by proving that 'Disability' is just a matter of perception. Yes, this 58-year-old multi-talented woman from Mumbai has been battling Polio since she was 2.5 years old. Today, there is so much more to write and learn from her accomplishments rather than her disability. On the special occasion of International Women's day (theme- Choose to Challenge), Socio Story presents a spellbinding story of Geeta Castelino from Mumbai.
"When I was attacked by Polio, my lower limbs and right hand were paralysed and I lost my speech. However, I regained my speech through speech therapies and gradually learned to walk again. Having been physically disabled since my early childhood, my parents always encouraged me to be independent. My family was very supportive all through, especially while I was growing up. I could not attend school physically until my fourth grade due to a lot of reasons. Later, although it was challenging, I started to go to school along with my siblings. I travelled in buses and I fell a lot of times. But every time I fell, I learnt something new and it gave me the strength to be stronger. I only tried to find the positive outcomes from all such experiences," recalled Castelino while speaking to Socio Story.
"My mother was my source of strength. For quite a number of years, she used to accompany me day and night. I still remember those days when we used to visit the beach on sunny days for my sand therapy, the swimming classes and other physiotherapy sessions," reminisced Castelino.
A post graduate in Textile Technology, a research associate with the handloom board for natural dyeing & printing, Castelino also pursued her PG in Sociology and in Management. Although Castelino became a lecturer at the age of 18, she was denied jobs at a lot of places due to her disability. However, it did not deter her dream of making a mark in life. Today, besides being associated with other professional positions with vast experience, she has been a successful car rally driver for the past two decades and an inspiration to the global youth.
A daughter, sister, wife, mother and a woman of determination, Castelino's recent achievements are the two projects which have become successful from the past few years. She was the organizer and advisor for the World's first ever Adaptive/Inclusive Clothing - National Design Contest, which was applauded by 52 recognised design institutes. AD-DRESS NOW fashion show was held in Pune by Ekansh Trust where students represented 21 disabilities recognized by the Govt of India and World Health Organisation followed by a ramp walked by the 'Divyangs'.
Another recent achievement was when the India Cricket Team of the Disabled won the First World Cup in England. Bravo! A proud moment indeed. Castelino was part of the team mentoring as well as training them with soft skills and gave one-to-one counselling to motivate them to face the International sports world. During the pandemic, Castelino had been counselling depression cases for seven to eight hours a day.
Speaking about disability which is a matter of perception, Castelino said, "Concentrate and believe in your abilities and not get bogged down by your disability which would prevent you from doing well. Surround yourself with positive people and grab hold of the positives, you are capable of more than you know."
Adding that she never felt she was abnormal, the multitasker said, "New communication technologies and information can improve the quality of life for PwDS. They need to be designed, so that everybody can use them. People, the stakeholders and the government need to join hands to make accessibility easier for PwDs," stated Castelino who believes in herself and her intuitions.
Castelino who received the National Positivity Award in 2011, and the Woman Achiever Award in 2013 shares a few points as a takeaway for all of us.
Continuous effort- not strength or intelligence- is key to unlocking your potential (As quoted by Winston Churchill)
Never quit, Perseverance is very essential.
We need women who are so strong they can be gentle, so educated they can be humble, so fierce they can be compassionate, so passionate they can be rational, and so disciplined they can be free.
Every woman is a multi-tasker. Time Management is the key
Believe in being strong when everything seems to be going wrong. Believe in being happy and you will actually be the prettiest. Believe in being who you are and Believe in miracles.
Important : If you are making an impact in the world, Please send us your story at : manoj@sociostory.in and we will try to cover you.