Embracing a brighter future: meet Rouble Nagi, the lady behind 'Misaal India'
Aug. 8, 2022, 1:22 p.m.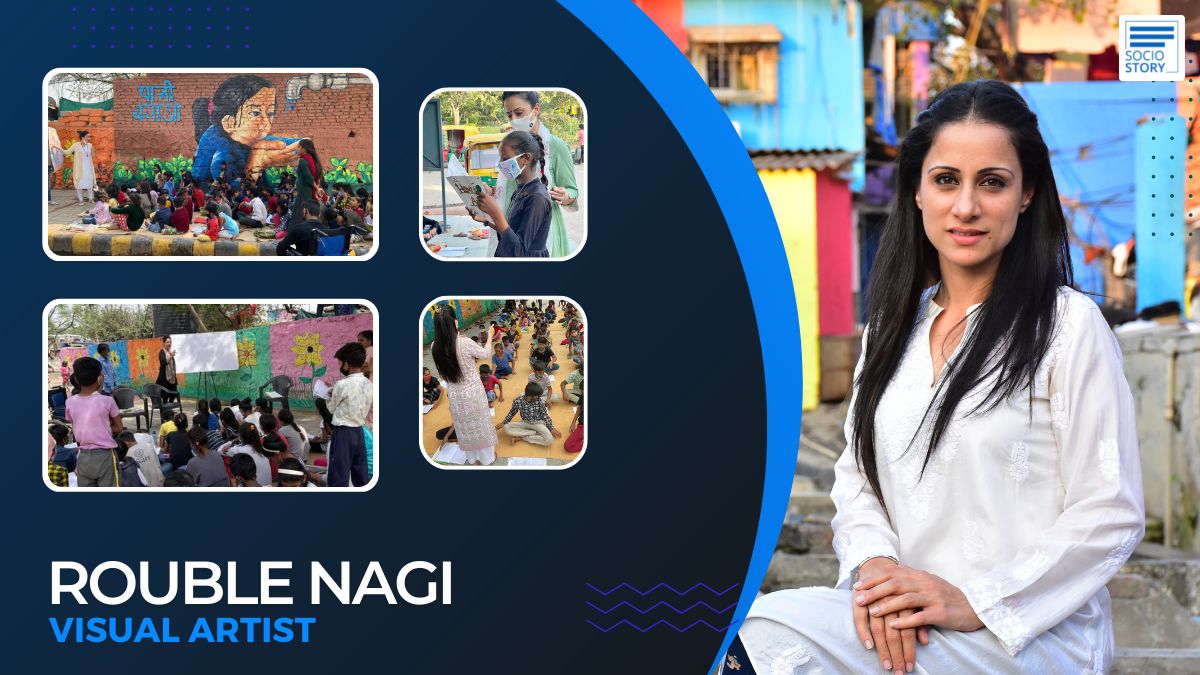 By: Reshma Jain
Painting dreams while unleashing creativity;
Painting a luminous language while adding colours to the canvas;
Painting to light the heart and soul of people around;
Here is a story that will bring to the fore the joy and exuberance of life.
It is said that try to be a rainbow in someone's cloud and if I had to equate this to someone, then it is Rouble Nagi who has been constantly adding to the canvas of lives by spreading colours of love, joy, kindness, beauty.
While visiting a student in Bandra Jaffar Baba slum, Nagi who is an artist at heart, decided to paint his home and asked him to get involved in the project. It was an exercise to get him motivated to do something creative. This led to various slum dwellers approaching Nagi to paint something on their house as well. Soon this small idea became a large canvas spreading from one house to another. What started from one home went on to become a movement of sorts. This was the magic of brushes and strokes!
As Nagi points out, her journey has equally been worthwhile and challenging. To share her experiences of her childhood and unique perspectives she developed in the growing years, Nagi has penned down a book titled 'The Slum Queen' which also documents her campaign 'Missal India'. It entails the journey of a vision that Nagi has, about an India where everyone is skilled enough to earn their own bread and have their talents recognized.
Speaking to Socio Story on her latest book- 'The Slum Queen', Nagi said, "The book is an ode to all those who dream to change, to uplift the not-so-fortunate ones. It is basically talking about my experiences while working in the slums and villages in India. The book documents all facts and figures that I have experienced while implementing the 'Misaal' initiative throughout India."
"Just like art is a medium of expression, so is writing," says Nagi by adding, "For me it started by documenting my work through my diary and sketches. The journey of my initiative as it transformed from 'Misaal Mumbai' to 'Misaal India' is what the book is about. There are countless stories and experiences during this journey. One small incident was how a 12-year-old became a voice for her community towards hygiene and waste segregation in her slum."
Nagi started her journey as an artist in her early twenties and has done more than 800 murals worldwide. Her work as a social worker began more than a decade ago, when she started the Rouble Nagi Art Foundation to impact children and women positively. Nagi has been working for the less privileged by running various programmes in the slums like Rounak (Art camps for children) along with various other initiatives.
'Misaal Mumbai' was a project that was designed to help residents of slums and villages live a decent life helping them to break the shackles of poverty, and get empowered by giving them skill sets that will help them support their families and live happily. The project in Bandra West consisted of the painting of over 285 houses in Jaffar Baba Colony, Mount Mary, Bandra West. Nagi and her team along with help from locals and residents painted and cleaned the slums in these areas. Nagi was instrumental in slowly transforming the city's slums into giant works of art.
Bravo! 'Misaal Mumbai' has become 'Misaal India' as Nagi and her team are working and implementing the campaign PAN India. 'Misaal' has impacted more than a million lives today. Both qualitative and quantitative outcomes from the project have been overwhelming, shares Nagi adding that 'Misaal India' is all set for a global launch starting with three countries in Africa and will be working towards empowering the less privileged women.
"Every cause in order to be successful must have love for the greater good at its core along with empathy and compassion," believes Nagi. According to her, the problem always starts with lack of communication; we live in communities where people don't communicate. "One of the challenges was convincing people that we are here to give without expecting anything in return; that is in itself a task. 'SELFLESS WORK' is a concept that people don't believe in, as per what the world has taught us that there is no give without take. So, to convince the residents that we were there for them without any hidden agenda was the most difficult thing."
As an artist, Nagi says, "I think, conceive and create by using art as a medium. I have faith that India will be slum free one day and everyone living in such poor conditions will get a roof over their heads, food and education. We have been making progress every year and hopefully a day not far from now, we will be a slum free country with a 100% literacy rate and no one below the poverty line."
"We are currently working on creating think tanks in rural villages, starting from the Kashmir valley. In Rajasthan, we will be starting a small hospital in a hamlet around the Alwar district. Change is possible if you dream the impossible dream, and follow through with action," concluded Nagi, the Slum Queen.