Enlightening and brightening the lives of Autistic children with colours
April 8, 2021, 8:12 p.m.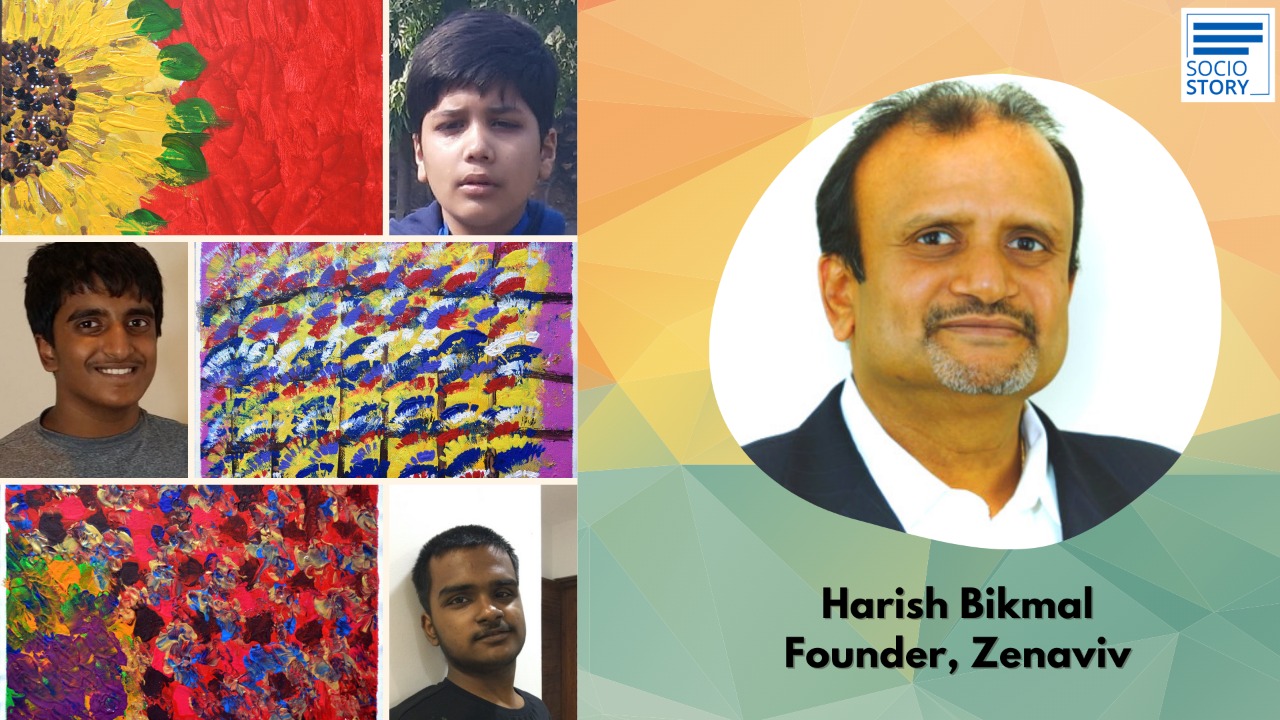 By:Reshma Jain
The world Autism awareness week is observed during the first week of April and discussions by stakeholders/individuals on the autism spectrum were organised to explore opportunities for an inclusive society. As per studies, the pandemic has only exacerbated the challenges faced by persons with autism and the need of the hour is to spread awareness on the rights of people with autism. Socio Story presents one such article which throws light on the need to empower people with autism and elevate inclusion.
When Himal, son of Harish Bikmal was diagnosed with severe non-verbal autism at the age of two, little did Harish know that his son would be an inspiration to set up a social enterprise which would be impacting the lives of many children with autism. Harish, who is a native of Hyderabad is now settled in Virginia and is the co-founder and Chief Empowerment Officer of Zenaviv-which provides a platform, promotes and empowers the artistic talent of people impacted by autism.
As a parent of a child with Autism Spectrum Disorder (ASD), Harish along with his wife Sandhya struggled to do as many things possible to help him. After being diagnosed by ASD, Himal was constantly sick due to a compromised immune system and a terrible gut. Since there was hardly any progress, Himal's parents were worried about his future, and the distress mounted every day.
Himal had run away from home twice and being non-verbal, he was unable to communicate except to cry and shout for hours together to vent out his frustrations. Terrified by these challenges, Himal's parents, like the other parents of children with special needs, felt that hope was a rare commodity.
But one fine day, Himal snatched a paintbrush from his mother while she was working on her canvas. At this point of time, Himal was around ten years old, unable to hold a fork. Surprisingly, he started painting with the colours and stood near the canvas for a minute. This changed the perception of the parents and this artistic expression was a spark of hope. Since that day, Himal's parents decided to nurture the hidden talent of their son and found an art teacher to pursue his talent.
Speaking to Socio Story, Harish Bikmal, 54 years, said, "A few years back there was no insurance coverage for children with autism. Since the medical bills were piling up, we decided to organise a fund-raising event showcasing Himal's paintings. His paintings were converted into 1,500 greeting cards and bravo! they were sold in two hours. The other 130 paintings were sold in a span of six hours. Although Himal could not understand what was going on, his face was lit-up when people started complimenting him. This was another ray of hope and one by one, it led to establishing Zenaviv and to forge ahead."
"Slowly, the love for painting deepened in Himal and he felt empowered. He would smile when he painted and insisted that he clicked a picture with his painting. Keeping this in view, a thought struck us that if painting can transform the life of an autistic child, we can give a ray of hope to parents of children with autism by helping them find their passion and purpose. Our goal is to improve the self-esteem of children with special needs by bringing their talent to the world and to change the perception of parents of children with special needs," added Harish.
Although it requires patience to try out different things in recognising a special child's potential, Harish asserts that there is always a possibility for things to get better. Not every child has an interest towards painting, but they could be interested in playing musical instruments or could be good at swimming. The visual memory of children is very strong and it is essential to focus intensively on the child's strength. Himal who is now 19-years-old is also undergoing special needs training in table tennis, taekwondo and fitness.
Socio Story brings to fore a few artists of Zenaviv whose life has been transformed through art. Hailing from India, Devansh Maurya is an 18-year-old artist. Devansh was diagnosed with severe autism when he was 2 years 6 months old. Upon exploring extensively, it was discovered that he had a natural inclination towards art. He started playing with colours on canvas when he was 8-years-old. One fine day, he was given some acrylic paints and a canvas sheet. In the next few hours, he poured his art out onto the canvas, taking all the colours of his choice and trying to express his feelings as well as put his world on a piece of canvas. Since then, Devansh has been creating beautiful artwork while trying to express his feelings. As a non-verbal person, art is the only way in which he can truly communicate. Music has also been an indispensable part of his life and he is also a budding pianist.
"Art can permeate the very deepest part of us, where no words exist," – the motto of a 12-year-old boy Ansh Batra, a child with autism. Hailing from India, Ansh found his inner voice in strokes of brush. Within the space of a frame, Ansh tries to build a world that is undeniably unique and different from the world we live in. His canvas is his playground, he plays with colours and every stroke expresses his emotions. Though he cannot speak, his works hold blissful conversations on his behalf.
To promote understanding and acceptance of autistic and neurodiverse individuals by recognising their hidden talent, Zenaviv is organising an art competition for all those individuals who are autistic/neurodivergent.
Important : If you are making an impact in the world, Please send us your story at : manoj@sociostory.in and we will try to cover you.