Fascinated by cubes and thrilled by adventure, 23-year-old Chinmay clubs both to set world records
Sept. 12, 2022, 8 p.m.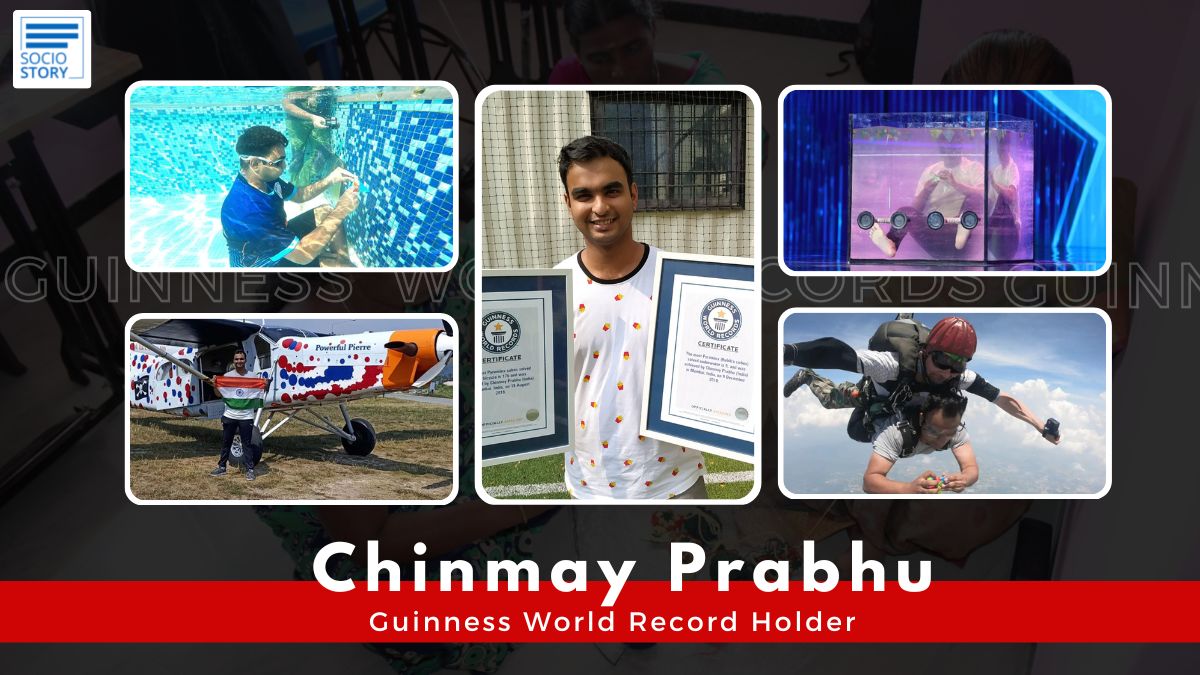 By: Reshma Jain
Adventure is worthwhile in itself and for Chinmay Prabhu, it was more than an adventure. While most of us experience an adrenaline rush during adventure of any sorts, it is very rare to have a presence of mind at the same time. Could you ever imagine solving a Rubik's cube whilst attempting a bungee jump or a freefall? For most of us, we cannot even think of doing this together as one makes your heart beat faster and the other makes your brain work faster.
Socio Story brings to you the adventurous feat of 23-year-old Chinmay Prabhu who has set four world records to his name. Mumbai-based Prabhu believes in the saying, 'If it excites you and scares you at the same time, it probably means you should do it."
Prabhu has always been interested in extra-curricular activities ever since his school days. But never did he try to solve a Rubik's cube. He was in 11th grade (2015) when he first tried to solve the Rubik's cube. He gave it a try but he was unable to do it by himself. He then thought of looking up for the solution over YouTube. And with the help of tutorials, he solved his first ever Rubik's cube. He did a little research and found out there are multiple puzzles like the Rubik's cube which are more like a variant of the Rubik's cube. Little did he know that he would go a long way in achieving a feat which will leave people awestruck!
In the year 2017, Prabhu made it to the Limca book of records for being the fastest to solve a mirror cube blindfolded. "I was so happy on the day when the certificate arrived at home stating it was approved as a national record. It motivated me to keep working hard towards my goals," reminisced Prabhu.
And Bravo! In the year 2018, he set his first ever Guinness World Record for the title - Most pyraminx (Rubik's cubes) solved underwater in a single breath. He solved 9 whilst holding his breath for 1 min 46 seconds.
In the year 2019, after setting the first record, he got tremendous love and support from a lot of people and they wanted to see him setting more records. He decided to solve the Pyraminx puzzle whilst riding a bicycle. He cycled for 1 hour and 7 minutes, and successfully solved 176 puzzles on the day of the attempt making it his second Guinness World Record.
"In the year 2020, the video from the first record went viral in a lot of countries. I had invitations from a couple of talent shows to participate in their show. I did a show in Europe where I got an opportunity to represent India at Romania's Got Talent. I cleared the round and was going to fly back for the next round but sadly, COVID 19 pandemic stopped the show from proceeding ahead," shared Prabhu hoping for things to get better.
In the year 2021, he performed for a show on Zee Telugu called Big Celebrity Challenge. Even though the pandemic was stressful, he did not want to leave cubing behind. "I did not want the pandemic to win," said a determined Prabhu who has pursued his Masters in IT.
In the year 2022, Prabhu set 2 new Guinness World Records. First was fastest time to solve pyraminx (Rubik's cubes) hanging upside down while he attempted a bungee jump. Once he was completely upside down, he solved the puzzle in 7.90 seconds. Second was fastest time to solve pyraminx (Rubik's cubes) whilst in freefall (during skydive), solving it in 24.22 seconds.
"The entire attempt from jumping out of an aircraft, passing the puzzle mid-air, and solving it before the parachute opens, that experience was overwhelming. I had goosebumps when I was getting the picture clicked after the attempt, holding our national flag," shared Prabhu who was thrilled with this feat.
Speaking to Socio Story on how it all started, Prabhu said, "I always wanted to do something different, something unique and I found speedcubing. I started learning with the help of tutorials that were available on YouTube. It was YouTube videos that helped me learn a lot in the beginning and I can now figure out solving the puzzles by myself. It certainly was difficult at the beginning since Rubik's cube is considered more as a toy than a sport. So, the initial start was the hardest part."
Talking of setting Guinness World Records, Prabhu has always merged cubing with different sport activities like bungee jumping, cycling, underwater, and skydiving. "All the records I have set have always come with a risk and I don't think it would have been possible if I wasn't fully dedicated to this sport. I wanted this sport to get the recognition it deserves and that's what has kept me going. Staying dedicated to the sport has been a challenge and I find myself to be very lucky that my dream of getting this sport the recognition it deserves has slowly started to come true." he added.
Solving Rubik's cube has a lot of benefits like improving reflexes, keeping the mind active and also improves focus, opines Prabhu. Also, he feels it's better to learn by solving new puzzles than scrolling the feed on social media. Prabhu wishes to encourage more people to pick this amazing sport and make cubing a bigger and better community.
"I believe the cubing scenario in India is getting better every single day. There are so many people who have started to show interest in this sport. And not only are they solving it but actively participating in competitions happening around," concluded the talented Chinmay Prabhu.