Fascinated towards white uniform with golden stripes, meet Cdr Prasanna Edayilliam who battled for equality in the Armed Forces
March 18, 2021, 7:37 p.m.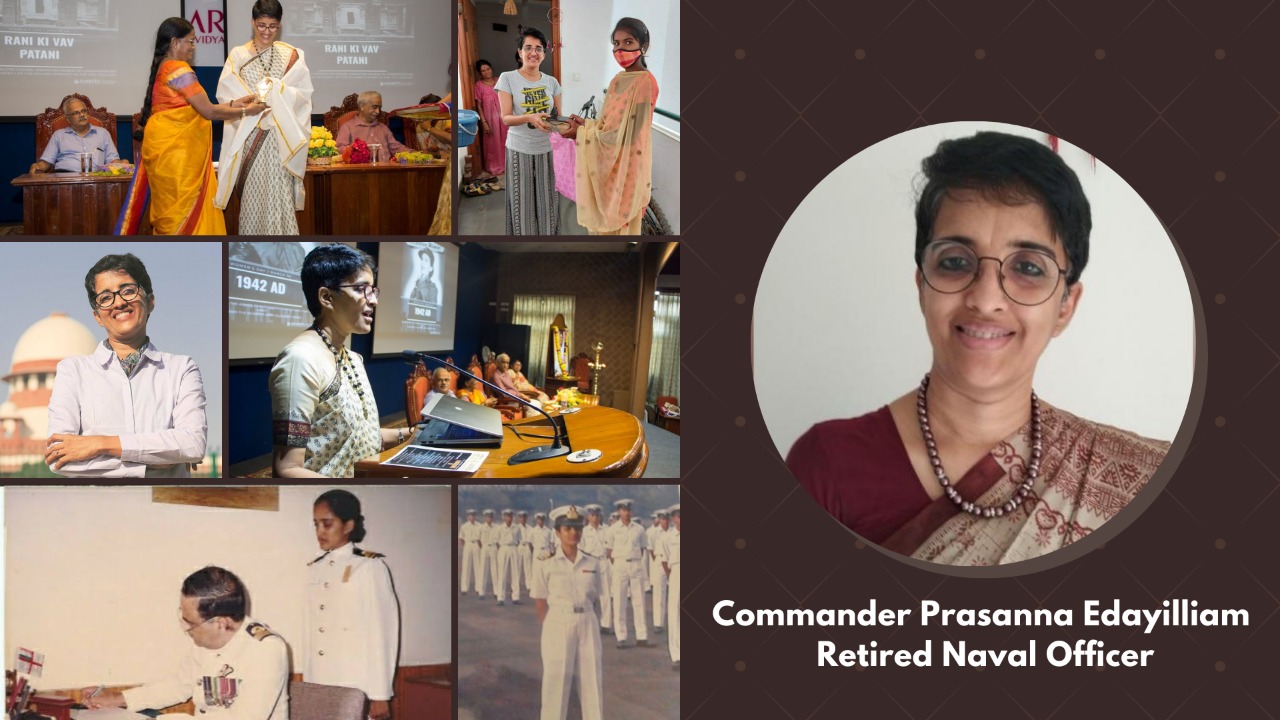 By:Reshma Jain
Exactly a year ago, on March 17, 2020, the Supreme Court in its judgement upheld the right of women naval officers to be considered for Permanent Commission (PC) on a par with their male counterparts. The court had said that women officers in the Short Service Commission (SSC), serving in the field of education, law, and logistics cadres of the Navy, should be granted PC. The order was based on a case filed by 17 women SSC officers who were denied PC and discharged despite completing 14 years of service.
One among the 17 women officers was Prasanna Edayilliam who hails from a small village called Udma in Kasaragod district of Kerala. On completion of one year of a major victory in the country when the apex ruled in their favor, Socio Story brings the story of this brave and strong woman who fought for gender equality in the Navy for 10 long years after her retirement.
Hailing from an orthodox and conservative family where speaking to men was restricted and when women could not make their own choices, Edayilliam was determined to take a path less chosen. Her father who was actively involved in NCC during his college days was her constant source of motivation and had always encouraged her to join NCC in school and college. She was always enthusiastic about participating in parades on Independence Day and Republic day. While Edayilliam's father worked at a chemical manufacturing company called FACT Ltd, she became a member of the naval wing of NCC. She underwent a few training programmes in the Kochi naval base, which helped her in understanding more about life in the Armed forces. Her NCC officer Thomas Varghese and unit commanding officer/group commander were helping Edayilliam to prepare for SSB (Services Selection Board).
Sharing the challenges that she had faced while preparing for SSB, Edayilliam said, "I used to travel alone to Bhopal for my examination. While the other students were accompanied by their parents, it was a challenge to travel alone in those days, find an accommodation and deal with all situations alone. In another instance, when I travelled from Mangalore to Goa via bus, I was the only lady on the bus while most of the men were drunk. Around 1 am in the night, we had to get down the bus and cross the bridge with our luggage. My first posting was in INS Rajali where the total strength was more than 1000 officers. Being the only lady during all meetings/function, we were always addressed as 'Good morning lady and gentlemen'. These kinds of situations made me tough and I was confident to deal with such situations that came my way."
In 1994, Edayilliam joined the Navy as an SSC officer in the Air Traffic Control (ATC) branch. She was very passionate in serving the Navy and as she says, 'I always loved the Navy'. However, after 14 years of service, Edayilliam who was by then a commander, retired in the year 2008 when she was 36-years-old. Post her retirement from the Navy, Edayilliam struggled to get a job or look for alternative career choices. "Although we served for 14 long years, we were not allowed to continue to serve and were asked to retire. Most of us found it difficult to find another job. Moreover, we had to retire without pension and medical facilities. Hence, the thought on financial stability and job security after so many years of service disturbed us. It was high time that things changed and we decided to take it to the court and fight for justice," expressed the retired Navy officer.
"Male officers could join after their 12th grade or graduation as PMT or SSC officers. Also, they could join as SSC officers and later apply for PMT commission. But as female officers, we had no such options. Although we had to undergo the same selection, training and posting process, there was discrimination when it came to granting women permanent commission. The PC based on vacancy, merit and recommendation from the Chief of Naval Staff must be given to women officers as well," she further said by adding that we wanted to change the policy by Union of India regarding the grant of PC.
When Edayilliam sailed on board a Singapore ship which was commanded and operated by lady officers, it made her think on where her country stands. If a small country like Singapore can give opportunities to women and tap the potential, then why is India lagging behind, thought the officer who attended various adventurous camps.
Sharing her opinion on women and their life, 49-year-old Edayilliam said, "Multitasking ability of women is helping them to scale heights. Women have endurance by way of mental application where as men have endurance in terms of physical application Women are good strategy planners and are good at resource allocation with sustained efforts. Women need to come out of the cage and they will definitely fly high and achieve bigger goals."
Mother of a 13-year-old girl, Edayilliam who is based in Bengaluru is now associated with a few defense projects and also conducts motivational lectures for youth to encourage them in joining the Armed Forces. "I am glad that our hard work bore fruit for the future generation as the doors are now open for women to take up armed forces as their career. Given a chance, in my next birth, I would wish to become an officer in the Indian Navy," concluded the brave heart.
Important : If you are making an impact in the world, Please send us your story at : manoj@sociostory.in and we will try to cover you.