Feel Distressed? Reach out to mental health professionals and seek help
Sept. 9, 2022, 3:53 p.m.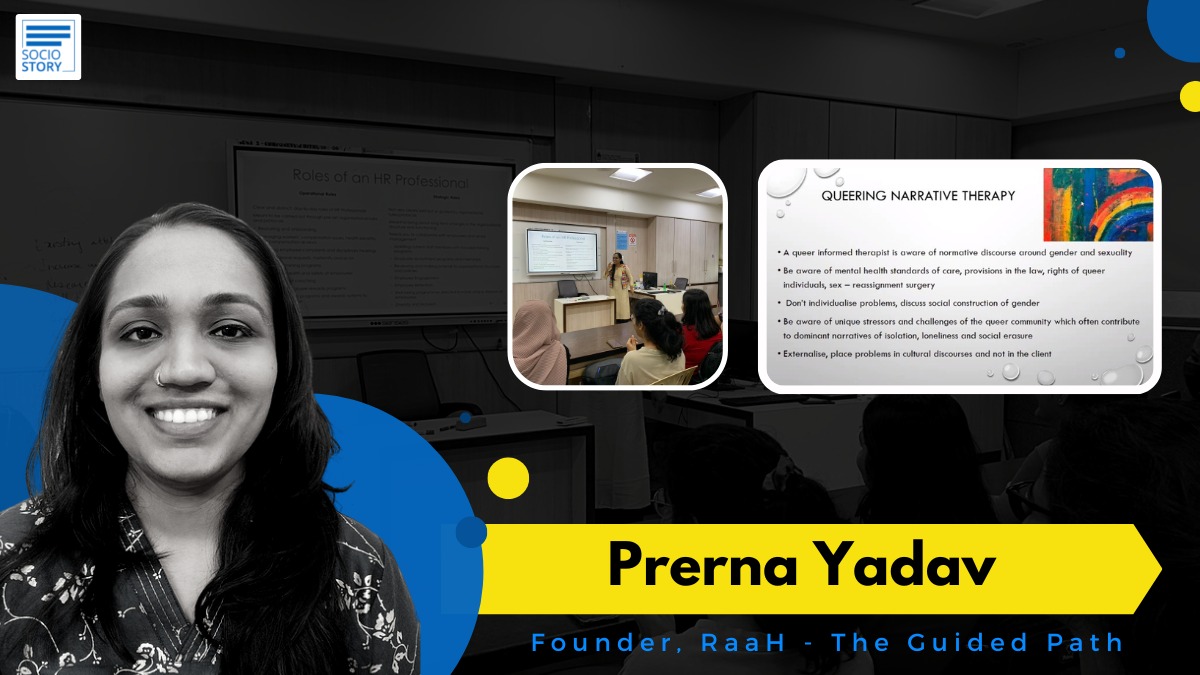 By: Reshma Jain
National Suicide Prevention Week (Warning- This article involves a few mentions of recent suicides)
She was 17. She left a suicide note stating that she was ending her life as she did not perform well in her examination, stated a newspaper report two days ago.
He was 20. He died by suicide as he had failed to clear his final semester, stated a report on the same day.
With an array of reasons, we come across such shocking incidents every day. The suicide rates have gone up and this alarming situation demands the attention for an action.
On this National Suicide Prevention Week, Socio Story throws light on how important it is to seek help from mental health professionals/ psychologists/counsellors/ psychiatrists. A Counselling Psychologist, Prerna Yadav, Founder of 'Raah : The Guided Path' shares some insights on how counselling can comfort and help the individual in difficult times.
Speaking to Socio Story, Prerna shares, "As an individual and mental health professional, it is alarming to know of the deaths by suicide globally. This certainly calls for action at a systemic level, where legislative bodies, healthcare organisations, mental health professionals, community workers, NGOs, support groups, come together to strategize effective implementation of policies and interventions aimed at suicide prevention."
Mental health is as important as physical health. While we are fortunate to be living in a day and age where communities are having conversations around mental health, we still have a long way to go. In order to alleviate stigma around help seeking for mental health and suicide, it is important for us to normalise conversations around the same. Schools, colleges and workplaces need to have awareness programmes on the importance of seeking mental health care. Mental health professionals should be a part of these social settings so that mental health services are more accessible. Apart from mental health professionals, people from the community can also be trained and involved as volunteers to normalise conversations around mental health among underprivileged communities of our society.
Prerna opines that psychosocial factors associated with suicides among youth are; academic stress, unemployment, social isolation, gender-based violence, bullying, discrimination, marginalisation, mental illness, etc.
Considering the complexity of an issue like suicide, an individual often needs to be supported by different professionals, crisis prevention helplines and support groups while they are coping with suicidal thoughts. Psychologists can help in addressing psychosocial issues associated with suicide, such as academic stress, interpersonal conflicts, violence, trauma, grief. Psychiatrists can assess mental illness associated with suicide and offer support for the same. A crisis prevention helpline offers psychological support in times of emergency whereas support groups and NGOs can offer emotional support and practical support needed by the individual in their day to day lives.
Sharing her experience of working with a mental health helpline, 28-year-old Prerna based in Mumbai, said, "I have worked at a mental health helpline for 6 years where I have offered support for suicide to people from diverse socio-cultural backgrounds. While listening to traumatic experiences and distressing thoughts seemed challenging, what helped me offer support was the fact that I was trained adequately not just in the skills to respond or create a safety plan, but also in the psychosocial and queer affirmative lens of understanding suicide. These perspectives move away from the diagnostic lens of suicide, and help us see systemic inequalities, discrimination, marginalisation as factors associated with suicide."
"I believe that in order to contribute to the cause of suicide prevention, it is important for mental health professionals to be trained to address suicide with empathy and sensitivity and also build a psychosocial perspective to understand the complexity of the issue," she added.
WHO defines health as, 'a state of complete physical, mental and social well-being and not merely the absence of disease or infirmity'. Similarly, conversations around mental health should not be limited to the presence or absence of a mental illness as mental health is dependent upon a lot of other psychosocial factors. While having conversations around mental health we need to also be aware of challenges associated with different developmental stages of life, and the support individuals are likely to require to cope with the same. Therefore, conversations around mental health need to be normalised in families, social settings, work spaces, public events and in any other space associated with the day-to-day life of an individual, shares Prerna who is an alumna of Tata Institute of Social Sciences (TISS). In her experience of working at a Field Action Project of TISS for nearly 6 years, she has worked in mental health programmes supported by NGOs, corporates, educational institutions, State Governments, UNFPA, UNDP, UNICEF and has trained health workers, medical professionals, state-run helpline volunteers, peer mentors in counselling skills and also to offer support for suicide. In February 2022, she started Raah with the aim of building capacities and skills of mental health professionals.
Anyone experiencing distress can reach out to the following crisis prevention helplines.
1. Mann talks- Helpline number 8686139139 or write at counselling@manntalks.org
2. I call- Helpline number 9152987821 or write at icall@tiss.edu