Fighting stereotypes, N Usha made her way into boxing and made the country proud
March 5, 2022, 9:45 p.m.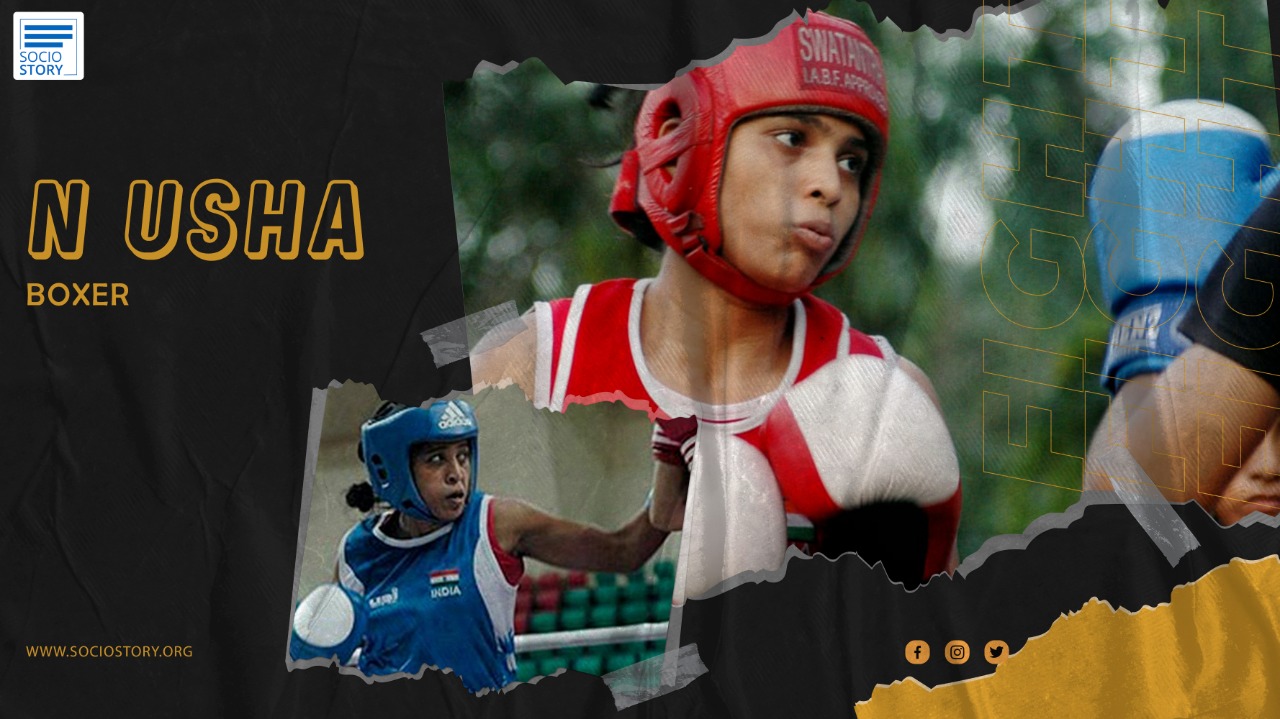 By:Reshma Jain
From teamwork, resilience, self-reliance, and confidence, sport is one of the great drivers of gender equality. The theme for the International Women's Day 2022 campaign is #BreakTheBias. Sport is one such area which has been gender stereotyped from time immemorial. However, a few exceptional and strong women of our country defied the stereotypes to realise their potential and dream. They not only made the country proud but are a source of inspiration to thousands of girls and women out there. The day is not far when we can forge women's equality and create a world where an individual, irrespective of gender, is celebrated.
Here is a story of a fighter from our country. Born in Visakhapatnam, Andhra Pradesh, to N V Ramana and N Umamaheswari, Indian boxer Nagisetty Usha stands as an inspiration. For reasons not one, but many. It took years of hard work, dedication and courage to make a mark at a young age and in a sport which is stereotyped. Thanks to powerful Indian women boxers like Mary Kom, Lovlina Borgohain, N Usha, etc who have broken the stereotypes and have set world records.
Interacting with Socio Story, Usha shared that she grew up around people who were supportive of her dreams. This came as a blessing during those years because when it came to sports, there was no connection with women. Stating that her inspiration is her father who was also an athlete, Usha reminisced, "My neighbours were actually thrilled that I was into boxing and I used to love the attention. It really spurred me on."
N Usha, Indian champ with two silvers in the Worlds and a gold in the Asian championship, had received the Dhyan Chand award last year. The Boxing Federation of India had recommended her name for this lifetime sporting honour of India. She had won the gold in 2008 at the fourth Asian Championship by defeating Imanbayeva Zhuldazay from Kazakhstan, in the 57 kg category. Adding feathers to her cap, this young woman and a mother of two has been credited with 11 international medals and 12 national medals in her sporting career. To her medal tally, she bagged 4 gold, 5 silver, 2 bronze at the international level, 9 gold, 3 bronze medals at national level apart from various medals to her credit. Usha was also a six-time senior national champion from 2004-2010.
This young champion who is a Vizag-based boxer was with the Indian senior women's team as coach for many years and now, she is the coach of Indian Railways women's boxing team. She had also continuously bagged gold medals 6 times in elite women boxing championships.
A BA graduate, Usha, said, "My parents and family have been my strong pillars of support. If not for their support and encouragement in my formative years, the journey would have been impossible. Family support and awards for women boxers should motivate girls to look into boxing as a career and dream big." In recognition of her ability, Usha was the only female boxer who was invited for demonstration bouts in the World Boxing Championship for men in 2009.
"The biggest disappointment in my career was when I missed the 2012 London Olympics because of knee surgery and neck injury. However, destiny had different plans and I decided to set an example for the budding female boxers by encouraging and motivating them," added 37-year-old Usha.