"Find a reason to hold on to life, so that you can deal with anything", says Jincy, survivor of a suicide loss
Sept. 9, 2020, 10:34 p.m.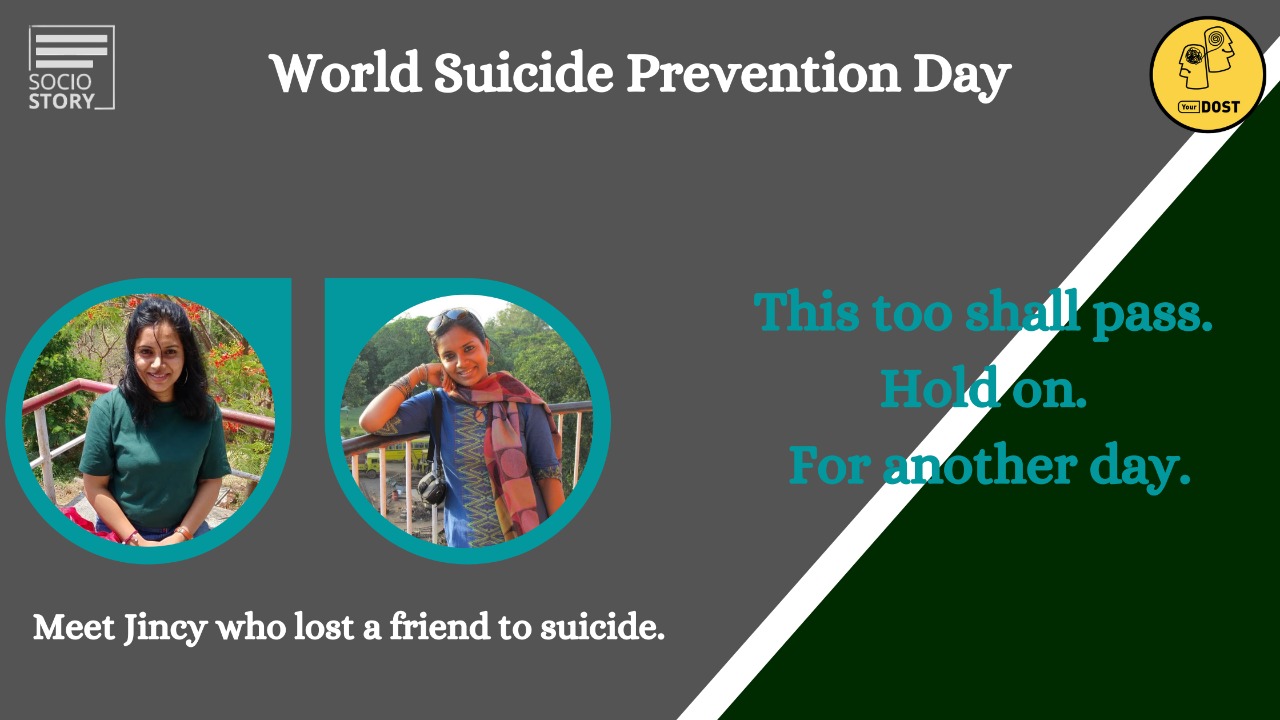 By:Reshma Jain
He left a note along with his ATM pin. He said he's sorry for disappointing his parents. He mentioned that he had left a little bit of money that his family could use. But will all these messages, money and disappointment replace the loss of a loved one? Of course, No! Losing a loved one to suicide is a traumatic experience.
When two of Jincy's friends were on the verge of ending their life, they sought solace in Jincy. They found Jincy approachable and easy to confide in. So, she thought people have been comfortable talking to her about things they would normally not share with anyone. "This is why it hurts a lot because I can't help but think to myself - "Why was I not there for Jason (name changed)?" Jincy says in a low tone.
Jason was a best friend of Jincy's brother. Jason was a friend who was part of their family. Being raised in a humble background, Jason's parents wanted him to pursue a career in nursing. "He didn't want to do this because he was very good at drawing and wanted to pursue architecture. There is also a lot of stigma towards male nurses and that just added to his respite. However, he picked up a nursing job at a hospital in Mumbai. He didn't stay there for too long and later, decided to pick up a job at a call centre. Things seemed to be going well for him at that point of time," shares Jincy, an engineer based in Mumbai.
But November 5, 2016, turned out to be a fateful day, said Jincy. "There was a huge celebration at our local church. My brother called up Jason and asked him to join everyone. He said he'll try his best and my brother didn't force him either. Jason's parents also asked him to come along but he declined. His parents left the house around 6:30 pm, thinking he would join in later but he didn't turn up. By the time they got back, he was long gone," added Jincy.
Jincy was married by then and was living in another part of the city. She was also expecting her first child and was 5 months pregnant. She didn't find out until the next day about Jason's death. It was a Sunday and she was getting ready for the weekly mass when she got a call from her brother. He asked her how she was and told her that he could not sleep the night before. However, her brother could not share what had happened.
She later received a text message from one of the mutual friends who broke the news to her. "I didn't know how to react, I was frozen. I immediately called my brother and he broke down. I couldn't believe this had happened; he was such a kind soul. We had no idea that he was in so much pain that this seemed like the only way out. I drove to the funeral but my family didn't let me see him. It would be too traumatic for me, they said as I was pregnant. I couldn't blame them for being concerned," she shares.
"We don't know what made him do what he did but there were no signs. He was always laughing and smiling. From the looks of it though, it seemed like he had been planning this from quite some time. Maybe he was dealing with something and I wish we could do something to ease the pain. Maybe there were voices in his head and sometimes, it's difficult to shut them off," added Jincy.
Suicide survivors say that coping is a very difficult process when you lose someone to suicide. There is an added guilt that you could have done something. There are a lot of "ifs" and "buts" and no matter how much you try to forget; it just hits you when you least expect it.
"This incident made me extra-vigilant when it comes to those around me. I constantly check up on my friends especially, those who are going through a rough time.
To all the suicide loss survivors - The best way to cope is to look out for people around you so that you can prevent loss of people," opines Jincy.
"One thing that I try to do is that I don't post a lot of happy pictures of myself or my family on social media because you never know what the other person is going through. Your highlights might trigger someone who is being hurt. I have struggled with suicidal thoughts on so many occasions. But if you have a "why" in your life, a reason to hold on to life, you can deal with anything. Find your reason, my reason is my son," shares Jincy.
"Another thing that I have learnt from experience is that one way to feel better is to make someone else happy. A random act of kindness can really boost your happiness and that happiness stays with you," concludes Jincy.
This story is brought to you in collaboration with YourDOST as part of the World Suicide Prevention Day campaign. YourDOST is an online counselling and emotional wellness platform which provides 24X7 emotional support to people all over the country. For more details do reach out to them at www.yourdost.com
Important : If you are making an impact in the world, Please send us your story at : manoj@sociostory.in and we will try to cover you.