First step towards empowering the younger generation, 14-year-old Hasini aims at creating a social impact
Aug. 27, 2022, 9:05 p.m.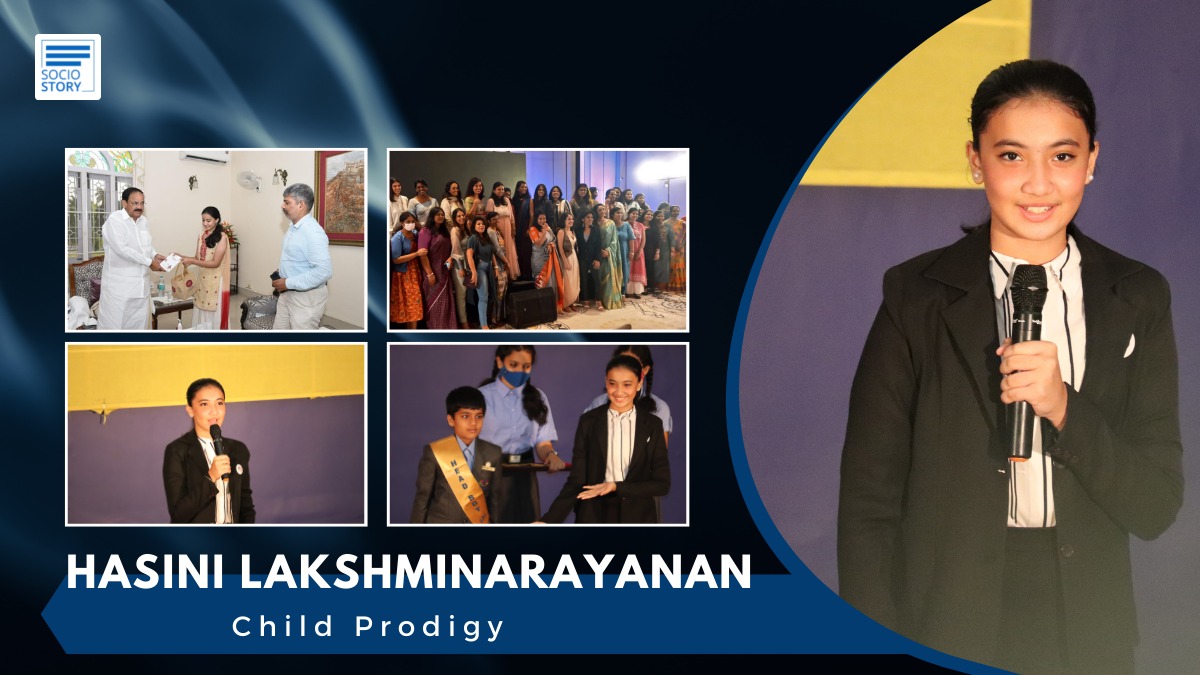 By: Reshma Jain
What started as a surprise video interview planned for fathers on 'Father's Day' along with her father as the interviewee, turned young Hasini into the founder of 'The First Step'. With a vision to bring hope in the hearts of children who often feel low in self-esteem, she has taken her first step towards converging her vision into reality. Through this project, she interviews children in the age group of 7 to 17 who have stretched their limits to pursue their passion. She shares their stories on her YouTube channel to inspire millions of children across the world.
Hailing from Chennai, 14-year-old Hasini Lakshminarayanan is the Young Nutrition Ambassador, ICDS - Govt of Tamilnadu. Her live event on YouTube in September 2020, saw 1000 plus children from across India interacting with Young Entrepreneurs leaving them motivated to unleash their hidden potentials. This led to her being invited as Freelance reporter for 'Brainfeed High' & 'The Hindu in School' (two leading magazines featuring works of children).
With significant feather to her cap, this child prodigy has a lot to share and is definitely an inspiration to the young generation. Hasini shared that she has always looked up to inspirational people in various fields. "But I first drew inspiration from Sujith Kumar sir, Founder of The Maatram Foundation who has delivered more than 3,000 sessions on the stage. I adore, admire his talks and have always wanted to be a speaker like him and inspire the youth," expressed the child prodigy.
She further added, "I have spent most of my childhood meeting and interacting with new people. And when the pandemic struck, the very first thing I realised was that social communication might decrease. However, I figured out that technology can play a vital role and can help me retain social communication. That's when we came out with the concept of interviewing young achievers on a mission to empower the youth."
On being asked about her accomplishments, Hasini said, "When I was writing my book, I never thought that I would get the opportunity to meet the then Vice President of India Shri Venkaiah Naidu and DGP of Tamil Nadu Dr Shylendra Babu to get a foreword for my book. I was on cloud nine when the book finally got published."
Speaking to Socio Story, Hasini said that her family has been her biggest support. Her father has helped her in every move she has made not just as a parent but also as a mentor and has traveled along with her to places she always wanted to be in. Her mother has been her strength in giving the much-needed mental support. She also says that her younger sibling encourages her in every situation.
Hasini considers challenges as room for improvement. She grew up hearing from her father that 'there are no failures, only feedback'. She strongly believes in the fact that we will face failure when we are out of our comfort zone. That is when the learning starts, so be happy if you fail because you are bound to learn something new.
On being asked on how she strikes a balance between academics and extracurricular activities, Hasini, a TED x speaker, shared, "Academics are my first priority but I've also realized that it's equally important to learn and experiment at this age. Hence, I started my journey towards realising my passion and have been going with the flow."
Under the Nutritional awareness program of the Integrated Child Development Scheme (ICDS), Government of Tamil Nadu, Hasini who is an Ambassador for ALERT and Child Chapter has done 9 episodes to create awareness among young girls on topics considered taboo.
Hasini's aim in life is to be an inspiration and to be the largest business tycoon. She loves the idea of entrepreneurship and at the same time creating a social impact on Youth by empowering them.