For the first time in the history of Magadh division of Bihar, biodiversity conservation initiatives get a spotlight
Feb. 20, 2022, 6:26 p.m.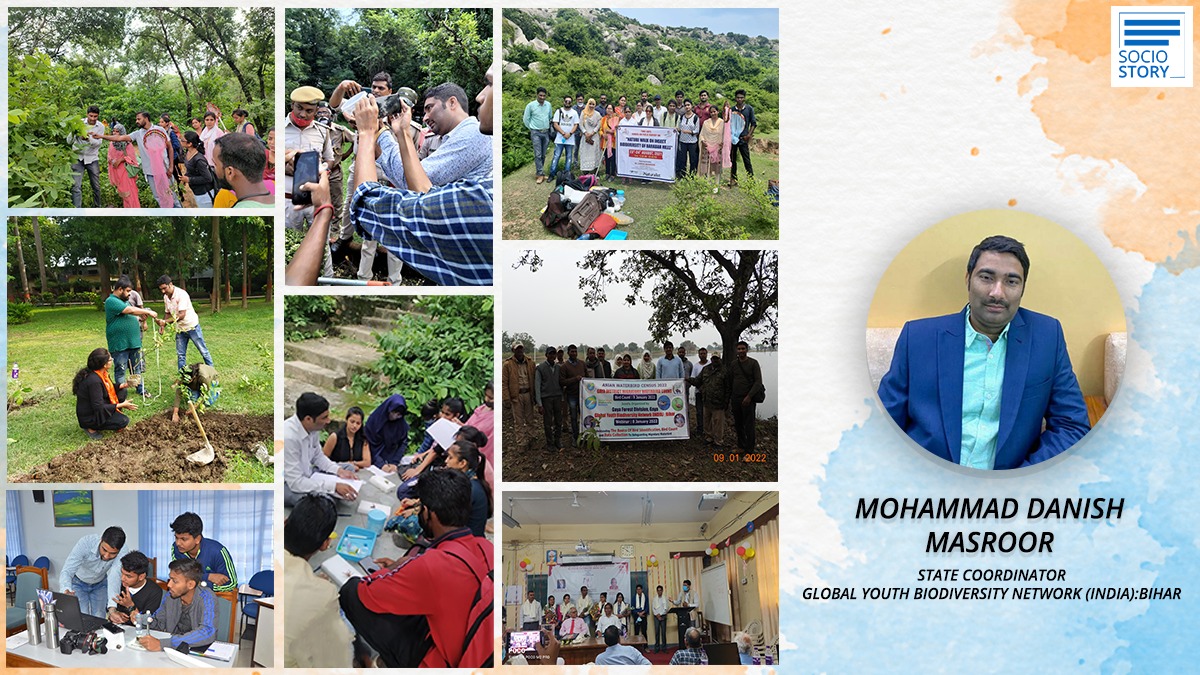 By:Reshma Jain
When each one of us are in accord with nature, nature will yield its bounty. Unfortunately, we are violating the environment in which we are living and cutting off the energy and source of our own living. Human beings and their activities play direct roles in biodiversity loss which in turn disturbs the ecological cycle and has a negative impact on all living beings. From habitat loss, invasive species, overexploitation, pollution and climate change associated with global warming, the causes of biodiversity loss are due to our unlimited needs and desires.
Disturbed by the plight of biodiversity loss, Mohammad Danish Masroor hailing from Nawada district of Bihar decided to contribute towards biodiversity conservation so that human beings as well as the flora and fauna live in harmony. Masroor's journey started in the year 2017 and since then, he has been working and exploring the hidden treasures of nature. Masroor who is pursuing his Ph.D in Entomology, Dept. Of Zoology in Magadh University, Bodhgaya is also the State Coordinator of Global Youth Biodiversity Network (India) for Bihar.
While sharing a few incidents, Masroor highlighted the mass death of house crows which was reported in Nawada and Gaya district in 2019. The villagers had informed him that the carcass of more than 50 house crows were found in different places for a span of a few days. Although he tried visiting the places, the cause of mass death of house crows was not known. During this incident, he contacted the concerned officials but due to lack of timely support, it took a lot of time to manage the collection of dead birds & decompose them safely. He then approached the District Magistrate in Nawada and discussed the issue. He received good support from the DM and like-minded people on how to collect the samples for laboratory tests and how to safely decompose them. The samples were sent to SACON and the govt officials later announced that the birds died of avian influenza. "Such incidents take place in a lot of places in India. Either people do not pay heed to them or it just goes unnoticed. I have a couple of projects lined up to ensure that birds, animals are protected and not killed by any means," shared 35-year-old Masroor.
Inspired by his sister who often engaged him in field work during her Ph.D, Masroor decided to do something related to Biodiversity conservation. After which he has worked towards silk worm conservation and awareness, exploring precious mushroom Ganoderma distribution, sensitising the local community about harmful invasive alien species and motivating youngsters to safeguard local and migratory birds.
"More than 20 youngsters are working with me to explore faunal diversity, beneficial species conservation (example- butterflies conservation), local community awareness and data collection for the future. Some are interested in conserving pollinators and butterflies. Some local communities are now aware about the benefits of silk farming. Girls are also being trained to enhance their livelihood," shared the nature enthusiast who has been working from 6 years to explore biodiversity and has reported more than 7 new distributional records of insects and snakes.
Adding that each and every species have their own importance in the ecosystem, he further said, "I now plan to spread awareness in local communities for integrated silk farming, to engage youth in biodiversity conservation practises, to educate people to limit wildlife human conflict, etc. Along with my team, we will also introduce nature-based solutions for rural communities. We would also detect, identify and eradicate the invasive alien species from our local faunal diversity and take all the measures to conserve the biodiversity in our surroundings."
Sharing one of the recent initiatives, Masroor said that Asian waterbird census takes place every year in Asia to collect data for safeguarding migratory waterbirds. In the context of Magadh division, no data about migratory waterbirds is available till now. This makes it difficult to study on conservation of birds and find out illegal trade/bird poaching activities. Considering the aforementioned needs, Masroor requested DFO Abhishek Kumar to support. In collaboration with GAYA forest division and GYBN (India): Bihar, Masroor was able to conduct the survey and collect data as well. "We counted 2,989 Migratory waterbirds of 26 species in 7 water bodies in 3 days. The counting which was done for the first time in Magadh division is important to safeguard, conserve and avoid illegal bird trapping as well as poaching," stated Masroor.
The Global Youth Biodiversity Network's Youth Voices Program was initiated in 2016 and is a youth empowerment program that aims to build the capacity of young people to better understand biodiversity issues and spearhead a biodiversity movement that aims to transition our society to one that lives in harmony with nature.