From a cancer survivor to a functional strength trainer, Farzana Begum is on a mission to encourage Fit women for a Fit society
July 15, 2020, 9:11 a.m.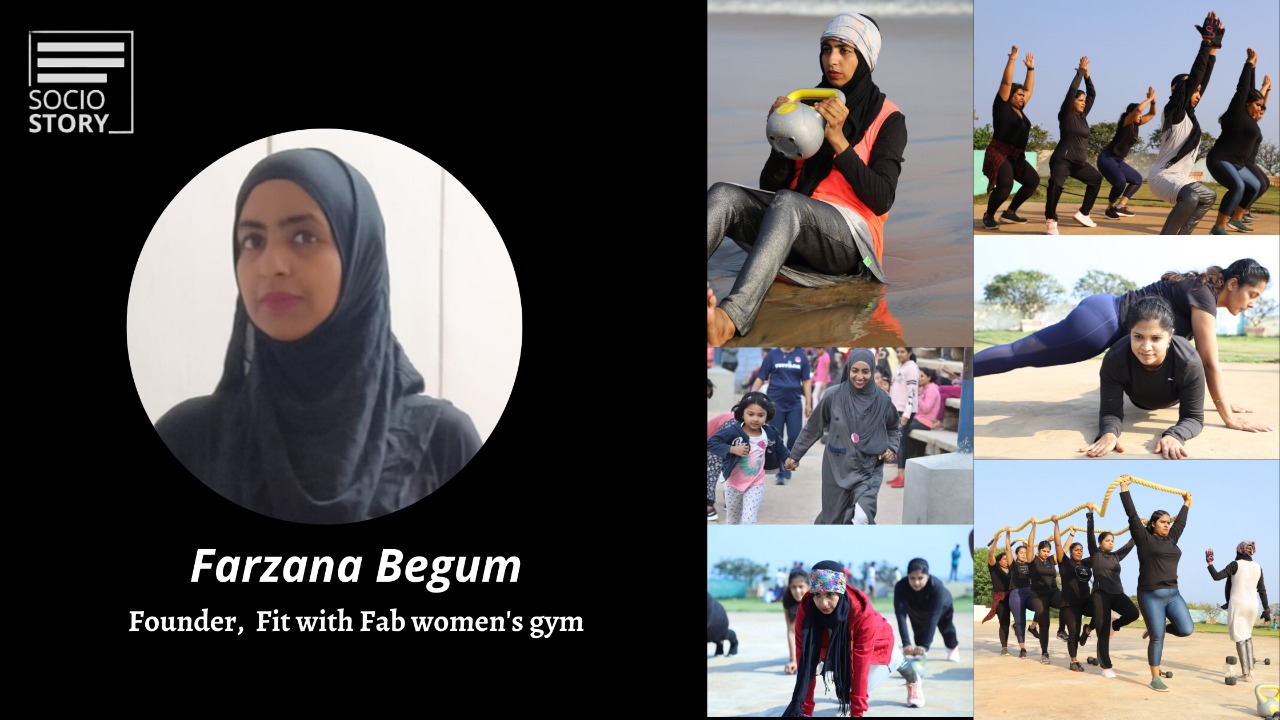 By:Reshma Jain
'God gives the toughest battles to his strongest soldiers', believes Pinkathon ambassador and functional strength trainer Farzana Begum from Visakhapatnam. From being stereotyped for wearing a hijab and training to battling life threatening tumours and surviving a cancer, Farzana trusts that these struggles came her way to pave a better life. Here, we bring the story of Farzana who focuses on women's health and hopes to bring a lifestyle and positive change in the women's world of fitness. Her mantra for fitness is not about body transformation but holistic change in mind, body and soul.
Sharing insights on the need for fit women for fit society, the fitness enthusiast says that it is a general notion among people that fitness is all to do with the elite class. However, Farzana has made fitness available for every woman. For those women who cannot afford to pay the gym fees, she has been organising free strength training sessions in the city and around the globe (through online sessions) and has been motivating women to include fitness activity in their daily routine. She also runs a lifestyle change group on whatsapp where she conducts free zoom sessions on 'Women and Wellness'.
US certified functional trainer from TotalFit, USA, a certified personal trainer and a nutritionist from GMSA, a Kinesiology Therapist from Movfit, a certified coach for runners from Fit India Trust, New Delhi, Farzana's love for strength training started in 2017 after witnessing several women suffering from low bone density, low muscle mass and several other health issues. She wanted to educate women about the importance of strength training and this motivated her to do her certification.
However, in late 2017, Farzana, mother of two girls, was diagnosed with a life-threatening tumour on the spine. Post her surgery in 2017, she was informed that the tumour was big in size and had moved into the chest and needed another surgery once the spine recovered. After her second surgery, she started training women in Vizag. It was in March 2019 that she underwent another major surgery as the tumour had grown big and eroded her rib. It was post her second surgery that she was diagnosed with High-grade Lymphoma (Blood cancer).
But Farzana (39) found the strength to persevere and endure in spite of overwhelming obstacles, which helped her fight against the deadly disease with her will power and positive attitude. "Like any other cancer patient, I had lost my hair, eyebrows, looked pale, was extremely weak and had no strength at all. The treatment was stressful for sure, but I had huge support from my family and friends and was able to stay positive through most of it. What kept me going through the painful journey was my training sessions with my clients which gave me the courage to fight it and to have hope that I will get through it."
That is when she decided to take fitness forward as a career and reach women from every class. "I believe fitness is every woman's right no matter what her circumstances are and also every woman's duty to herself. The only way to create awareness is to make fitness available for every woman, hence I started free training sessions for women. I am also available 24*7 to answer any health queries that people have," she said while speaking to Socio Story.
"My dream was to have an all-women's gym, a place where women could call it their space, a space to share joys and happiness and a place to be a stronger and more positive person. A space where there would be no fear of body shaming or peeping toms watching them working out. My dream came true this year, 2020, when I opened a functional gym exclusively for women in Vizag. The gym also caters to the under-privileged women, women cancer patients and survivors by providing free classes to them," stated the functional trainer.
Farzana who is a cancer survivor opines that there are several phases that a woman goes through in her lifespan. She goes on to add, "And it's only a female trainer who can help them combat these hormonal changes through the right diet plan, workouts and mental health. Also, there are several myths associated with lifting weights. My aim is to let women experience the strength training to break the myths and to cater to the holistic needs of a woman."
Her next goal is to work on different aspects of women's health and get more women to walk this journey called 'healthy well-being'. Her message to every woman, young or old, is, "Please remember, your lives matter, you are important. Start loving yourself and give yourself the space to do what makes you happy, pamper yourself. Be the best version and the best support system."
Important : If you are making an impact in the world, Please send us your story at : manoj@sociostory.in and we will try to cover you.