From a lavish life to a minimalist life, Sudhakar Veeravalli returned from the USA to serve the villages of India
Nov. 23, 2020, 4:51 p.m.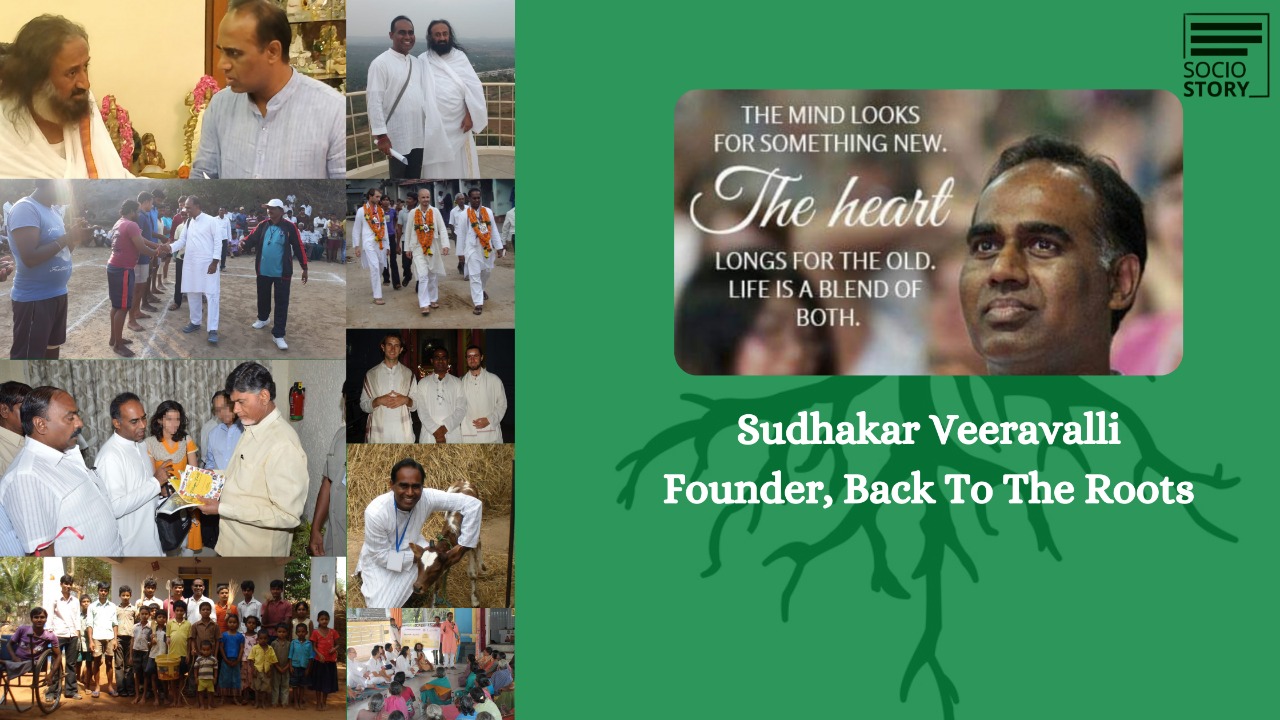 By:Reshma Jain
A beautiful home, a lucrative job, a few cars and a hefty bank balance- all that a person thinks he/she requires for a 'good' life. Right? Sudhakar Veeravalli who was then in the USA was fortunate enough to have all these material accomplishments and was 'satisfied'. But one day he realised that life needs to be lived with purpose. He decided to wrap up, leave his 18 years IT career in the USA and fly to India for good. From a lavish life to a minimalist life, Sudhakar shares his journey with Socio Story.
"After about 12 years, some sense of vacuum crept in with the routine life. I was looking for something else but did not know what," expressed Sudhakar.
He further said, "While in the US, I (and in general most Indians in USA), felt sorry and also complained about the state of affairs in India with regard to politics, health, hygiene, education, farmer suicides, issues with girl child, corruption, lack of toilets, excessive use of alcohol, declining cultural heritage and values, etc. We all wanted to do something for our motherland but didn't know how and what. We used to just talk and verbally come up with solutions and go to bed."
Sudhakar constantly felt some sense of dissatisfaction for not being able to do anything for the motherland, especially when he used to get updates about current affairs from his father. After returning to India and getting into active service (seva) on the ground with real people from the villages, being with them, working with them, he felt a deep sense of satisfaction, a sense of contentment.
"My energy would shoot up helping people. Instead of complaining or wondering how, I became part of the solution. The love and care from villages and my Guru (Sri Sri Ravi Shankar), support from my parents and siblings, never reminded me of the material comforts of the USA. I felt that the purpose of one's life is to be of help to others," said Sudhakar whose father was into active service and believed in 'Service to mankind is service to God'.
Sudhakar joined the Art of Living (AOL) in 2002 in the USA and became an AOL teacher in the USA. He would meet Gurudev Sri Sri Ravi Shankar every year during his visits. He particularly liked the service aspect of Art of Living. He loved serving people in the USA and he would organize courses, help people with their personal challenges, etc.
"One day, my guru had asked me to come to India. So, in 2009, on a 3-week vacation, I visited the Bangalore Ashram to meet my Guru and he put me through some interesting experiences in the villages. Days rolled by, I was enjoying what I was doing and today, those 3 weeks of vacation have become 11 years. In fact, I left my car on the street in the USA for 2.5 years, hoping I would use it when I return. Finally, I got rid of it," said Sudhakar adding that AOL has given him a meaning and a purpose to life (selfless service). It taught him that life is a celebration and there is more joy in the process of giving/sharing rather than in taking/grabbing.
Sudhakar has been doing Padayatras since 2009 and has covered about 1,300 villages in 10 years. He recalled a memorable incident and said, "In a remote village near Paderu (Visakhapatnam district), we met all the people in villages door to door and conducted a bhajan satsang at the local temple. After finishing the Bhajan, we had some dry chapathi offered by the locals and started our return journey by car. It was pitch dark, but an old short lady came limping and gave us a Pumpkin. 'We are poor people and cannot offer much. Please accept this', the woman said. All of us were shocked and amazed with the culture of India. Poor people share whatever little they have. An attitude of giving, sharing is part of our culture and upbringing. This first incident touched me immensely."
"In the villages, I have experienced the great Indian culture 'Atithi Devo Bhava - Guest is God'. It still exists in the villages. There is a feeling of belongingness, care and attitude of giving among the people hailing from villages," added Sudhakar who is the founder of Back To The Roots project- Adopt a Village.
"After realising that materialistic life is temporary, my needs have drastically reduced. I understood that I can live with 2-3 simple sattvik meals a day. I learnt to take a bath with just one bucket of water. The drive to help people became so strong that I could travel in 3rd class by train, standing in buses, travelling with people who sweat, smell, spit. It didn't bother me because my mind was fixed with this thought of seva.
Back to the Roots was formed in the year 2010 and its key accomplishments in the last 10 years are:
Outreach by walk (Pada Yatras): 1,300 villages covering 1 Million people
Model Village at Narayanarajupeta [Toilets, soak pits, roads, drains, water filters, school, panchayat building, govt. schemes]. An alcohol-free and plastic-free village: Kothapalem.
Social Responsibility and Leadership Training (YLTP): 2,500 Youth
Ordinary citizen to social leader to village President by service: 16 Sarpanchs
Constructed 659 Toilets, 523 Soak Pits
Assisted in creating 80+ ODF (Open Defecation Free) Villages
Yogathon/Yoga Day: 1.5 Plus Lakh students annually, engaging hundreds of volunteers
Seed to Sapling-Tree Plantations: 15,000 Lakshmi Taru and thousands of other plants
ZBNF – More than 100 Zero Budget Natural Farming Workshops. Motivated and brought 2,500 acres into Natural Farming
Supporting the education of 33 average students
Alcohol free villages.
Blood Donation Camps
Kumudavati River Rejuvenation project: 14 Wells (Koneru) restored, desilted and dug up the wells.
Sharing his future plans, he said, "We plan to form Back to the Roots Village Development Committees in 5,000 villages to spread the wisdom of India to as many villages as possible through training programmes.
The other plans include training of 5 lakh youth in YLTP (Youth Leadership Training Program) and employability skills, offer training and promote natural farming, promote Ayurveda, etc."
In his message to the youngsters, Sudhakar concluded by saying "Believe in hard work. The short cut way to success is short lived. Learn about our own country. Behave in a way that you can be a role model for the future generations. Learn the importance of time and use it well for yourself, your loved ones and for the Nation."
Important : If you are making an impact in the world, Please send us your story at : manoj@sociostory.in and we will try to cover you.