From amazing pencil tip sculptures to a world of miniatures, Anil depicts his art with pencils
July 22, 2020, 6:41 p.m.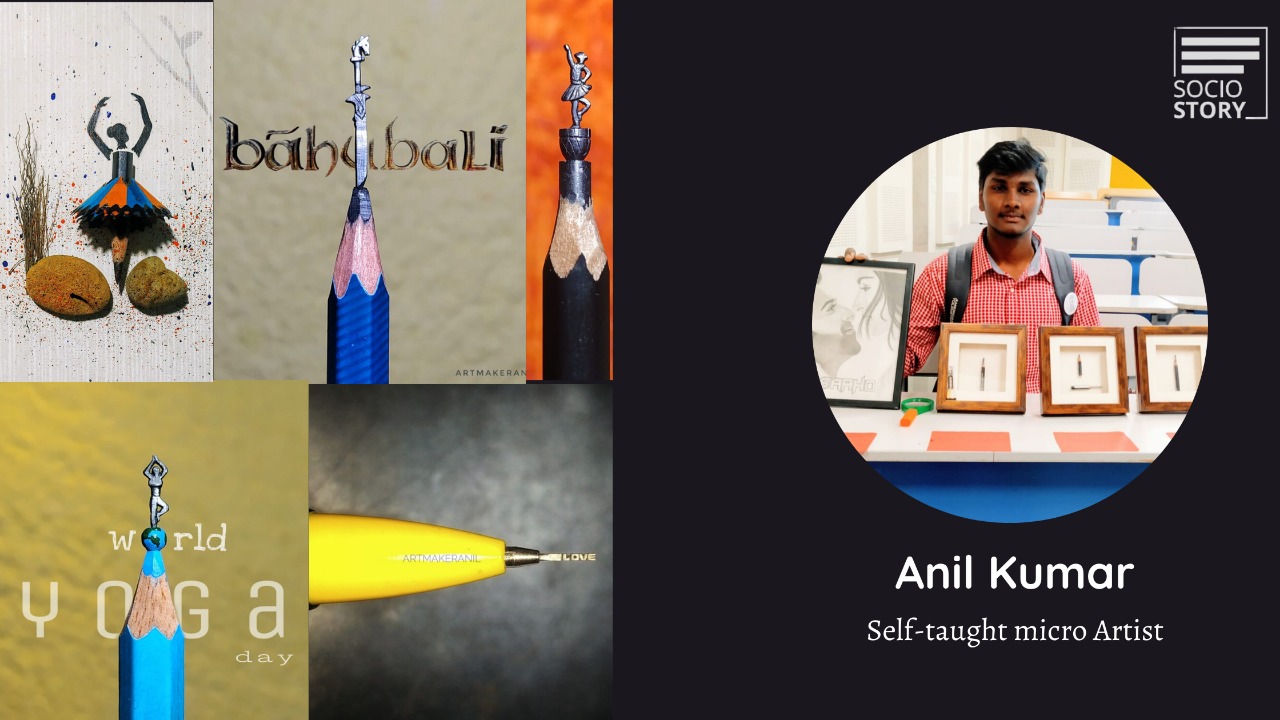 By:Reshma Jain
When PENCILS are used as a medium to depict art, it changes the way we look at pencils. Meet K Anil Kumar from Hyderabad who does amazing carvings on pencil graphite and has created a world of miniatures. Hailing from Sangareddy district in Telangana, Anil has changed his passion into profession.
When Anil was pursuing his intermediate studies, he realised his penchant in arts, especially in drawing and micro arts. Although his parents pushed him to pursue his higher education in engineering, he took up micro arts as a hobby. Anil who is now in his second year of B Tech has designed more than 250 miniature sculptures and has exhibited his work in different events (within a year). He now takes customised orders from people across the country and the money he earns is used for his studies and supporting his family.
The first alphabet that Anil carved was the letter 'S'. He spent months trying different types of miniature sculptures. From letters, symbols, god sculptures to other unique sculptures like Save the Planet, dancing girl, Bahubali, religious festivals, etc, Anil has shown it intrinsically through his art form by using a single blade and 8B drawing pencils.
The young artist whose Instagram account (@Artmakeranil) has beautiful pictures of his miniature art carvings, specialises in micro arts where he carves names and statues on top of a pencil. Sculpting on pencil lead is his favourite art form. He also does portrait drawing (drawing faces of people on paper using graffiti and charcoal pencils and creative arts (stone arts, line art + painting, etc).
Stating that Art is like a therapy, Anil said, "For making sculptures, I spend hours together to bring the realistic look and detailing in the art. Recently, on the occasion of International Yoga day, I did a yoga sculpture on the pencil lead which took more than 8 hours to complete. This is one of my favourite sculptures and I hope to create some exclusive sculptures for different occasions."
Speaking on the challenges faced during pencil tip carvings, Anil said, "During my initial days of practicing micro arts, most of the pencils used to break. So, I used to feel irritated but later I started to realise that art requires patience. I started doing my work with patience and now I can make a number of micro art sculptures without breaking a single piece."
Anil (20 years) who hails from a poor family was always drawn to the world of miniatures. Apart from his dream of becoming a good miniature artist, he wishes to bring out the talent among children from the lower socio-economic backgrounds. "Coming from a background where my Father was a mason and my Mother, a domestic worker, I know how difficult it is to grow without any support. Hence, I decided to take free drawings and micro arts classes for the poor people," said Anil who was selected as a maker for the 'Maker mela' event held at Mumbai and got first place in a competition held at IIT Hyderabad for his art.
The self-taught artist further added, "A few months ago, I went to a government school to teach drawings. The children were overwhelmed and many of them have picked it up as a hobby to enhance their creativity skills. I am also into a few more social activities which help people in need. I work for an NGO called 'Street Cause' where we take up projects like adoption of orphanages, govt primary schools, provision of benches, boards, stationery, water purifiers and other necessities."
This innovative artist who makes tiny things look beautiful dreams to build a platform where he can support growing artists and help the people in need to develop skills through his workshops.
Important : If you are making an impact in the world, Please send us your story at : manoj@sociostory.in and we will try to cover you.