From battling cancer to India's first wheelchair bodybuilder, Indian Arnold shares his life on wheels
July 20, 2020, 4:07 p.m.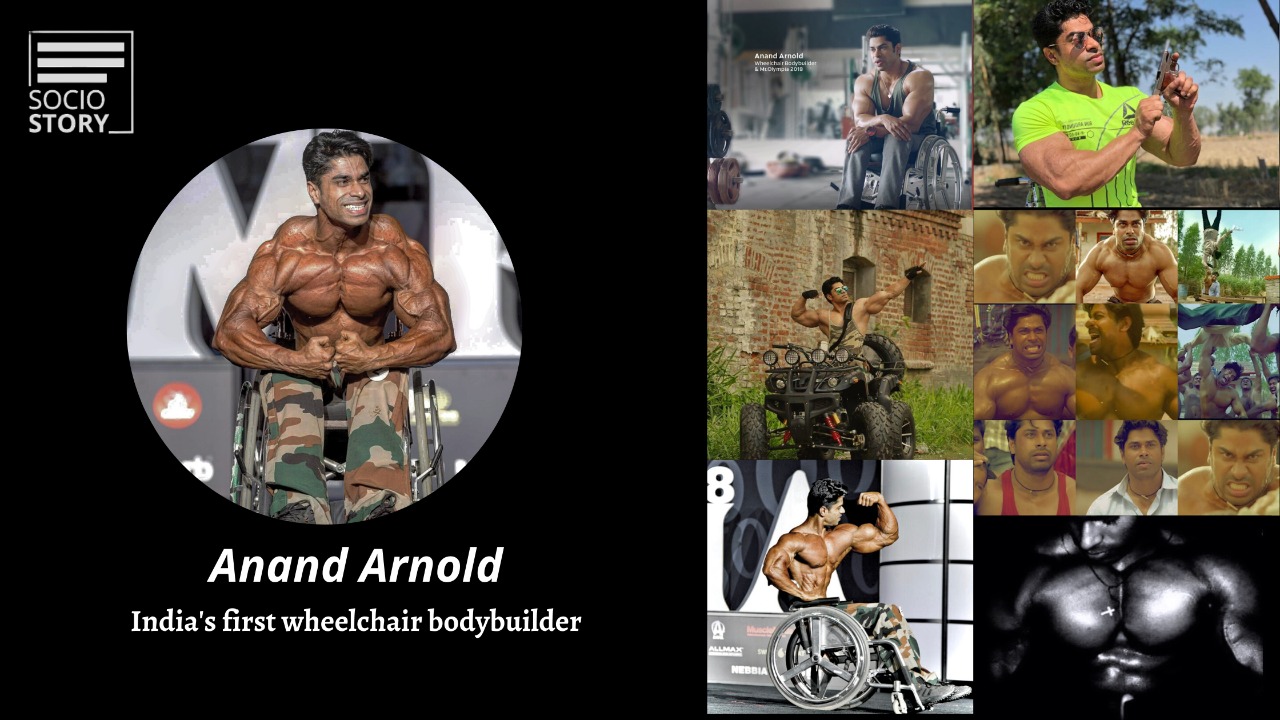 By:Reshma Jain
"My Ability is stronger than my Disability," states Anand Arnold who is the first wheelchair bodybuilder of India. Hailing from Ludhiana, Punjab, Muscle Man Anand shares his inspirational journey with Socio Story.
Born in a family with a sports background where his Father Prince Arnold was a footballer and his uncle Charles Arnold was a hockey player, Anand as a child fantasized being a bodybuilder. At the age of 11, Anand started rigorous workouts and started to follow the footsteps of his brother Joy Arnold. When Anand turned 13, he started going to the gym along with his brother who was then a state level champion in bodybuilding. Within three months of his practice, Anand gained muscles and won a district level competition. This motivated him to chase his passion, unfortunately only for the next one year.
Life took a different turn when Anand experienced a sudden lower spinal pain because of which he could not continue bodybuilding. After one year of leaving the gym, Anand again experienced a sharp pain in his spine. His dreams received a massive blow when he was diagnosed with cancer after a few days.
"One day I saw my mom crying. On asking the reason, she told me that the Doctor had said that I have chronic cancer and it was in the last stage. Doctors had warned that I will not be able to survive for long if a surgery is not done. So, within a week, the surgery was performed but brought with it more complications. After the surgery, I found that I cannot move my hands and the lower body. This came as a shock and I felt that it was the end to all my dreams," shares Anand.
Anand further adds, "After a few days my family took me home and everything had changed since then. Being physically disabled, there were four people to carry me home. It was a bad experience but life had to move on. I started with physiotherapy which went on for three long years and I thought I will be able to walk again and do everything as a normal person."
But one day, Anand went to a doctor for his check up and the doctor informed him that he will never be able to walk again and he needs to continue his life on wheels. Anand could not believe it and he could not control his tears as he was shell-shocked.
Then after a few months (when Anand turned 18), his friend encouraged him to go to the gym. His friend drove him to the gym and when he entered the gym and saw everybody exercising, he was astonished while recollecting his memories. "This is my dream place," he thought. He asked his friend if he could bring him to the gym every day. He immediately said an Yes and his life changed for good. In spite of being paralysed from waist down, Anand decided to hit the gym and make bodybuilding his profession with his tireless determination.
"I started bodybuilding again but this time on a wheelchair and with a greater zeal. And in 3 months, I got my full packs and then I approached my coach and shared my dreams with him. He assured me of my passion and introduced me to the bodybuilding industry. And then, I officially started bodybuilding on a wheelchair as a career. But in India, there are no bodybuilders on wheelchairs. So, I started competing with normal bodybuilders and differently-abled bodybuilders," stated Anand who is a model for a range of muscular mini action figures.
Bravo! In in few years, Indian Arnold won Mr. Punjab (13 times), Mr. North India (9 times), Mr. India (4 times) and many other titles. Anand won the Mr World title in 2016 in a competition held in Europe. He went on to become a fitness icon and in 2018, he was selected for Pro-Mr. Olympia in Las Vegas. He was the only one to represent India in America for this competition. Anand who is now 33-years-old has also represented India in Columbus and in Canada and won several competitions. Anand proved it to the world that nothing can keep you away from your dreams.
Anand Arnold who has won more than 50 bodybuilding titles will soon be seen on the silver screen as a few Bollywood directors have contacted him and said they are interested in making a movie on his life. He has done one commercial movie for Indian cinema titled 'Supreme Khiladi'. Anand is now playing the role of a villain in a web series named 'Tasal' and will play the role of a hero in an upcoming horror film. A book has been published in the USA titled 'Weight Less, A true story of courage and determination'.
"My dream is to build an orphanage where I can serve the disabled children and a gym where I can provide free of cost training to the disabled people," concluded Anand who believes in converting weakness into strength.