From being a doctor of human bodies to becoming a doctor of water bodies, Dr Rajendra Singh shares his story
Aug. 25, 2020, 7:02 p.m.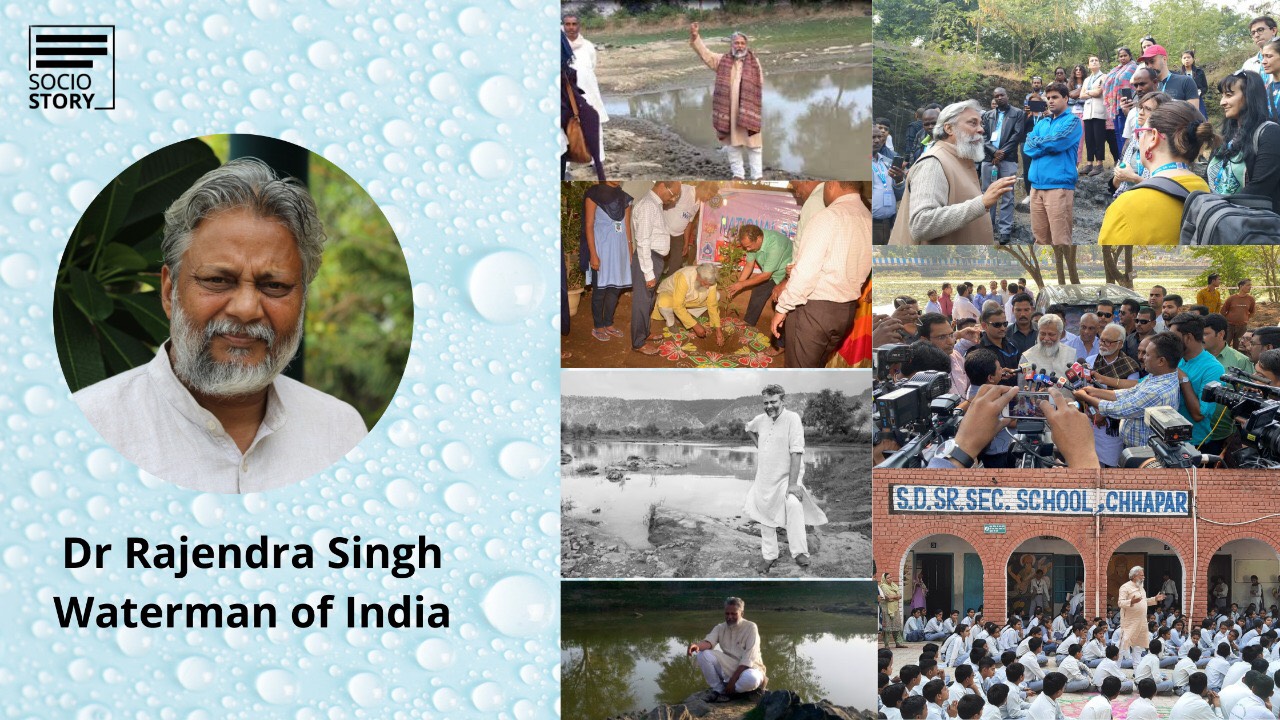 By:Reshma Jain
I was in class nine when I first learnt about the term 'Johad' also known as percolation pond which is popular in Rajasthan. People voluntarily built Johads so that women don't have to travel to distant places to fetch water. Little did I know that after a span of 12 years, I will have an opportunity to interact and pen down my thoughts on the man behind the creation of Johads- a traditional water conservation technique which transformed arid landscapes to lush green ones.
Popularly known as 'Jal Purush, Waterman of India', Dr. Rajendra Singh is a renowned river rejuvenator and environmentalist. Dr Singh is an Ayurveda graduate and a post graduate in Hindi literature. For his work, he has been awarded honorary doctorate degrees by the University of Agricultural Sciences in Dharwad Karnataka 2014, Purnima University Jaipur in 2016, and from APJ Abdul Kalam Technical University Lucknow in 2019. Dr. Singh has been awarded the 'Ramon Magsaysay Award' in 2001 for community leadership and was given the 'Jamnalal Bajaj Award' for use of science and technology for rural development in 2005. He also received the 'Nobel prize for water' - the Stockholm Water Award in 2015.
When Dr Singh was practising Ayurveda in Bhikampura and Gopalpura villages in Alwar, he noticed that a lot of people were suffering from malnutrition, Neoplasia and night blindness. While treating one of the patients (an elderly man named Mangu Kaka), Dr Singh asked him the reason for so many people suffering from health ailments. Mangu Kaka said that the health problems in the villages were due to lack of water. Dr Singh shares, "He said that if I was really worried about the villagers, I should rather work on helping them get access to clean and wholesome water because water was a bigger issue to address in rural Rajasthan than education. I was taken aback when Mangu kaka said that my treatment will not help them, as they need water. Then I decided to learn about water and work on bringing water to the barren villages of Alwar," said Dr Singh adding that he completed 2 PhDs in two days; one in environmental engineering and the other in Geo-science. There has been no looking back since then.
Dr Singh founded Tarun Bharat Sangh (TBS), which was established in 1975. TBS is based in Bhikampura in Thanagazi tehsil of Rajasthan, Alwar district. TBS has been instrumental in helping villagers take charge of water management in their semi-arid area through the use of johad, rainwater storage tanks, check dams and other time-tested as well as path-breaking techniques. Starting from a single village in 1985, over the years, TBS has helped and supported society to construct 11,800 water structures. More than 1,200 villages in the country are now water secure. As a result of their work, 12 rivers in the country have been revived.
"Keeping in view the reverse migration of rural youth, TBS has created job opportunities for more than 10,000 families. More than 7,000 people have received food from their community kitchen. We are now training people for employment in water conservation and reclaiming of waste land," stated Dr Singh while speaking to Socio Story.
In 1991, Dr Singh filed a PIL in the Supreme Court, which saved Aravalli hills and the forests in Delhi, Haryana, Rajasthan and Gujarat. The devastation caused by mining for economic prosperity for a few gave way to greenery by conserving water, water, and land and sustainable prosperity to many.
The 'Water Ethics, Justice and World Peace Tour' was initiated by Dr Rajendra Singh in April 2015. At the centre of the yatra were people who had become refugees as a result of water scarcity and who had moved to different parts of Europe. More than 20 countries in Africa, 20 countries in Central and West Asia and 20 countries in Europe, were covered under this tour.
"Recently, I had launched the 'Seamless Ganga Water Literacy Tour' for the river Ganga. In April 2015, the 'Water Ethics, Justice and World Peace' journey had begun. The yatra will continue for the next few months. Presently, we are also working for the rejuvenation of around 100 rivers in India as well as abroad," said Dr Singh who believes that non-violence is the only way to bring prosperity.
Speaking on the challenges faced, Dr Singh, said, "Initially, the government officials never bothered to understand the science of acquirers and the work I was doing to conserve water. By the end of the year 2000, I received about 380 legal notices under the Irrigation Drainage Act, 1954. But I was not scared of these cases and worked hard with determination." "On March 28, 2000, the former President of India, Kocheril R. Narayanan visited a few villages I was working in. After his visit, all the notices against me were pulled back and since then I have not received any such legal notices. And after the Magsaysay Award in 2001, many government institutions started inviting me for lectures and training on water conservation techniques," added Dr Singh who over the last 44 years of his life dedicated to society, has provided solutions to issues of climate change, adaptation and eradication through the efforts of local communities, empowering them through water conservation and replenishing groundwater banks.
In his message to the younger generation, Dr Singh, said, "For sustainable development, Give back what you have taken from Nature."
Important : If you are making an impact in the world, Please send us your story at : manoj@sociostory.in and we will try to cover you.