From being a domestic help to an Assistant professor, Dr Niyaz has left no stone unturned
Sept. 30, 2021, 6:21 p.m.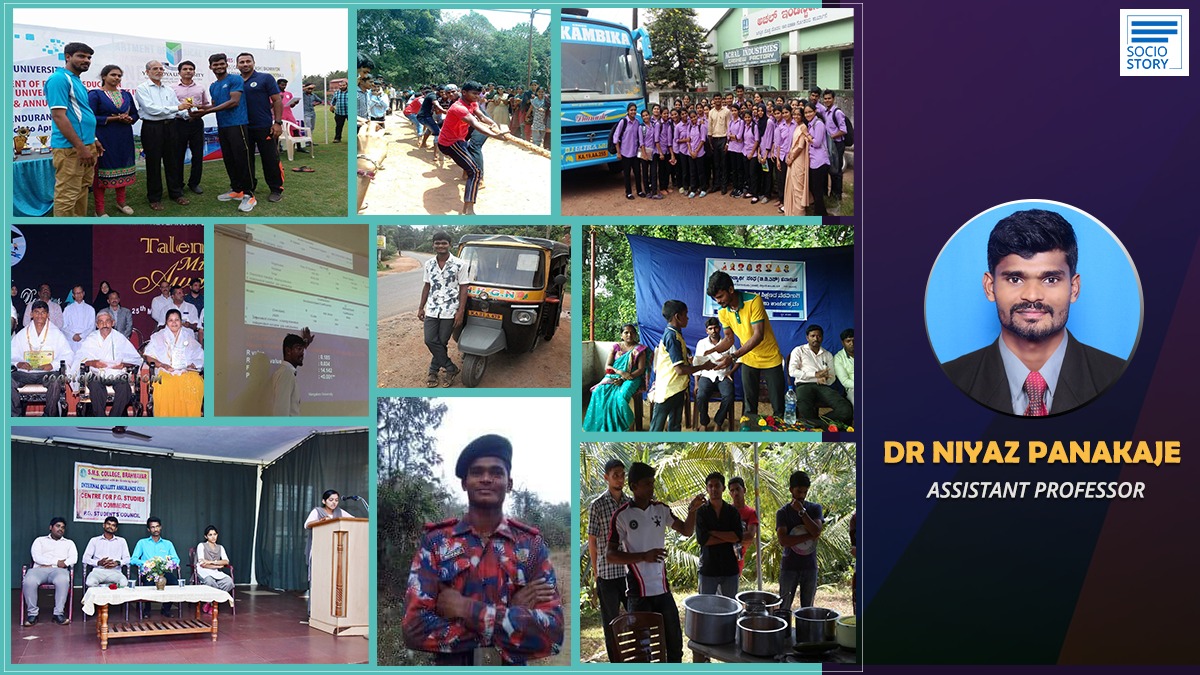 By:Reshma Jain
The relationship between teachers and students is pious and the valuable contribution given by teachers to the students should be acknowledged. Socio Story presents the story of a dedicated teacher who worked as a mason, auto-driver and sold fish to fend for himself and complete his education. This story is about Dr. Niyaz Panakaje who is currently working as Assistant Professor and Research Guide, College of Management, Srinivas University, Mangalore.
Hailing from a poor family, Dr Niyaz's parents did not have money to afford for his books during his school days. While his father worked as a daily wage labourer, his mother rolled beedis to make a living. The family comprised ten people, the parents and eight kids (4 girls and 4 boys). Niyaz was the youngest and had high aspirations. When Niyaz was as little as a 5-year-old, he understood the meaning of poverty and decided to fend for himself. He wanted to study and become a teacher, come what may. That is when he decided to work as a domestic help at a neighbour's place and then took up work related to building rings for wells to fund for his education. Since then, Niyaz had been juggling odd jobs to stand where he is today.
Dr Niyaz completed M. Com from St Agnes Centre for Postgraduate Studies and Research, Mangalore, and Qualified K-SET from Mysore University. He was awarded Junior Research Fellowship under Directorate of Minority, Govt. of Karnataka.
He has been awarded Ph.D. from Mangalore University on the topic "Role of Co-operative Banking in Socio-Economic Development of Rural Muslim Communities"- A Study in D.K. District of Karnataka to Mangalore University under the guidance of Dr. Abbokar Siddiq, Associate Professor, Department of Commerce, University College, Mangalore.
Dr Niyaz has presented a number of research paper on the area of Rural Banking, Gender Issues, Child labour issues, Rural development, Socio-economic condition of the underprivileged community in India, Women empowerment, etc, in India at National and International Conferences, and his papers have also been selected for publication in reputed ISBN and ISSN Journals. He has conducted several workshops on Research Methodology and Statistical analysis by using SPSS and AMOS.
Speaking to Socio Story, Dr Niyaz who is a resident of Panakaje, Belthangady, recalled, "When I was in class one, I worked as a domestic help and did other small works. In high school, I worked in paddy fields and delivered newspapers. During my PG, I worked as a receptionist in two lodges. Later, I worked as a mason, auto-driver and also sold fish to support my family and meet my education expenses. I enrolled for a PhD in 2016 and completed it in 5 years. Investment of time and effort towards long hours of study coupled with side jobs was worth it," stated a proud Niyaz who is 29-years-old.
Dr Niyaz also said that it was quite challenging at times to be on par with others, given that he hailed from a rural background. "Working on my skills has been a continuous process. Even now, I sleep only for a few hours and devote the rest of the time to my profession and in learning new things. It is important to be updated of everything going around you and technology has made everything easy."
Adding that education plays an important role in every person's life, the young professor said, "Knowledge is power and every individual must understand the value of education. The digital world has expanded the scope of gaining content and information. If it is rightly used, students can get a global perspective and can use knowledge to broaden their perspectives."
"I wish to encourage more people from the rural areas to take up higher studies and to spread knowledge. People in rural areas are competent, however lack of opportunities makes it difficult. I hope to give them a platform and create opportunities," concluded Dr Niyaz who has a sweet little daughter.