From being bankrupt to impacting lives, meet this couple who believe in education as a tool to transform society
Dec. 6, 2020, 5:03 p.m.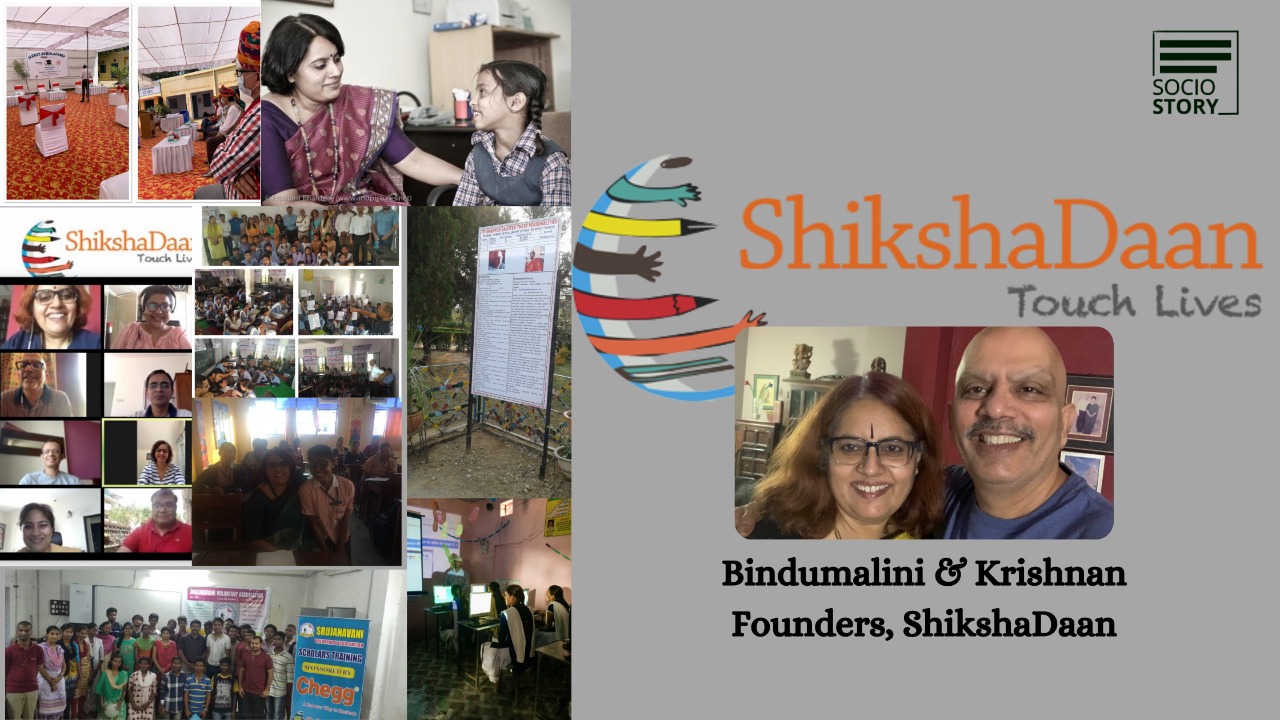 By:Reshma Jain
The letter 'B' is symbolic of Billion, Billionaire, Being, Benevolence, Bravery, Beauty, Brain. And if I were to relate these terms to a person whose name also starts with 'B', then it would definitely be Bindumalini Krishnan, co-founder of ShikshaDaan Foundation. A certified leadership coach, Bindu….., Oh!, wait. Before I get into the details of this brilliant personality, I found some interesting data for the names that start with 'B'. It says, "Sometimes, giving is the best you can do. Wealth is in your giving. What you have most of, you give it. No matter what it is, if you have the time or something to give, you're rich." I think I do not have to explain more about Bindu as these lines say it all.
But I shall complete the above sentence. A certified leadership coach, blogger and a public speaker, Bindu has a rich and diverse career spanning over 23+ years that has been about making a difference and getting people to exceed their potential. Socio Story presents to you a story on ShikshaDaan foundation- From 'Bankruptcy' to going 'Beyond'.
The seed of ShikshaDaan was sown between 1997 and 2002 when Bindu and her husband Krishnan had gone bankrupt in 1996 and shifted to Delhi in August 1997. They struggled for many years to repay their dues. Several known and unknown people helped them to settle down in Delhi and make a life there. "A person whom we had met just a few days ago signed as a guarantor for taking a house on rent, and the house owner refused the rent advance knowing our precarious financial situation. That was a turning point. We had decided that once we are financially secure, we should give back to the community in some form," said Bindu.
Recalling their earlier days and on why education is a tool for transformation, the couple shared that Krishnan's father was the eldest in his family and had been a teacher right through his life. He had set up the Chinmaya Schools in Chennai. Bindu's father was also the eldest in his family and the most educated. He had funded his own education by working from the age of 14. Education has been an important factor in both their families which helped them come out of their poor financial status.
During the bankruptcy phase, in 1999, Krishnan got a scholarship to do his Advanced Management Program at IIM Ahmedabad and that led to their recovery from the bankruptcy. Thus, came the idea of providing scholarships. Education and its impact on people's earning made a deep personal impression on Krishnan and Bindu as it helped them come out of their bankruptcy.
All the life experiences that Krishnan and Bindu went through taught them the value of 'helping others'. "Financial security helps an individual to live their life to its potential. One definite route to financial security is getting a good job and a good job is possible if the individual is exposed to good education. Education levels the playing field," shared the couple who don't believe in leaving money in a bank unused. They believe that money has to be spent to enjoy life and at the same time to help others enjoy life too. A true fact, indeed!
ShikshaDaan provides scholarships to students from the underprivileged sections of the society after they have completed their 10th standard. A research says that the largest dropout rate is after 10th std and the couple believe that funding students when they are closer to getting employed helps BPL and poor families to improve their economic status.
With the focus on funding education that leads to employment, ShikshaDaan provides scholarships to students to pursue their 11th, 12th and continue to a degree program or join an ITI to pursue a vocational program that leads to a job or a self-employment opportunity. In order to find deserving candidates for the scholarships and also to find trustworthy partners who can source deserving candidates, the co-founders have embarked on a 'ShikshaDaan Yatra'. It's a drive across every district of India and it started on April 10, 2015 from Himachal Pradesh. This yatra has helped ShikshaDaan to create an extensive network of on-ground validated partners who help source validated beneficiaries.
The Mission of ShikshaDaan is to fund education for 1.25 crore students in 25 years and the Vision is to build India by funding education for employment. "The milestone of having funded 10,000 students for their higher education is very significant for ShikshaDaan. It is a validation of our philosophy, core values, partnership model and collaboration, trust of our sponsors and our student scholars who have supported us in every way," shared Krishnan who has coached scores of people that include AVPs, VPs and CEOs from a diverse range of functions and sectors, helping as a catalyst in their personal and professional growth.
Important : If you are making an impact in the world, Please send us your story at : manoj@sociostory.in and we will try to cover you.