From fighting Lupus, depression, paraplegia to bagging the title 'Miss Wheelchair India', Priya Bhargava is an inspiration
Nov. 1, 2021, 6:20 p.m.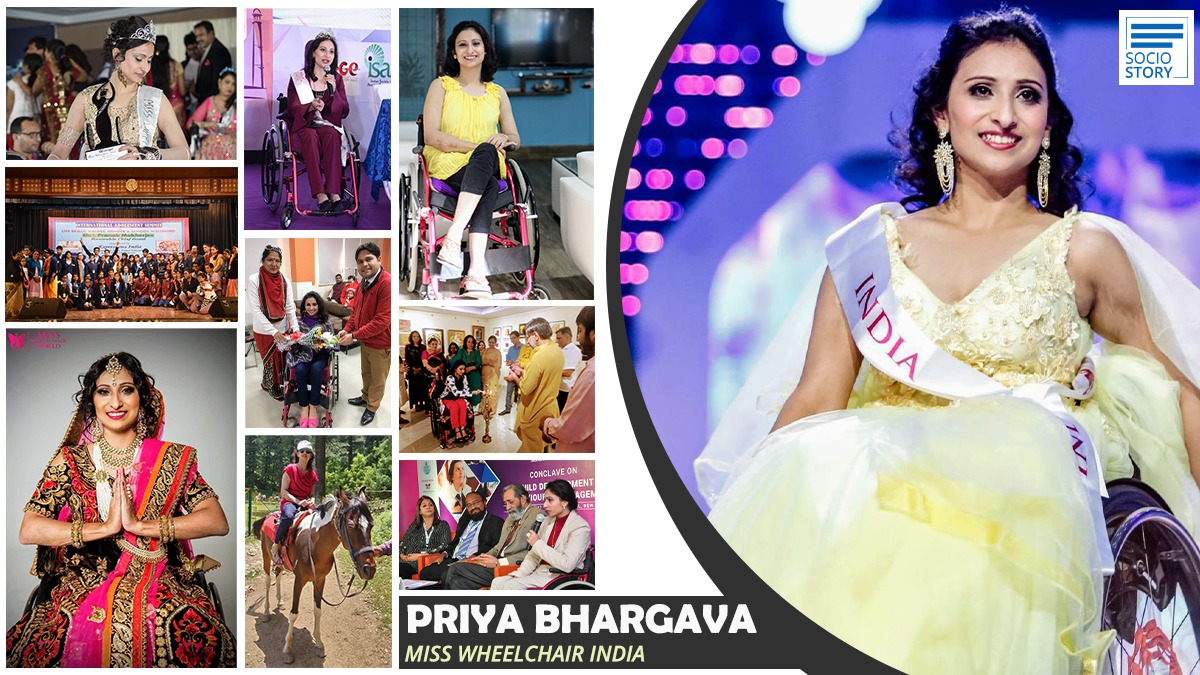 By:Reshma Jain
If the saying "Jack of all trades, master of none" is implied on people who dabble in many skills instead of focusing on one, I would like to slightly change this phrase to "Jack and master of all trades" to imply on people who truly set an example.
Priya Bhargava is one such example and her story is bound to leave you speechless. Before we get into the story, I feel proud to write that Bhargava was the first Indian who got the opportunity to represent India in Miss Wheelchair world contest in 2017 at Poland. She also won the Miss Wheelchair India 2015 beauty pageant. Bhargava is also the first Indian ambassador of Miss Wheelchair World Organisation in India. She is an Indian Motivational speaker, model, actor, author, Youtuber, educationist and a disability rights activist.
Reminiscing about her childhood days during a conversation with Socio Story, Bhargava shared that she was an active and a naughty child. Her childhood was as normal as most of us. She was an all-rounder and always wanted to become a doctor.
Everything was smooth until Bhargava was diagnosed with Systemic Lupus Erythematosus (SLE) at the age of 19 while she was in the first year of graduation in Physiotherapy. Within a year of diagnosis, she started facing a lot of challenges from loss of appetite, mood swings, losing stamina to hairs. She was put on steroids and chemotherapeutic drug methotrexate. All this put a toll on the quality of her life. She went into depression as she had difficulty in managing everything and the attitude of people with her. After recovery from depression, she tried to manage things but got bedridden in a few months. Unfortunately, she had to discontinue her studies.
Somehow, with the help of immunosuppressive drugs, lupus was managed but that led to severe infections all over her body. She had to undergo several surgeries, blood, plasma and platelet transfusions and skin grafting. The worst thing that happened was, her spine got damaged up to the extent that she became paraplegic.
"It was difficult to accept that I won't be able to walk or run normally as I used to be. Somewhere I had not accepted it completely and I continued believing that someday I would walk. In the pursuit of it, I kept on training myself in several things like painting, singing, embroidering, knitting, crafts, stitching and solving the aptitude test series of UPSC," reminisced Bhargava.
She further shared, "One day, an incident made me make up my mind to complete my education because I wanted to face this world with pride and not with shame or regret or low self-esteem. I did BCA, MCA and topped in my regional centre with a lot of hard work and dedication," said Bhargava who is an Indian motivational speaker, model, actor, fine artist, Author, Educationist, YouTuber and a disability rights activist.
Bhargava was bored of her monotonous life. She wanted to do something different for the sake of her happiness. One of her Facebook acquaintances, Prof Prabhat Ranjan, insisted her to participate in this pageant and on several intimations by him, she agreed to participate. And then, there was no looking back.
Bhargava shared that the most memorable event of her life was when she won Miss Wheelchair India 2015 beauty pageant. It changed the quality and standard of her life. After bagging the title, she became a special person in everyone's perspective, she started getting offers as a motivational speaker, TEDx talk and other speaker sessions.
Speaking on the barriers faced by PwDs, Bhargava said, "Most of the educational institutions are not accessible, even if they are, they are not made considering the extent of disability. For example, toilets have small doors where you can't enter with your wheelchair. There have also been instances where PwDs toilets are made storage areas in malls. Besides this, I have seen inaccessibility in the minds of people as well. PwDs are considered as a burden and are not accepted by family/ society and not even by the government. Lack of social security makes us more vulnerable."
"At the grassroot level, each and every corner should be made accessible because untoward incidents may happen at any time. Next, our young generation should set an example by showing acceptance, equal respect. Every PwD should have social security and it can be accomplished by cutting 1% tax from everyone's salary for providing rehabilitation and basic necessities," said Bhargava who was made brand ambassador of FOGSI- Save Girl Child and Women Empowerment in 2018.
"You need to believe in yourself. You need to fight for your dreams till the end. Be kind and compassionate. Never do to others what you don't want for yourself," concluded Bhargava.
The myths/misconceptions around Lupus are:
People think that lupus is contagious, but it is completely wrong. The fact is, we are kept on immunosuppressive drugs and we are prone to catch infections from others.
People think that lupus causes disability, but the fact is, every lupus patient is different and their issues are different. It depends upon which part of the body is involved.
People think lupus patients have a short life span but the fact is they can have a normal life span if it is managed well. Carelessness costs life.
People think lupus patients have to take steroids forever but the fact is people do manage lupus without being on steroids or immunosuppressive drugs.
Important : If you are making an impact in the world, Please send us your story at : manoj@sociostory.in and we will try to cover you.