From Hunger, Poverty, Struggles to Social Campaigns, Selfless Service and a Social Crusader, Malleshwar Rao shares his journey
Aug. 9, 2020, 8:28 p.m.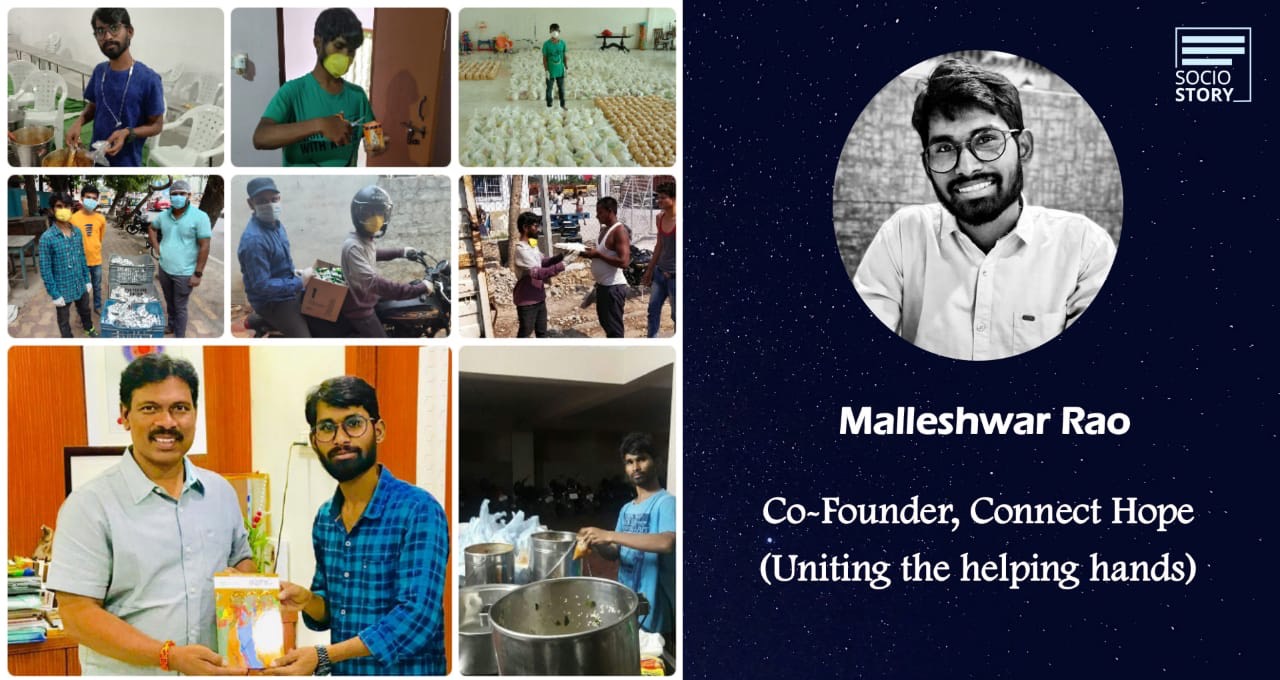 By:Reshma Jain
"I am just returning after performing the funeral rites of a covid-19 patient as none of the family members agreed to do the rituals for his cremation. Can I call back in 30 minutes?" asked Malleshwar Rao from Hyderabad when Socio Story called him for an interview. Meanwhile, this sentence made me curious and a lot of questions flashed through my mind. What made him do the funeral rites of an unknown person? Why is the family not agreeing to perform the final rites? What makes him a selfless person to serve humanity? What is the stigma attached to people who die of covid?, etc.
And exactly after 32 minutes, Rao called back. On picking the call, in a very low tone, he said, "Madam, when I return after performing the last rites of any person, I become very emotional. So, I just want to share my day's story…" I said, sure, please go ahead. So, here I share the synopsis of the conversation.
When Saurav (name changed) lost his father to Covid-19 and his mother was battling covid in an ICU at a private hospital, he did not know whom to approach. A helpless Saurav somehow got to know about Malleshwar Rao through a friend. So, the young Samaritan, Rao reached the hospital and tried to arrange an ambulance to take the body to the burial ground.
"From arranging an ambulance to getting the permission for the cremation, it took hours. None of the family relatives turned up, due to the stigma attached to the death of covid patients (They do not want to touch the body or be near them due to the fear of contracting Coronavirus). So, I wore my PPE suit and reached the hospital to do the clearances and arrangements for the funeral rites which took more than 7 hours to complete. The only person present was Saurav (the only son of his parents) and there was no one to console him," said Rao who has been reaching out to such helpless people through his service.
Rao who has performed the funeral rites of 40 such people in the last one month, said, "Last month, I saw a video where the bodies of two covid patients were lying in a parking area in front of a hospital. Although people were passing by, no one bothered to pay a heed to them. This moved me and I asked myself if I could help and reach out to such families. Although there was a lot of criticism from my friends initially, I did not give a second thought. The present situation is out of control and there is a lot of stigma attached after the death of covid patients (Although experts say that the virus does not stay for more than 6 hours in a dead body). So, I decided to listen to what my heart says. Not only do I perform the funeral rites with all the safety precautions but also spread awareness among people to not panic," said Rao (26 years) who tested negative eight times.
The story does not end here. The reason for me calling up Malleshwar Rao was to get an insight on his network called 'Don't waste food' in Hyderabad and his NGO called 'Connect Hope'. And then the conversation continued.
A child-labourer himself, Rao was a construction worker and also did odd jobs in roadside stalls to fend for himself. There were days when he never had a single penny and had to sleep on the road-side platform empty stomach. He saw many other people suffering equally and had decided that he would do something to help people in need. This led to the birth of 'Don't waste food' in 2012 and the mission is to collect food (which otherwise would be wasted) from around the city and feed the poor.
"Hunger taught me the value of food. What started off as a small movement has now gained so much momentum. With the help of various volunteers, we had fed almost 2,000 people each day before the lockdown and close to 15,000 people during the lockdown. The movement has now spread to cities like New Delhi, Rohtak, Dehradun, Pune and Jamshedpur," said Rao who is a 2018 Indian Youth Icon awardee.
"We have a Facebook group through which people contact us and leave messages to come and collect food from a particular location. We get calls from restaurants, private events and functions, and even from individuals who wish to donate food after late-night parties in their homes," added Rao who is a recipient of 26 awards including Rashtriya Gaurav award 2019 and Son of Soil award 2019. Rao has also founded a group called 'Friendly School' that teaches around 4,000 slum children across 16 cities in India.
I was awestruck to listen to this quintessential rags to riches story and what made it incredible is how the once child-labourer has turned around not just his own life but is also impacting the lives of many others today.
Important : If you are making an impact in the world, Please send us your story at : manoj@sociostory.in and we will try to cover you.