From India to France: Accomplished Carnatic musician Bhavana has been promoting Indian Music and Dance in France
March 11, 2022, 3:27 p.m.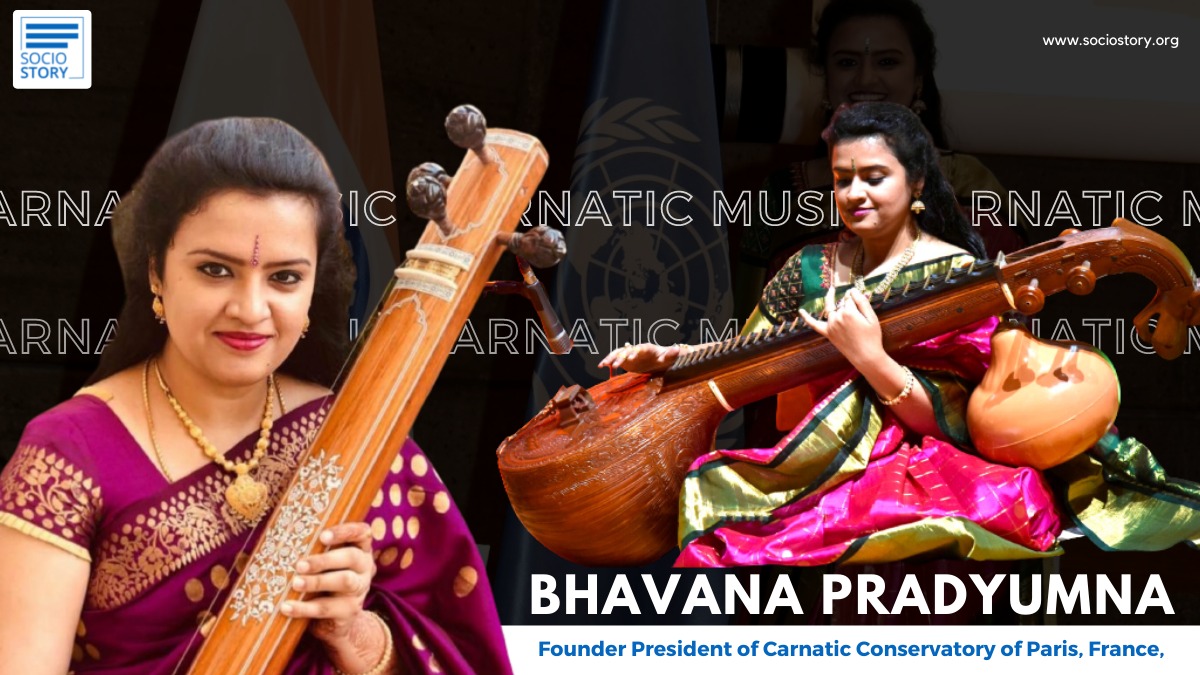 By:Reshma Jain
Music has the power to culturally, morally and emotionally influence our society. Coupled with the effects on endorphins, music connects to people. Music also promotes cooperation, understanding, mutual respect among people and a culture of peace. Accomplished Carnatic Musician and Bharatanatyam Dancer, Bhavana Pradyumna has introduced Indian Music and Dance in a French Conservatory for the very first time, thus creating History.
Hailing from Bangalore, India, Bhavana resides currently in Paris, France, where along with her husband Pradyumna Kandadai, she founded the 'Carnatic Conservatory of Paris', an internationally recognised organisation promoting Indian Music and Dance. She is the author of a revolutionary collection of learning books for children - 'Children's Carnatic' - released globally in different languages. In a conversation with Socio Story, she shares her journey from India to France.
Bhavana's mother Padmamalini Raghunandan is a musician and so music has always been a part of her life. She was passionate about Bharatanatyam since childhood. Coming from a lower middle-class family, affording dance was not easy at that time. But her parents were extremely supportive and encouraged her to follow her passion.
Attending Carnatic concerts with her friends, Tyagaraja Aradhana festivals, dance festivals, competitions, scholarships, Bhavana's entire growing up phase was in Bengaluru and that had carved her as a person that she is today. Her association 'Carnatic Conservatory of Paris' is also inspired by what Bengaluru is: 'Promoting Unity while celebrating Diversity'.
Bhavana has sincerely worked to bring Indian music to the mainstream in France. For the very first time in the history of Europe, Indian Carnatic Vocal, Konnakkol, Veena along with Odissi dance has been a part of European Conservatory where anyone can enrol to get a Diploma on the completion of the 9 yr. course from the Ministry of culture, Government of France.
It has been Bhavana and her husband Pradyumna Kandadai's ever focused endeavour to find ways to contribute a drop to the ocean of Carnatic Music. Carnatic Conservatory of Paris (CCP) is one such initiative based in Paris, France. CCP creates new platforms, brings together artists, collaborates with new artists and legends alike, presents highest quality of music and collaborates with artists of high quality, with whom CCP can take the beauty of Carnatic Music and Indian Arts to a world audience. Through her association for the very first time, they have introduced credit based courses to learn Carnatic Music through S-Vyasa University Accredited with NAAC+ certification.
Reminiscing one of the most memorable moments, 34-year-old Bhavana said, "I was in my 8th-month of pregnancy for my second child, when I travelled to the world-famous Festival of World Sacred Music, Fes, Morocco in October 2019. I sang Bhakti-based songs on Radha, Andal, Lalleshwari, Kabir etc. The audience was a hall full of Islamic followers with mullahs in the first 2 or 3 rows. After a never-ending applause towards the end of my concert, one of the mullahs came to me and told me that my song made him see God! That was a point where I experienced how music transcends borders beyond religion, caste, creed or status."
Throwing light on the way forward in promoting Indian arts and culture, Bhavana who holds a Master's degree in Carnatic Music from the University of Madras, said, "The mainstream media is a big influence. Hence showing the right content with deeper research while showing traditional classical art forms with authentic guidance from stalwarts will inspire masses to learn the art forms. Inspiring children is the future to sustain and grow our rich culture and heritage. Children's Carnatic, the book that I have authored, is published by CCParis and is available in 3 International languages and a few Indian languages. The book is a new way of understanding music through storytelling and colourful illustrations. It's the first of its kind book and is nominated for the prestigious book festival in France."
She also mentioned that Parisians love Indian culture- especially music and dance in its pure form. There are very few centres which are promoting Indian classical music giving less opportunity for the interested audience. She further said, "Through CCParis we are regularly organsing Paris Tyagaraja Aradhana, Nritya Naada - Classical Dance with live music, Sanaatana - platform for touring artists, Naalandaa - Study of Indian music with world music. In the last 6 years, we have organised more than 40 events with the support of the Indian Embassy and Permanent Delegation of India at UNESCO."
Bhavana has rendered many concerts in the last 20 years in India, U.S.A. and Europe, being an 'All India Radio' artist, entitled 'Ramanuja Paaduka Sevaka' for her contribution in the field of Carnatic Music. Bhavana also provides Vocal support to Bharatanatyam, Kuchipudi and Mohiniyattam Arangetrams and programs.
The Bhagavad-Gita doodle videos released on social media channels of the Embassy of India in France every Monday have created a lot of positive impact in the life of people. My husband Pradyumna and I create the content with an analogy, inner meaning, and a time to reflect questions at the end of each episode which gives our audience an understanding of Gita and makes it relevant to the present generation.
In her concluding remarks, Bhavana said, "The most important part of finding inspiration is your own attitude. My Mantra is "You will be what you want to see". Seek for the right inspiration. Practice and investment in the self is important. It is important to stay healthy inside out to make a difference in the world."