From Polio and disability to para swimming and captain of Mumbai wheelchair cricket team, Rahul Ramugade stands as an example
Jan. 2, 2021, 5:09 p.m.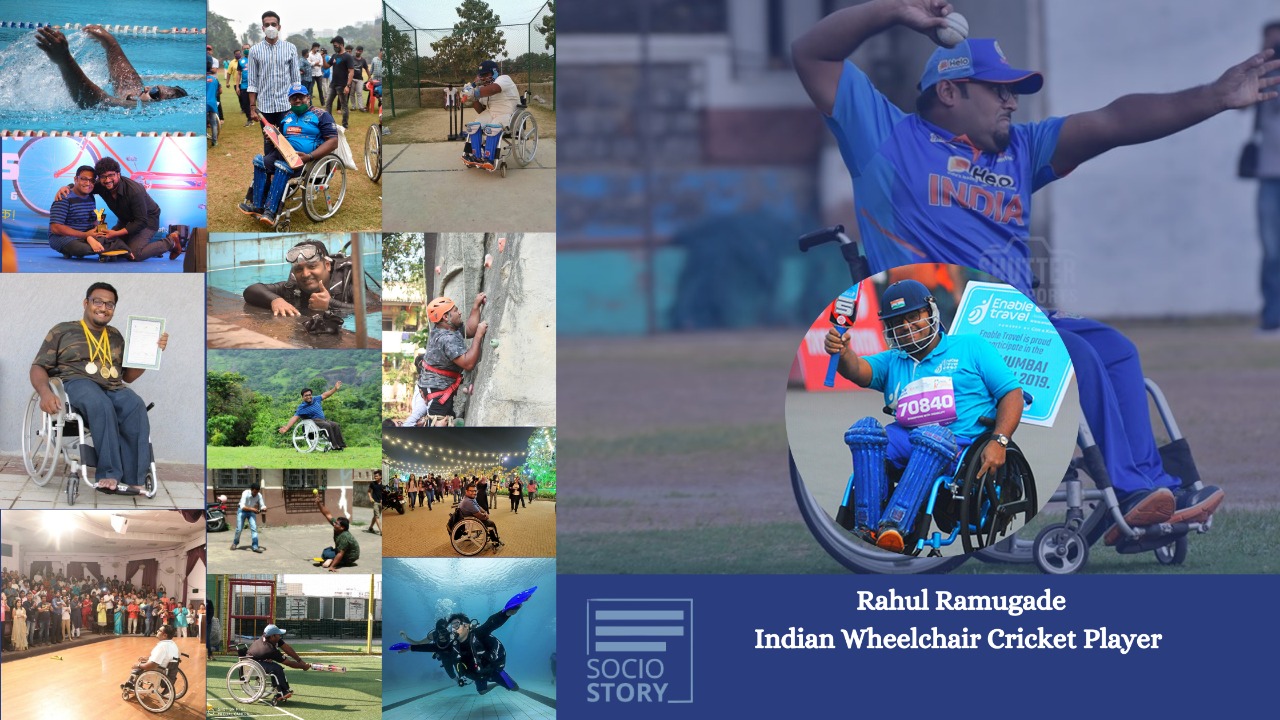 By:Reshma Jain
It is a New Year yet again. As we prepare to begin the first day of another round of 365, let's promise ourselves to have the courage, passion, strength, motivation, inspiration to reach our goals in the new year. Socio Story is here to present you an inspiring story of Rahul Ramugade who believes that physical disability has helped him find the strength to persevere and endure in spite of overwhelming obstacles.
So, who is this strong and determined individual? Rahul Ramugade is an Indian Wheelchair Cricketer from Mumbai. He is the captain of Mumbai wheelchair cricket team. He is also a national para-swimmer and an adventure sports lover. Braving the odds, Rahul never let his disability deter his love and passion towards sports.
Rahul was born & brought up in a Maharashtrian middle-class family in Mumbai. When Rahul was as little as a two-year-old kid, he was affected by Polio. Efforts by his parents to get the best treatment, were in vain. Unfortunately, he lost sensation in the lower part of the body and was unable to walk. Although it was tough, life had to move on. Rahul started studying in a school for physically challenged children where he was introduced to swimming. He was also introduced to life skills which would be beneficial in day-to-day life. From grade five onwards, he was joined in a normal school which provided him with the required support. Then he took admission in one of the best colleges in Mumbai for further studies.
Rahul started working and he overcame obstacles in his way. While some offices were too far to commute, it was difficult for people like Rahul to access washrooms and other facilities as well. However, to make ends meet, Rahul worked hard day and night. Presently, Rahul is working for a Fiber Optic company as an accountant and office admin.
Rahul's interest in cricket did not fade away despite his disability. In his childhood, Rahul used to play cricket on a skateboard. Now he is part of the Indian Wheelchair Cricket team since November 2017 and also the Captain of Mumbai Wheelchair Cricket team. Bravo!
Rahul who is now 32 years old, has participated in more than 5 International Tournaments including Tri-Series (Ind, Nep & Ban) in Kathmandu, Nepal; (Ind Vs Ban) in Mumbai, Maharashtra; Tri-Series (Ind, Nep & Ban) in Rudrapur, Uttrakhand; (Ind Vs Ban) in Mumbai, Maharashtra and Wheelchair Cricket Asia Cup 2019 in Kathmandu, Nepal.
Rahul has been a part of more than 10 Domestic Tournaments including Indian Wheelchair Premier League 2018 at Delhi where they emerged as winners;
National Wheelchair Cricket Tournament 2019 at Nagpur where they again emerged as winners and the list goes long.
Along with being an International wheelchair cricketer, Rahul is also a para- Swimmer. In 2012, he was denied admission in one of the local swimming pools in Mumbai because of his disability and taking this as a challenge, Rahul has now won 8 Gold, 1 Silver and 5 Bronze medals in State para swimming competitions. Speaking on the difficulties, Rahul said, "It has been a difficult task to practice swimming as the pools are not accessible, in terms of infrastructure. However, I tried my level best and since 2015, I have participated in competitive tournaments and travelled all across Maharashtra for competitions."
As a person with disability, traveling is a big challenge due to lack of accessibility in India and to overcome the problem of mobility as well as with a view of being independent, Rahul rides a modified Activa. He also uses a skateboard in his day-to-day life. Being a versatile and a very active person, he completed a 5 kms marathon in Mumbai within 50 mins and a 6 kms marathon in Pune within 45 mins on his wheelchair in the year 2017-18. Apart from Cricket and Swimming, he plays Wheelchair Tennis and Badminton as hobbies. He has done Wall Climbing in Mumbai & participated in an event of Paramotoring at Chandigarh. He has also travelled all the way to the Andaman Islands to explore Scuba Diving. The next adventure in his bucket list is skydiving.
Rahul has recently started his Youtube channel named 'Rahul On Wheels' where he promotes wheelchair accessibility, disability awareness and inclusion. In his concluding remarks, Rahul said, "As a person with disabilities, we don't need sympathy but equal opportunity and inclusion. This will enable us in achieving our dreams by our own hard work and talent."
Appreciation & Awards of Rahul:
"YZ Award 2016" awarded by Marathi film industry for his swimming skills and love towards Marathi films and drama.
"Mumbai Mayor Award 2017" for Winning Gold Medals in State Para-Swimming Competitions.
"Gaganala Pankh" Nave Award 2017" for excellence in Wheelchair Cricket & Swimming.
"Dheypurti Award 2017" for excellence in Wheelchair Cricket & Swimming.
"Sports Nasha Young Sports Person Award 2020" for excellence in Wheelchair Cricket & Swimming.
"Brand Promoter of Enable Travel", a traveling agency which plans and manages traveling facilities for people with various disabilities.
"Brand Promoter of Easy Move" a wheelchair accessible taxi service provider for persons with disabilities.
Mumbai's Representative of Accessible Travel News, an organization based in Europe, which promotes accessible traveling all over the world.
Important : If you are making an impact in the world, Please send us your story at : manoj@sociostory.in and we will try to cover you.