From serving the Navy to serving Humanity, Cdr Ramakrishna has been in the forefront to support people in need
June 21, 2021, 9:27 p.m.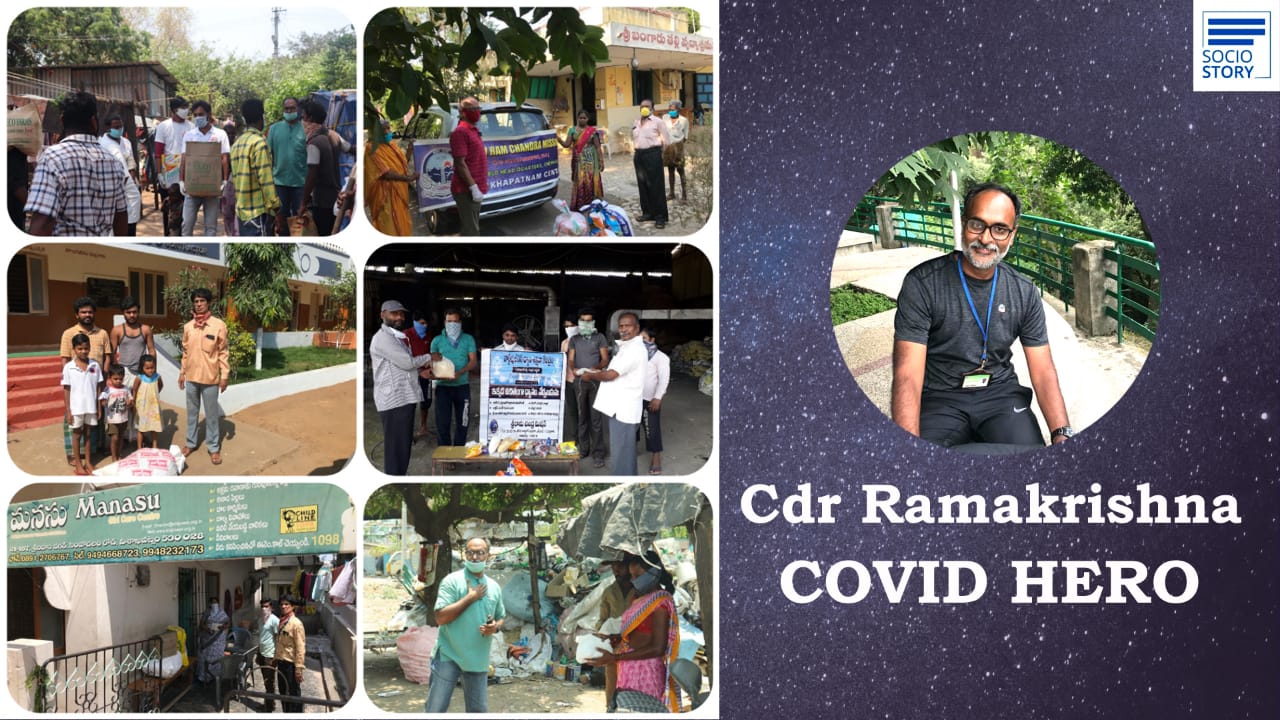 By:Reshma Jain
One of Cdr Ramakrishna's acquaintances had delivered a baby around a week ago when this incident happened. While the father, husband and brother of the mother were infected with Covid, the family was in a helpless situation. On one hand, all the three of them had to quarantine themselves and on the other hand, the new-born baby required complete attention and care. The family members decided to shift the mother and grandmother of the new-born to another place (hotel room, etc), but their efforts went in vain. In this difficult condition, Cdr Ramakrishna, an ex-naval officer, offered the family one room in his home.
Apart from the support to the mother and grandmother, Cdr Ramakrishna's family ensured a complete support system for the baby. Happiness knew no bounds as the grandmother was overwhelmed by this gesture of Cdr Ramakrishna. "Even our close relatives did not approach to help us in this difficult time," shared the grandmother. Indeed, who are we as human beings if we ignore the suffering of others?
Well, the situation around was grim as every individual was either mourning the loss of a loved one or was desperately seeking help from fellow beings. The second wave of the pandemic hit us hard and took a toll on human life. However, a few good Samaritans like Cdr Ramakrishna, brave enough to face the challenges, extended help and support to people who required it during this unprecedented time.
This was not the only help that Cdr Ramakrishna had rendered during the pandemic. There is a long list of all the activities that were carried out during the last 15 months. From distributing food packets to people living in the slum to providing ration kits to orphanages and old-age homes, Cdr Ramakrishna has been working selflessly. He has also supported physically disabled people with all essentials, migrants who were stuck at various places in the city with cooked meals prepared by the Shri Ram Chandra Mission.
Sharing one of his experiences, Cdr Ramakrishna said, "We tried supporting as many people as we could who approached us for help. Since there were not many people who were willing to serve on the ground, I used my vehicle to distribute ration kits/essentials/food packets to hundreds of people. During the second lockdown, I also extended help to ferry people from home to hospital as ambulance services were not easily available."
During the second wave, Cdr Ramakrishna also helped people in procuring medicines as the medical shops saw serpentine queues last month. "One of my friends needed some medicines and after standing in the queue for long, I was told that the medicines he needed were not available, I tried in the other medical stores, but could not get it. I was disturbed by the plight of people and decided to do something," shared Cdr Ramakrishna who is based in Visakhapatnam.
He further added, "I called up my friend in another district (around 80 kms from the city) and I managed to arrange for the medicines. Similarly, I tried procuring medicines for people who approached me and were in need of immediate treatment."
Another interesting incident that Cdr Ramakrishna shared was an example of the virtue of humanity. One of his distant relatives had expired due to Covid while his entire family was battling with Covid in another hospital. On reaching the crematorium, Cdr Ramakrishna observed that there were only three people to place the body from the stretcher to the pyre. While there were bystanders and people stared at each other, no one came forward to lend the fourth hand to lift the body.
Cdr Ramakrishna could not take it anymore. "While the other three people (hospital staff) were equipped with PPE, I did not have any option. I could not stop myself and I decided to lift the body for the final rites with the thought that there is nothing more than a dignified death.
Cdr Ramakrishna was Commissioned into Indian Navy in 1990 in the rank of Sub Lieutenant and held different positions in various capacities till 2011 after which he took premature retirement from the active service to venture into the civil world. Served the Navy, by serving on-board front-line war ships, Nuclear Submarine Building Project at Visakhapatnam, Naval Dockyard Mumbai, Center of Marine Engineering and Technology, Lonavla, DMDE Etc.
He was also part of DRDO, positioned as Deputy Director at DMDE Secunderabad, where he led a heterogeneous team consisting of scientists of Defence R&D Organization, Engineers, Consultants from the Industry and personnel of the support departments in accomplishing a complex and time bound goal of development of Machinery for the Nuclear Submarines Project at DMDE Secunderabad.
After 2011, he joined a company at Visakhapatnam as CEO and was involved in refurbishing/repairs and manufacturing of Marine Engineering Components. He steered many critical works for the Navy, HPCL, HSL, DCI, and Coromandel Fertilizers. He also headed a Service Division as Vice President Operations for Cummins Diesel Engines, Service and Spares Support at Hyderabad for the Hyderabad region.
Presently, being a trained Heartfulness meditation trainer, conducts meditation classes promoting its importance in the present times in corporate offices and to students, and along with this gives personality development and value-based education lectures.
In addition, he is founder partner of Manakrishi Eco Farms, and the motto of the organization is to produce chemical free vegetables, fruits and other essentials, emphasize the importance of chemical free farming amongst the farmers in and around Visakhapatnam and also sensitizing the consumers with "Know Your Food, Know Your Farmer" concept.
Important : If you are making an impact in the world, Please send us your story at : manoj@sociostory.in and we will try to cover you.