From starvation in childhood to providing food to needy during the pandemic, Rakesh has been working selflessly
June 16, 2021, 10:29 p.m.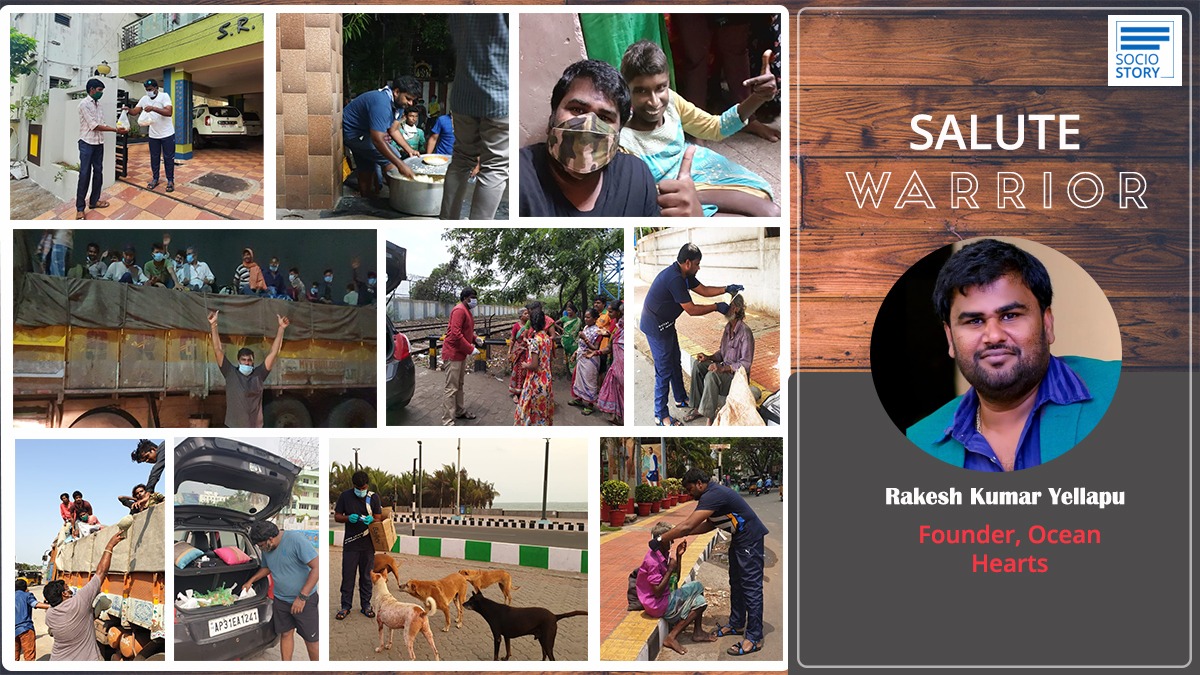 By:Reshma Jain
When Rakesh Kumar Yellapu was six years old, he understood what it means to starve. With no one as a breadwinner in the family, financial constraints and other family-related issues, it was difficult to afford one-meal a day. However, Rakesh, better known as Raki, along with his mother worked hard to sustain themselves. While Raki was growing up, his mother worked as a coolie to make ends meet. A few years later, Raki started to work as an office boy in courier offices and used to clean computer shops.
A few years passed by and Raki had to discontinue his studies due to financial issues. When Raki was 11 years old, they lost their home as the huts on the roadside were cleared by the government. When they were relocated to the outskirts of the city, Raki's mother could not continue her work. They did not have enough money to rebuild a small home or to take a room on rent in the city limits. So, Raki's mother started to work as a daily labour near the relocated place.
Life did not seem easy, especially for Raki. But, with all his determination and hard work for years together, Raki was able to save some money for basic necessities. Today, Raki says, "I have what I need to have and I am grateful for it." Recalling all his childhood and teenage memories, Raki said that he did not want anyone to starve or suffer like him. Hence, he had started an NGO called Ocean Hearts Foundation for providing support to orphans.
What's more? Raki has been working day and night during the pandemic to serve the needy. From distributing grocery, ration kits to the needy, sanitary workers, home guards to arranging transport facilities for the stranded migrants, Raki has been serving people from the past 15 months. He not only distributes cooked meals to beggars but also ensures that migrant workers especially women are provided with essentials.
"I faced hunger issues in my childhood and I know what it means to have one proper meal a day. I did not want anybody to face such a situation, during the pandemic. In April 2020, when I witnessed the plight of migrant labour walking towards their home for miles together with their little ones and luggage, I could not stop myself. Hence, I had decided to serve people who required support and help. If not in difficult times, then when?" shared 30-year-old Raki who provided for food, shelter, transport, footwear, medicines to his fellow beings.
Stating that he draws inspiration and strength from his past experiences, Raki said, "I believe that little drops of water make a mighty ocean and small acts of kindness make a difference. There is a sense of fulfilment, that I could do my tiny bit as a responsible citizen to fight Covid-19." Raki has been conferred with 'Seva Bharat 2021' award by Retd CBI officer DGP V V Lakshminarayana. He also received the 'Corona Warrior' award for rendering frontline services during Covid-19 by Junior Chamber International among other awards.
"My future plan is to build a shelter home for orphans & old age people, where they can help each other," concluded the young social worker.
Important : If you are making an impact in the world, Please send us your story at : manoj@sociostory.in and we will try to cover you.