From surviving Polio to being listed as one of the top 100 influential women, Sai Padma's grit says it all
Sept. 28, 2020, 11:52 a.m.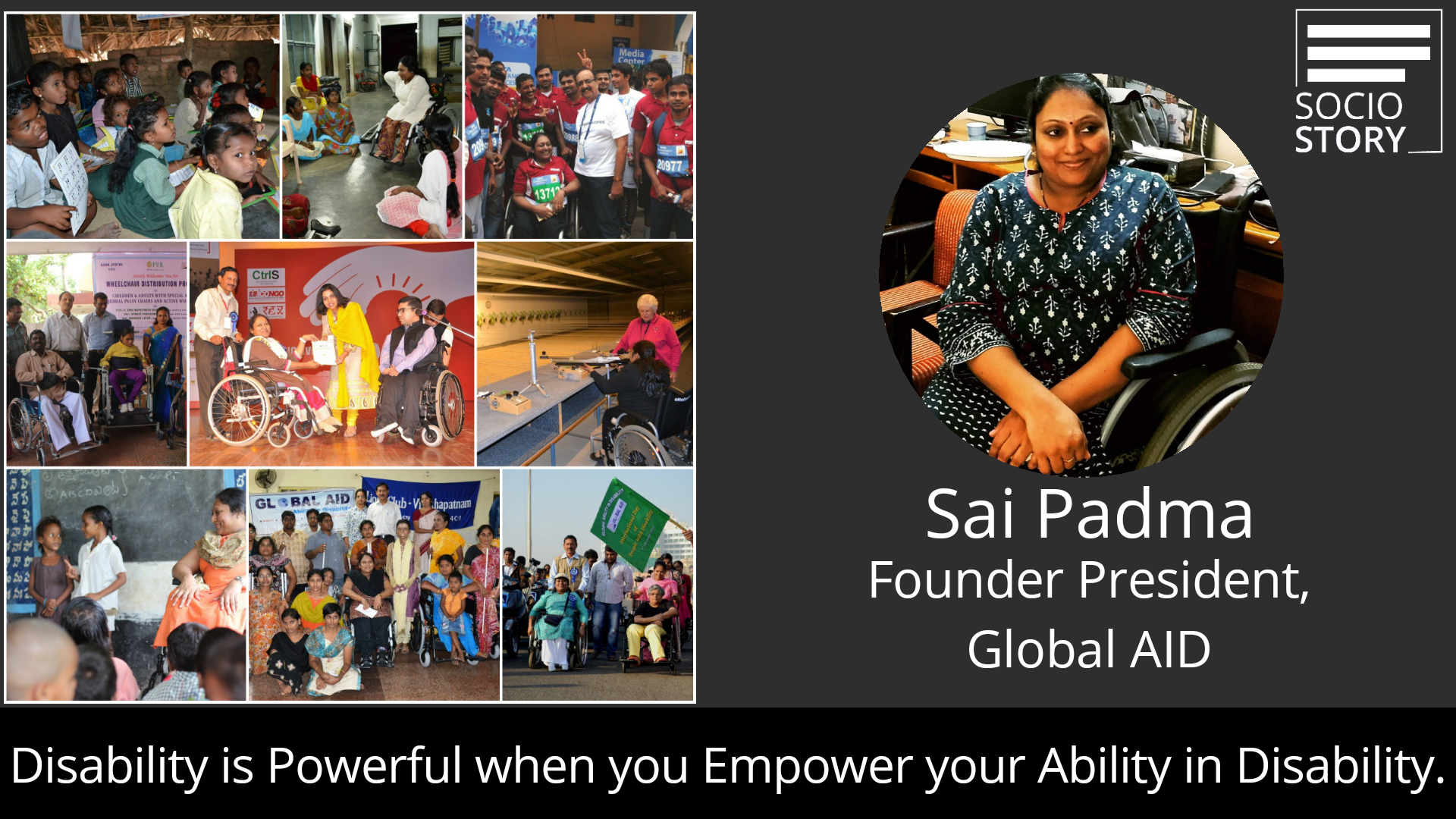 By:Reshma Jain
Barely 45 days after she was born, she was attacked with polio. By the time her parents could take her to the nearest hospital, her body was completely paralysed including her voice. It was 52 series of shock treatments and eight months later that she regained her voice and movement of hands but the lower part of the body remained paralysed. After a series of surgeries, precisely 16 surgeries, including a spinal correction surgery, she could finally walk with braces.
This was the flashback. If I have to fast forward 49 precious years of this strong-willed and wheel-chair bound lady, you will be awestruck. She holds a diploma in Carnatic music, she is a poet, a motivational speaker, and a para sports promoter. She is also a trained para air rifle shooter and has conducted camps in Chennai and Delhi. She plans on expanding a wing through her NGO to support and promote para-sports. In the year 2017, she was recognized as one of the 100 Influential Women 2017 by BBC under their #100womanchallenge. It makes me wonder how inspiring her journey would have been!
To battle a life-threatening disease despite the challenges and that too as a growing child is no mean feat. If the quote by Carl Jung, "I am not what happened to me, I am what I choose to become," has to rightly suit a person, then it is Sai Padma. Socio Story is proud to present it's readers the energising story of Sai Padma, an entrepreneur, a social worker and a survivor of Poliomyelitis.
Disability and all the surgeries did not hinder Padma's academics and she went through regular schooling. With her strong will power, she finished intermediate education in the year 1987. Born to a doctor couple in Gajapathinagaram, Vizianagaram, her parents wanted her to pursue future education in frontline medicine. But she had seen too much suffering throughout her phase of hospitalization and realized that a lot can change if changes are brought at an organisational level which led her to pursue further education in management studies. Her dreams of pursuing Masters in Business Administration and CA finals took a back seat because of her constant rehabilitation and medical conditions.
Hailing from Visakhapatnam, Sai Padma is a high-spirited social worker working at ground level with various organisations to ease the life of backward and disabled communities. She never let her disability deter her service, rather used it as a catalyst to spread the vision of helping people. She, along with her husband Pragnanand Busi, founded the NGO – Global AID which caters to various disabled societies including those who are socially disabled. She continues to work hard to move from the sympathy-based policy to the right based policy approach for the disabled community. With her vision of bridging the gap between what is actually needed by the disabled community versus what is being provided, she is driving the idea of social entrepreneurship.
On being asked about life as a social worker, Sai Padma who is a woman of dreams shares her memories.
"In the mid of 1996, I underwent a major corrective surgery for my spinal cord- medically referred to as Gross Scoliosis which had a very painful rehabilitation phase. My father suggested I should engage in some work to utilize my free time during this phase. This led to my introduction into the world of social work. In the year 1998, I joined Lion's Family Welfare Planning Trust (LFWPT), and worked on education and health-related programmes, established by Lion's Club as a volunteer," stated Padma who received the "Melvin Jones Fellow" from Lions International, USA.
She spearheaded the programme – National Child Labour Project by International Labour Organisation (ILO) for three years which facilitated the functioning of three bridge schools and one residential school for girls which was then undertaken by the Government of India (GoI).
In the year 1999-2000, she spearheaded another project – 'Partners in Sexual Health' in partnership with Andhra Pradesh State AIDS Control Society (APSACS). She worked closely with truckers and backward communities on the education of safe sex, Sexually Transmitted Diseases (STDs) and also counselled people with HIV positive. This movement led to the establishment of the first positive club (nacoonline.org) for people with HIV positive.
In the year 2006-2007, she travelled excessively across the country, interacting with NGOs, disability groups by delivering talks and sessions on accessibility, education, and empowerment of the disabled. She also attended the first national conference on Women with Disability (WWD) in Bhubaneshwar.
She further expanded her travel itinerary to the USA where she had various interactions with Access Living, Chicago, Heart and Hand for Handicapped, New York and Society for Accessible Travel and Hospitality, New York. She also participated in the World Congress & Exposition on Disabilities in Washington DC to gain a global perspective on disability. Sai Padma has been participating in various international conferences held in countries like Taiwan, Macau, etc.
In the year 2007, the idea for Global AID – Ability in Disability was conceptualized to provide support to all kinds of disability. Global AID started addressing the part of disability which is never discussed i.e. Social Disability. The programme started as a hostel for the needy and underprivileged people in tribal hamlets. The hostel started with 17 boys / 0 girls and strength almost doubled in the next year to 37 boys.
"With every passing year, the hostel kept achieving new numbers. This programme was then named as Hubs (Hostels and Hamlets) and Spokes (Education Centre). Today, Hubs and Spokes has 77 students in the hostels and has worked with 10 tribal hamlets reaching to 63 tribal groups. Apart from working on Hubs and Spokes, I have outlined a plan for Global AID to work on support and rehabilitation of physically disabled people in terms of equipment and counselling," added Padma who received the Special Recognition Award from 'Jayanthi Foundation, USA' for services in empowering disabled in Andhra Pradesh.
Important : If you are making an impact in the world, Please send us your story at : manoj@sociostory.in and we will try to cover you.