From visual impairment to conquering darkness by illuminating the lives of others, Devi Prasad throws light on his life journey
Feb. 19, 2021, 7:42 p.m.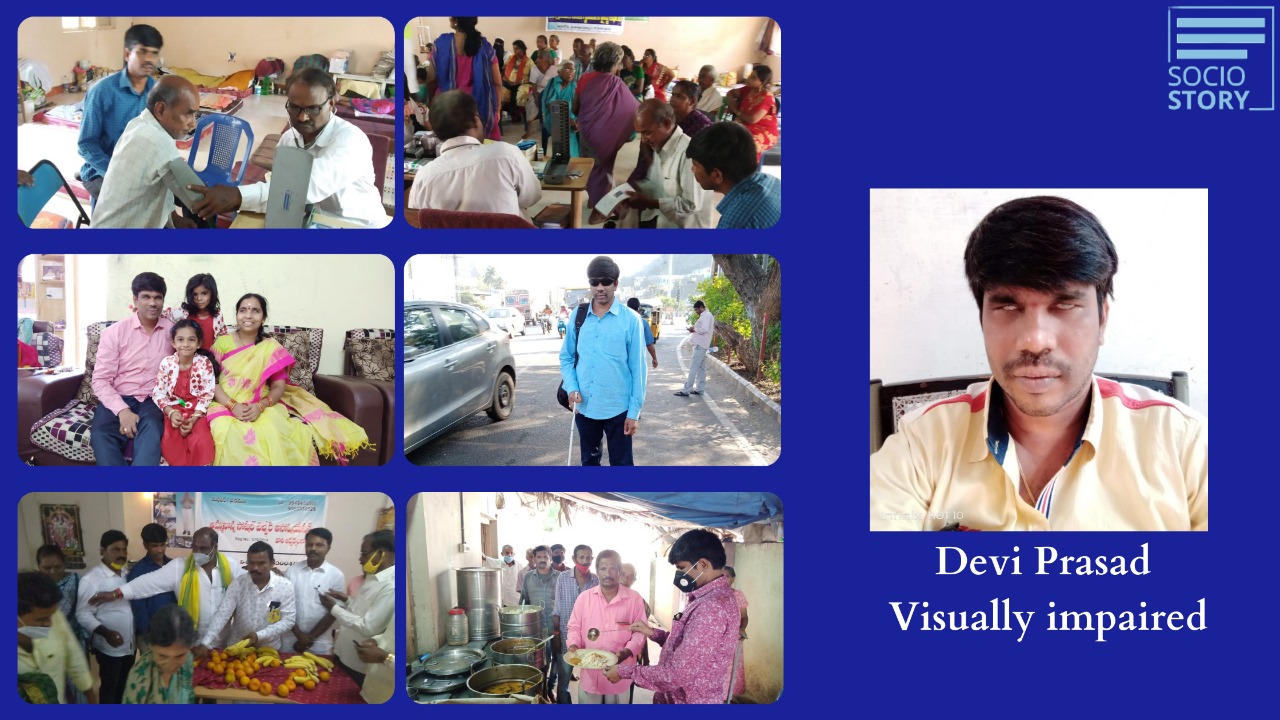 Reshma Jain
"Life is not a problem to be solved, but a reality to be experienced," goes an adage and if this has to be applied to a person, then it would be Devi Prasad who hails from Visakhapatnam. After introducing himself over a phone call, Prasad requested if he could meet me in person. Coming from a field which requires face-to-face interactions, I readily agreed to meet him at the office. The moment I saw him entering the office, I was startled. With a white cane in his hand and making his way through other's guidance, Prasad waited in the meeting room. A few thoughts flashed my mind; 'Was he blind/partially blind? 'What made him come a long way to meet someone whom he had never met before? Was he looking for some help?'
With a lot of questions in my mind, I entered the meeting room and took my seat to understand the purpose of the meet. Prasad said, "I hope I am meeting the same person who spoke to me over the call." I answered, "Yes, of course." And then he said, "Now I recognise you through your voice. I am so glad to meet you!" I realised that Prasad was visually impaired and I was curious to know more about him. The conversation thus started.
It was in the year 2002, when an accident occurred in the machine room of the Prawns processing unit in Visakhapatnam. Prasad was an AC technician in the unit and while he was working, there was an ammonia leak which affected his eyes. In three years, Prasad gradually lost his sight. From hopelessness to depression, his condition, both physically and mentally, deteriorated day by day. "Initially, I was mentally strong and determined. However, I lost confidence slowly and my mental health conditions were not stable. I felt awkward when I had to depend on someone every time, I needed something," recalled Prasad who is now 37-years-old.
Prasad, although having a supportive family, lost motivation to live his life while he was undergoing treatment in the hospital. "With difficulties and challenges coming my way, I felt life is unfair and not worth living. But a few thoughts changed my life for good. I started to count my blessings. My parents were supportive, my friends helped in need, I had a shelter to live and could afford a decent meal. What else could I ask for?" thought Prasad.
They say, "When life gives you lemons, make lemonade". Prasad motivated himself every day and decided to face challenges with grit and determination. Having been stuck at home for more than 4 years after the accident, Prasad decided to move on with life and to earn a living. In 2006, Dr Kiran Kumar, an orthopaedic surgeon who was running Krushi orthopaedic welfare society in the city motivated Prasad to start working in whichever way he can. Prasad started to work as an attendant in the society to help people who required support. However, a few months later, the founder shifted to the US. Prasad, then started to work in different organisations and took up roles which he could do.
"It was because of Dr Kumar that I got the motivation to restart life once again. Having lost sight, I went into depression and lost my purpose in life. After working in the welfare society, I was employed as a co-ordinator for a social service organisation for mentally retarded children. This is when I realised that I was way more blessed than these children," shared Prasad while narrating his story.
Prasad opined that any work he undertakes is service oriented and at the same time serves a source of income. Prasad also worked as an anchor in 'Blind orchestra- joy of music and rhythm' which used to run regular shows in the city. Later, he started to work as a tele-caller in a matrimonial office which was also started by a blind person.
On being asked how he manages his family, Prasad said, "Presently, I work as a care-taker-cum-counsellor in the GVMC night shelter- home for the homeless persons. I love my job and I am happy when I make others happy and make them feel loved."
Prasad's life journey had a small twist after he fell in love with Bharathi, a visually impaired girl who suffered from Myopia. "Both of us used to go for computer training in vision aid charitable society and while we exchanged words, we fell in love with each other. While our thoughts matched, she liked my confidence levels and I liked her simple attitude," shared Prasad.
Bharathi, 37 years, is a government employee and works in railway mail services. While both share household work, they work hard to be financially stable so that their life is comfortable. Prasad and Bharathi are blessed with two daughters and are now a happy family. They want their daughters to be confident in whatever decision they take and want them to live a disciplined life. Prasad said that he teaches his daughters to serve selflessly.
"Every person is disabled if there is lack of motivation in his/her life," said Prasad by adding, "Unfortunately, there are hardly any employment opportunities and support for Divyangs. Hence, I want to open a home for them and provide them employment."