Funding frugal innovation in India, Dr Malpani encourages start-ups to make a positive impact
Sept. 14, 2022, 4:28 p.m.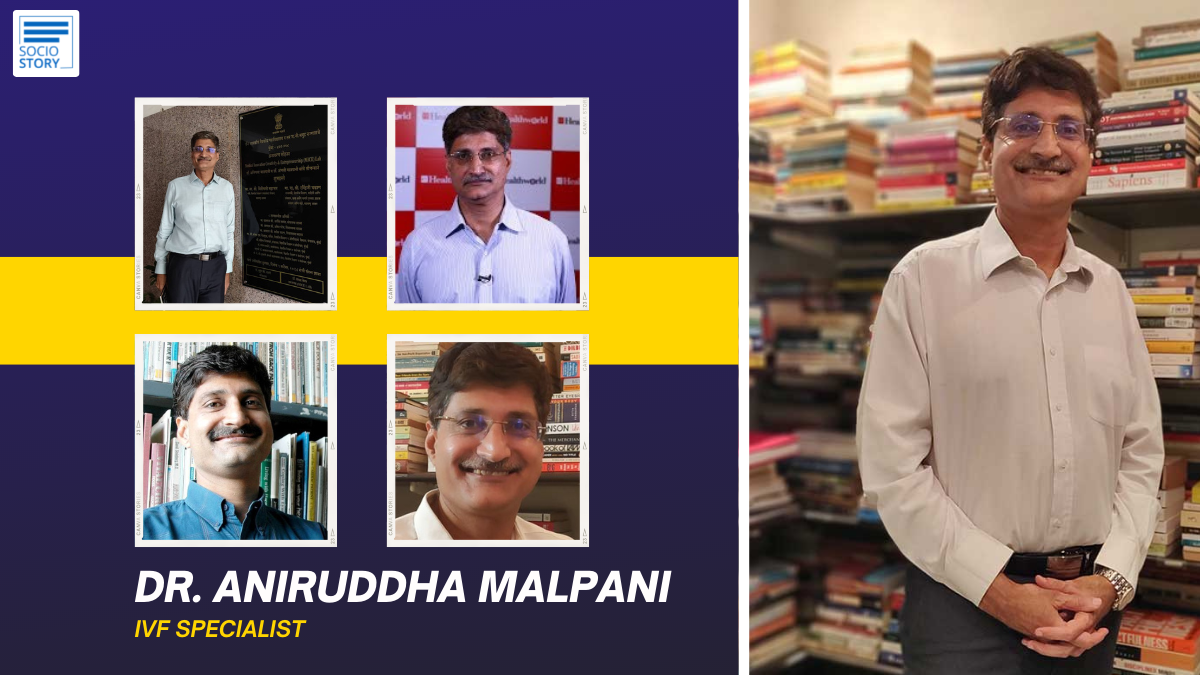 By: Reshma Jain
A doctor by profession, an angel investor by passion, an avid reader and a changemaker by heart, Dr Aniruddha Malpani is no doubt an inspiration to all the budding entrepreneurs. An academically bright student, Dr Malpani had hands-on experience in medicine and this was a field which was culturally ingrained early in his life and a profession which he enjoyed practicing later in his life.
Hailing from a family where his parents were doctors, Dr Aniruddha Malpani, an IVF specialist with 36 years of experience is a second-generation doctor based in Mumbai. He is also an angel investor who backs K-12 EdTech, healthcare and social impact start-ups. His vision is; Reimagining Indian education by making learning fun, free and meaningful by investing in social impact start-ups which help students become lifelong learners.
Predominantly, you get shaped by your parents and while growing up, education and learning play a crucial role. Every child should be encouraged to develop curiosity so that they are able to ask questions and learn more. Stating that the views on education have changed, Dr Malpani said, "While people's aspirations have changed, the curriculum is skewed. We must realise that human capital is one of the most important resources and the focus needs to be on enhancing the skills of an individual. It is equally important to have good role models in life so that one can imbibe their qualities."
Adding that the need of the hour is to give a boost to social impact ed-tech start-ups, Dr Malpani said, "We live in a digital era and learning the outcomes of actions is more important than earning money. Every student must evolve as a person and I would suggest every student to have their digital portfolio to reflect on their achievements and goals for life."
The goal for Malpani Ventures is to fund frugal innovation in India. "We have been privileged to partner with entrepreneurs that have been the torchbearers of frugal innovation in India. Today, we want to take this one step forward: by reaching out to frugal innovators in the impact space by providing them innovative funding solutions," shared Dr Malpani.
The biggest challenge for investors is to find the right entrepreneurs to back, he says. This is especially difficult for social impact investors because you need someone whose heart is in the right place but also someone who is hard-headed enough to be able to run a business profitably and sustainably and scale it well. The reality is that there is no good way of being able to gauge how well someone can run a start-up because there is no correlation between start-up success and an IIT degree or an IIM diploma or pass successes, or actually anything at all. And that's why the best way to see how someone performs is by actually seeing how well they perform in the job. This means we need to run real-life experiments.
"We have the education space where we will work with the entrepreneurs creating a deep & long-lasting impact for the betterment of society. In the essence of frugality & innovation- we present '1-10-100' an innovative funding mechanism that provides funds to those founders who are doing exemplary work in education without the hassles of dilution, compliance, and legalese to do what they do best - create impact," further stated Dr Malpani.
HEALTH EDUCATION LIBRARY FOR PEOPLE
Drs. Aniruddha and Anjali Malpani, Founders & Medical Directors have been instrumental in setting up India's first free patient education library called 'HELP' (Health Education Library for People). Patient education is an integral part of health care delivery across medical centres in developed countries thus encouraging active patient participation and ensuring far better compliance and patient satisfaction.
It was this very dream that inspired Dr. Aniruddha and Dr. Anjali Malpani, who founded HELP in 1997, with a dream to make each and every individual in this country aware of his rights and responsibilities as a patient, of ways people could reduce the burden of health care expenses by planning and educating themselves "before" a serious medical problem could strike their family, and how doctors and patients could join hands to achieve health for all.
What started as a resource centre eleven years back, with a modest collection of material on patient education, in their day care centre at Om Chambers, has grown into India's largest patient education centre housing more than 11,000 authentic books on possibly every aspect of health and diseases, along with pamphlets, health care magazines, and an exhaustive audio-visual section too. HELP was also documented to be the world's largest Free library on consumer health information in the Limca book of records.
In his concluding remarks, Dr Malpani said, "Care about your reputation, it is the only thing that will outlive you."