Fusion of Brain, Beauty and Brawn, Dr Seema Rao's journey from weakness to strength has been incredible
April 9, 2022, 5:07 p.m.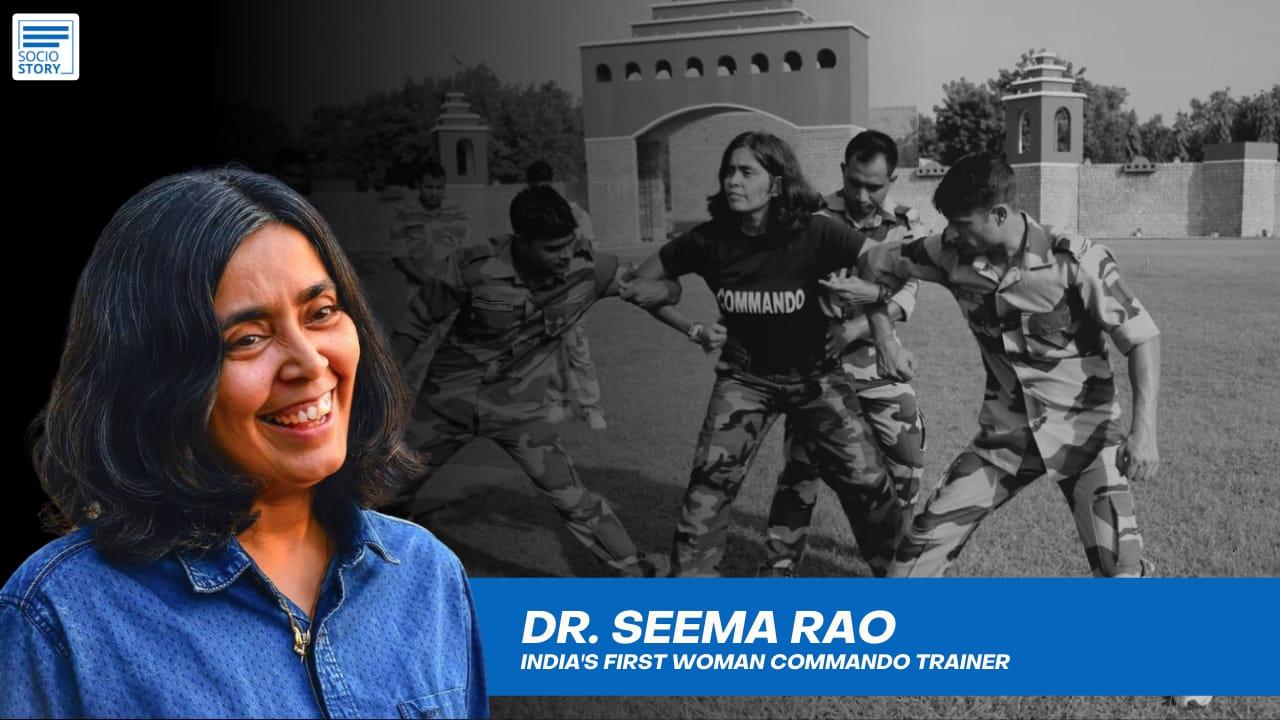 By: Reshma Jain
She was inspired by the quote, "Ask not what your country can do for you. Ask what you can do for your country." She was influenced by her father's patriotic stories who was a freedom fighter. Nothing deterred her determination to do something for the soil. Her passion to serve selflessly never faltered. A woman of substance, she is India's Wonder Woman. Are you wondering who this woman is?
Well, women's day was observed last month and while women all over the world are being recognized and celebrated for their contribution, Socio Story takes the honor to bring out the story of Dr Seema Rao who stands as a testimony to courage, strength and patriotism. The first and only woman Commando trainer, Dr Seema is India's topmost woman empowerment icon who has shattered the gender barrier.
Seema's father was a freedom fighter who fought in India's freedom struggle. She was influenced by his patriotic stories and in the field of commando training, she found her calling. She went out of her comfort zone and spent the prime years of her youth in freezing high altitude, scorching hot deserts, dense jungles & hostile LOCs.
All of us have fears but it takes courage to overcome it. Dr Seema stand as a perfect example who did not let her fears come in the way of her dreams. Despite being a weak child and scared of almost everything, Seema decided to confront her fears. To overcome her fear of heights, she did her mountaineering course from Army Himalayan Mountaineering Institute and got the silver medal. To overcome fear of water, she completed her Scuba Deep Sea Diving Course from PADI, USA. She overcame her fear of fire by becoming a fire fighter. She overcame her fear of seclusion by doing the Jungle Survival course.
One episode of Eve Teasing changed her personality forever. She trained in Taekwondo and achieved a Black Belt. She also trained in Boxing & Israeli Krav Maga. She took up Air Rifle shooting to improve her focus and ultimately ended up becoming a Combat Shooting Instructor. Recipient of the Nari Shakti Award, Dr Seema is a trained Combat Driver, an IAF Skydiving Wings holder, a Tactical Instructor & a certified Close Quarter Battle Expert.
Every achievement has a difficult journey behind it. Seema has fractured almost every bone in her body. She once slipped from a monkey rope at a height of 50 feet and suffered vertebral fracture. During a grappling bout with a fellow soldier, she got upset when she heard the news of her father's sudden demise. She lost her focus and took a fall on her head, causing severe head injury with loss of memory for months. Seema got randomly shot by terrorists more than once but nothing deterred her determination to serve.
She stands shoulder to shoulder with men of war and wins their respect. She can run 40 km marathons, shoot an apple off your head with an AK-47, split 5 targets in 2 seconds with a Glock pistol, defuse a complex explosive device and neutralize armed assailants in seconds.
Seema spent 25 years of her prime life as a Guest Trainer training 20,000 soldiers from Indian Armed Forces, paramilitary & police free of monetary compensation as selfless service to the Nation. She has trained commandos from every elite force including Army Special Forces, NSG- Black Cats, IAF GARUDS, Indian Navy MARCOS, BSF, Commando Wing, ITBP Commando School, Army Para-troopers and Ghatak units. Seema and her husband invented Rao method of reflex shooting which was used by many Indian forces.
Seema who studied Immunology from Harvard Medical School & Leadership from Westminster Business School has received 3 Army Chief Citations, which is an unparalleled record for a single civilian till date. In 2020, at 50 years of age, Dr Seema also completed 25 years of selfless work and decided to step down from active field training of the Indian forces. A 6 times TEDX speaker, published Author of 10 books and a Beauty pageant finalist. Seema authored world's first Encyclopaedia of Close COMBAT Op & used her life's earnings in gifting 1000 copies to Home Ministry & Indian Army. She authored 'COMMANDO MANUAL OF COMBAT' and gifted it to Indian Forces.
Dr Seema Rao was featured in the bestseller book "Yes, She Can" by British author & MP of UK Ruth Davidson as one of the 14 most influential women worldwide along with Theresa May & Melinda Gates. She is ranked no. 6 in India in the Forbes 2019 Woman Power Trailblazer Listing. She was voted by Indian women for the 'Femina Woman We Love' award. A Documentary on Dr Seema Rao's life "EQUAL" won the Los Angeles Film Festival Award.
Whenever she is not on commando assignments, she travels widely giving motivational lectures to corporate and institutions of repute. She lectured 25,000 women at the prestigious National Women's Parliament sending the crowd into a frenzy. Indeed, a woman that India is proud of!