Give the gift of life through organ donation
Oct. 31, 2020, 4:21 p.m.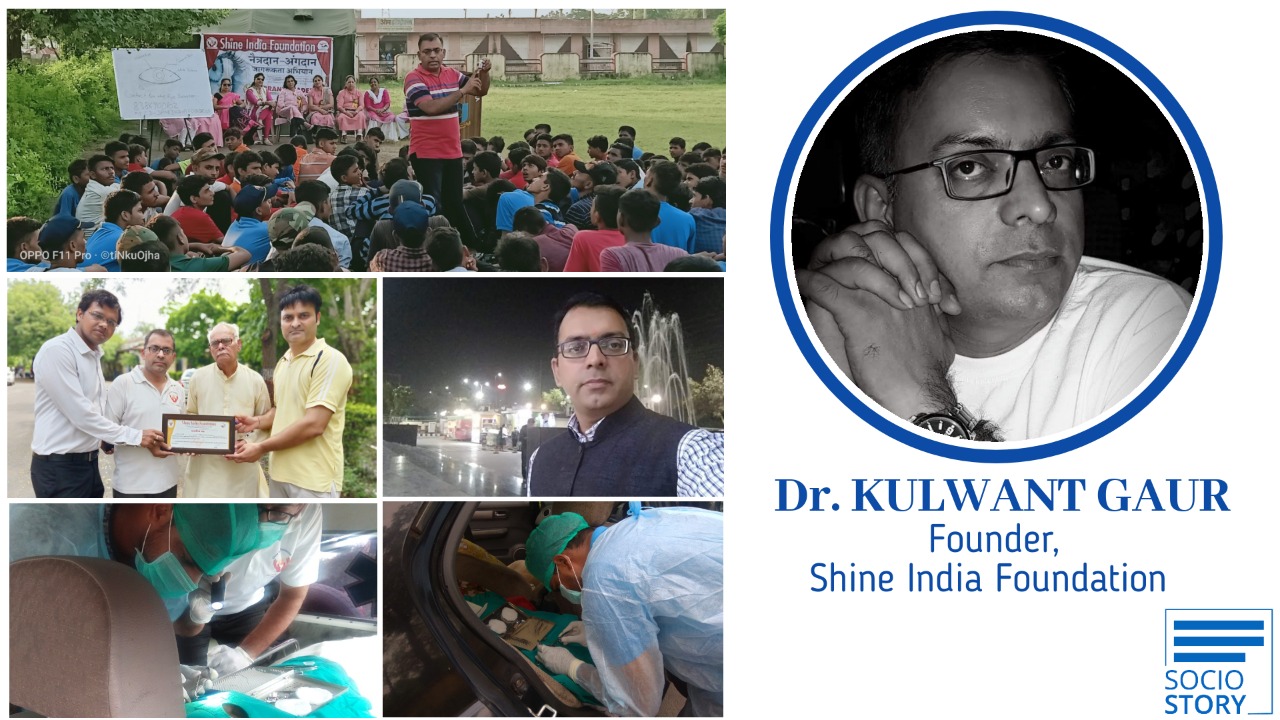 By:Reshma Jain
Dr Kulwant Gaur was at the Surat railway station waiting for a relative to arrive, when he noticed a young boy crossing the railway tracks. A train was approaching and people started to step back from the tracks, whereas the boy kept moving forward, until the driver honked. It was then that the young boy got scared and stepped back. He sadly fell, and hurt his head. Later when he was rushed to the hospital, doctors confirmed that he was blind. However, they said that he could be treated since his blindness was due to corneal defects which can be healed after a cornea transplant. That was the day when Dr Gaur realized how important it is to donate eyes and how beautiful it must be to change someone's life through the painless process of eye donation.
Although Dr Gaur was working closely with blood donations for many years, this event marked the beginning of the establishment of Shine India Foundation based in Kota. It was formed with an objective of 'Helping People Help Themselves' by making the disadvantaged self-reliant and thereby enabling them to lead a life of dignity. It was set up in the year 2011 to extend financial and non-financial support to grass root programmes working in the areas of Education, Health and Community Development. The focus of Shine India Foundation includes Blood donation, Eye donation and Organ donation.
Shine India Foundation is one of Kota's largest volunteers based non-governmental organizations. The volunteers arrange awareness workshops on regular basis and a few of them include; awareness program in school and colleges, awareness program with corporate, government offices and with several NGO's, Celebration of national health program like world sight day, National eye donation fortnight program, glaucoma day, Corneal blindness week, National Organ donation day and so on. Felicitation of all eye donor families (yearly program, till date felicitated 500 families), Free corneal transplantation for needy people, Selection of corneal blind person from remote area, Regular meeting with hospital nursing staff, mortuary staff and ambulance drivers are also organised and conducted by the volunteers.
On being asked how the NGO carries out it's activities, Dr Gaur who hails from Rajasthan, said, "We created a group of people who are dedicated towards social work and they have been contributing a small amount towards the NGO for carrying out the activities. Apart from these group members, we collect contributions from industrialists and other financially sound people for particular events that are organized occasionally."
Most of us are aware that many people lose their lives while waiting for an organ. A few myths surrounding organ donation include; 'Somebody could take my organs and sell them', 'I don't think my religion supports donation' or 'organ and tissue donation mutilates the body'. However, the fact is that the impact of organ donation on the recipient's life is invaluable and is a gift to life.
Dr Gaur who is 42-years-old, shares that the number of people on the national transplant waiting list continues to grow, so does the need for organ donors. Hence, the need of the hour is to spread awareness on organ donation which saves not one life but many. In order to spread awareness on organ donation, the volunteers of Shine India Foundation frequently arrange awareness programs/workshops with social groups, community leaders. They organise group discussion with relatives and common people at the scene of funerals. They also try to promote eye donation and try to bring out the facts by busting the myths that exist in the society.
To be an organ donor, all that one needs to do is fill a consent form (available on the website) with all details and the organs that one wishes to donate. The details of the witness also need to be filled and it is essential that you inform family and friends about your intent to be an organ donor.
Stating that the future plans of Shine India Foundation is to minimise corneal blindness, establish an international level skin bank in Kota, Dr Gaur, concluded by saying that his dream is to see that no one dies due to shortage of organs.
Some figures on the work done by the Shine India Foundation:
Till date, they have 10,000 eye donations and have successfully arranged 350 eye and organ donation awareness workshops.
They have collected 500 pairs of eyes through donation within 9 years not only from Kota but also from remote areas.
They have given vision to more than 700 corneal blind people.
The volunteers have collected 1,000 corneas till now and transplanted 600 corneas successfully.
Important : If you are making an impact in the world, Please send us your story at : manoj@sociostory.in and we will try to cover you.