Growing Stronger, Braver and Smarter, Kiran Dembla- a bodybuilding champion leads the way to glory
Jan. 6, 2021, 3:11 p.m.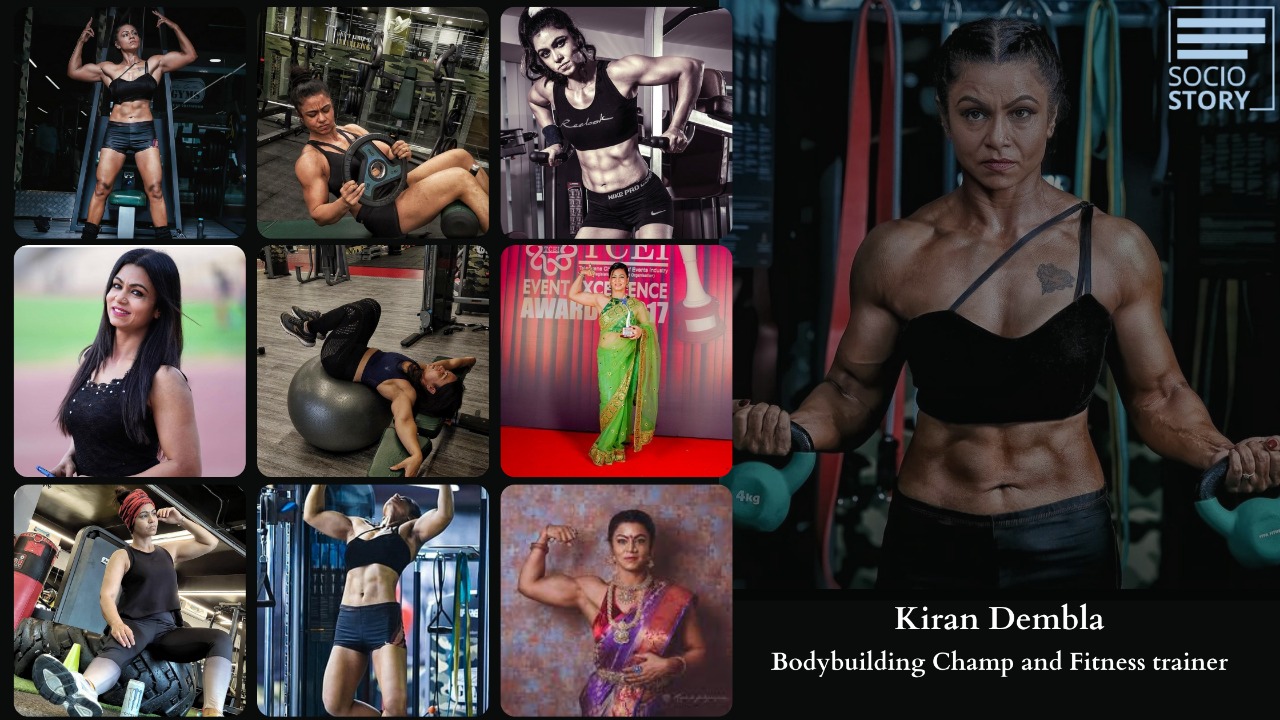 By:Reshma Jain
As a child, she was a playful and a joyous kid. As a school student, she was brilliant. As she grew up, she found her penchant in singing and for a few years, her journey as a singer was amazing. After she got married, little did she know that she will have to face a lot of challenges in life. However, having overcome obstacles and hurdles, her achievements will leave you in awe.
Socio Story brings to you the story of Kiran Dembla, an inspiring icon from India who is now a bodybuilding champion and a celebrity fitness trainer. But as said earlier, life was not a bed of roses for Dembla. Her struggles have made her strong and powerful, both physically and mentally.
Daughter of a retired banker and a homemaker, Dembla was born and brought up in a middle-class family atmosphere. "I used to sing a lot during my early childhood days and my parents realised that my talent lied in the field of music. They enrolled me for music classes and my journey as a singer had started. I also gave stage performances until I finished my Masters from Bharatiya Shastriya Gayan in 1995," said Dembla who is now 45-years-old.
After two years of completing Masters, Dembla got married and as she says, she was leading a nonchalant life, quite contradictory to what she was as a child and a teenager. "Every day seemed the same, a daily routine of a house wife doing household work and managing the house. There was nothing more other than fulfilling responsibilities. After giving birth to my daughter in 1999, my family moved to Bengaluru. Due to my husband's job, we had to travel to Germany, Japan and the USA. After a few years, we returned to Bangalore and I gave birth to my son," shared Dembla while reminiscing her memories.
One day, Dembla says, "when I was sleeping, I couldn't wake up. I had a terrible pain in my head and on consulting the doctor, I was diagnosed with a blood clot on the right side of my brain. I was treated for the same and on understanding the reason, the doctors explained that it was because of my over thinking."
But what caused overthinking? Dembla said that she was frustrated with the daily routine of her life. "It was not the life I wanted to live. Waking up to nothing new, being at home feeling lonely, managing the house the entire day- this was not something that I wanted to do. I lost myself. I stopped looking at the mirror, I stopped making my hair. I was no longer the beautiful girl that I was in college. I stopped going out of the house and limited myself to my husband and kids."
There was no end to Dembla's problems. While she was undergoing treatment, she felt drowsy all the time due to the medication that the doctors gave her. However, this medication took a toll on her not only because she could not perform her daily tasks but also because she gained a lot of weight due to continuous sleeping.
In an effort to keep herself occupied, Dembla tried to take music classes for children. But she could not continue due to health issues. She tried her level best to go to the swimming classes, yoga classes, etc but things were not going the way she had expected. This added to the frustration and Dembla questioned herself, "If I am not able to perform small activities, how will I dream big?"
This thought triggered and bothered her. With her strong will and determination, Dembla decided to join a gym. Gyms at that time were meant for men and Dembla felt out of place. "I used to feel scared as I could only find men in the gym. So, I used to go to a corner of the gym and do my workouts," she said.
Dembla further did an online course on American Muscle and Fitness Personal Trainer. After this course, she was confident enough to open her own gym. The gym was successful and eventually, a lot of clients approached her for fitness training. Dembla never looked back since then. During one of those training sessions, she met actor Ram Charan Tej. After that she trained Upasana, Tamannah, Taapsi Pannu, Deeksha Seth, Prakash Raj, Rajamouli and Anushka, among the others from the celebrities in the film industry.
Gradually, Dembla tried to get a six pack and she started working for it. In 6-7 months, she made a rib body and Bravo! Indian Body Building Federation gave her entry into the World championship.
"When I got an entry into the World Championship, there were hardly any women bodybuilders, leave alone mothers. Although things were challenging; as I had to wear a bikini and take a high-protein diet including non-veg, I worked hard despite family emergencies. I landed in Budapest, I wore a bikini for the first time and looked at myself in the mirror and admired the body that I made. It was a beautiful feeling presenting myself on the global platform," shared Dembla who got a 6th rank out of 20 in the world championship.
"For a few years, life was good and normal with my usual training, workouts and celebrity trainings", said Dembla who is also a mountaineer. They say old habits die hard and when Dembla was 42, she thought of becoming a Disk Jockey. She played in national and international festivals and in 2017, she was given the Debut Female DJ Award from Telangana Chamber of Events Industry in Telangana. Dembla who is also a professional photographer, concluded, "People with great passion can make the impossible happen."