Humanity over prized possessions, Shahnawaz Shaikh had sold his SUV to buy oxygen cylinders
May 13, 2021, 1:23 p.m.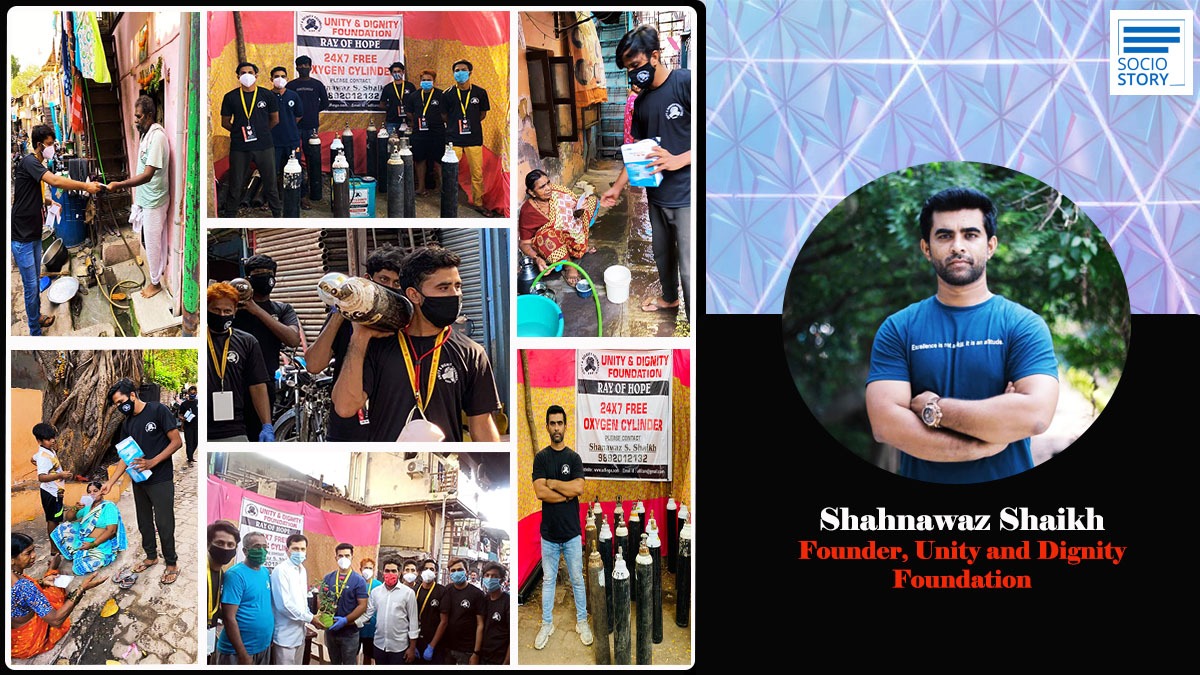 By:Reshma Jain
When 32-year-old Shahnawaz Shaikh popularly known as 'Oxygen Man of Mumbai' purchased a SUV around four years back, little did he know that one day he would sell his prized possession for saving the lives of his fellow beings. A grey coloured Ford Endeavour with the car number 007, had a customised look. "I had a special attachment to this car as it was my first car which I bought after saving money for a few years. I had spent a lot of money to get a customised music system so that we can enjoy long drives with family. I treated it as a valued possession and used it very carefully. More than me, it was my daughter who had a special attachment to the car," shared the young man hailing from Malad in Mumbai.
He further added, "When I could witness and feel the agony, pain and distress among people battling for lives, my possessions did not matter. Since there was no other option left, I had decided to sell my car so that I could purchase oxygen cylinders for people in need. Although I sold it at a lesser price, I felt happy to have used that money for a purpose. When I saw my car, the last time moving out from the parking area, I had mixed feelings and thoughts. But soon the lives of people flashed my mind and there was nothing beyond that I could think of."
Shaikh, founder of Unity and Dignity Foundation, felt the urge to save the lives of people after a personal experience. While the country has been grappling with the second wave of Covid-19, most of the patients were reeling under oxygen shortage. One of Shaikh's acquaintances, a pregnant lady, had expired due to Covid-19 and their efforts to arrange for a bed/ambulance went in vain. While the lady expired, Shaikh was rattled by a similar experience once again. Without a second thought, Shaikh decided to provide oxygen cylinders with the support of his team.
Initially, Shaikh had purchased 30 oxygen cylinders with his money and in no time, his supplies were exhausted. Shaikh soon realised that there is a shortage in the quantity while the demand was high every hour. So, he decided to purchase more oxygen cylinders and all that he could do at that time was to sell his SUV. After having sold his SUV, Shaikh could purchase 200 more cylinders and provide them to the ones who needed it. He was flooded with calls from various parts of the city and other States as well.
"Last year, we were able to reach out to more than 4,000 people. This year we could reach out to 1,000 plus people and our work is in progress to cater to the needs of people. We are also distributing masks, providing meals to the people in quarantine and taking up a few more initiatives," shared Shaikh, a lifesaver, by adding that one can purchase a SUV again but cannot bring back the lost lives.
One more interesting point to be made is that Shaik's SUV had also served as an ambulance before it was sold. Last year, the pandemic made it difficult to find a public transport system and Shaikh ensured that his car can be used as an ambulance to enable patients to be dropped at hospitals. More than 20 people had utilised this service before his car was sold for a greater good. A salute to such heroes whose initiatives have helped in saving a lot of lives.