Hybrid Idea Solutions- Meeting service goals through technology
June 25, 2020, 11:14 a.m.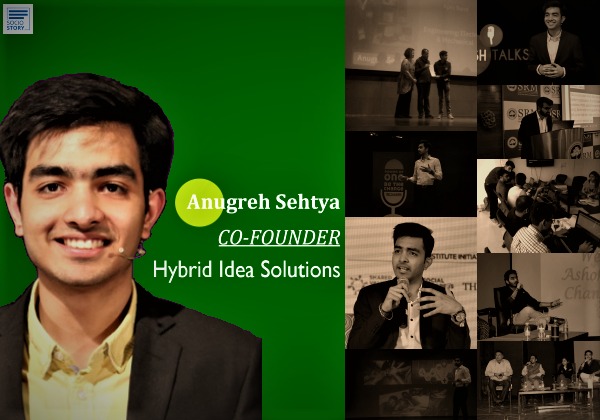 By:Reshma Jain
As a child, Anugreh Sehtya was always curious and one thing that always intrigued him a lot was building innovative things. Realising his penchant, he started to teach himself on how to build things from the internet at a very young age. This led him to give workshops to professionals when he was in the ninth grade!
And today, 19-year-old Anugreh is the co-founder of Hybrid Idea which started as India's first assistive technology solution design company. Hybrid Idea works across various disabilities including transportation disabilities, hearing and vision disabilities, etc.
Now, Hybrid Idea has pivoted itself to a global social technology and IT services company, helping non-profits, social enterprises, and businesses all over the world. It helps them achieve their operational and business goals through technology.
Speaking to Socio Story, Anugreh, said, "I started building a project for the visually impaired two years ago. I showcased that project at one of India's Innovation Summit which had more than 500 CEOs from all across the globe. One of them was impressed by my project and he offered me to build projects for children with Autism. When this CEO of a corporate giant asked me to build solutions for a cause, it changed my life for Good! This incident inspired me a lot and it led to the start of Hybrid Idea."
For the communication problem in autism, the team had made AuCom- An AAC communication board that had various emoticons for various emotions to express. For example, if they are feeling hungry, they will click the button with the hunger emoticon and the respective caretaker will get a notification for the same on their mobile phone. This board was installed in special schools in Hyderabad and was used by over 60 special children. They also made an ERA App (Emotion Recognition Application) for people with Autism Spectrum disorder to help them in emotion recognition.
Run by a group of young people, Hybrid idea which is working with clients like JanaJal, Voice of Specially-Abled People, Almspay, etc. JanaJal, for example, is an initiative to provide safe drinking water at public places. They have over 300 safe water ATMs over India and these water ATMs have served nearly 15 million people.
"We handle their technology which includes managing IoT, water ATMs, and the application development part of the company. It makes me happy that we are doing our bit to serve the lives of people every day by helping the organizations that really make an impact," stated Anugreh who has bagged awards from various organizations like The Government of India, Intel, University of Toronto, and many more.
Youngsters at Hybrid Idea also started the concept of 'SheVend'. Every woman around the world suffers due to the lack of proper hygienic washrooms, availability of sanitary napkins, and tampons. "The aim is to empower and embrace the dignity of the women. We came up with GPS enabled vending machines with a mobile application to locate the nearest vending machine so that any woman can conveniently find it whenever they want to," explains Anugreh who hails from New Delhi.
The young team of Hybrid Idea now comprising 15 people engage with customers across their value chain helping them to design, build, operate, and maintain the products and services that make them leaders and respected brands in their industries and markets. Customers draw on Hybrid Idea's expertise in engineering, and digital technology to deliver and support their next-generation solutions that meet the highest standards of safety, reliability, and performance.
"We at Hybrid Idea also work with many non-profit organisations and social enterprises globally and provide them our engineering services to help them achieve their operational goals," says the young boy who has spoken on platforms like TEDx, and Shared Value Summit by NITI AAYOG and National Competitiveness Forum, He is also ashoka young changemaker.
Anugreh's future plan is to help as many businesses, NGOs, social enterprises through technology with Hybrid Idea. He also wants to empower other children to be Change-makers as well. "I want to see us being one of the top solution design companies in the coming years, worldwide," added the young change-maker.