"I have no regrets for losing my leg; since I am not made for walking but for flying", states basketball player Sakshi Chauhan
March 23, 2021, 9:50 p.m.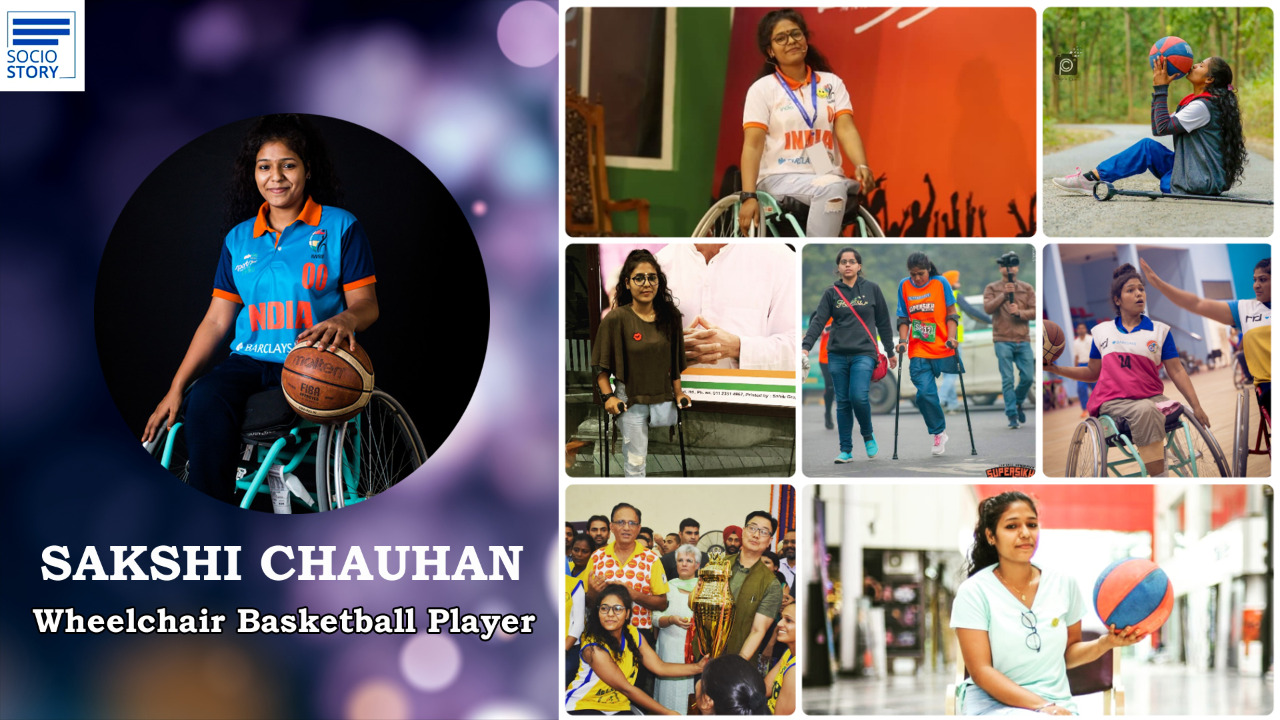 By:Reshma Jain
There are many life lessons that one can learn by playing sports. From goal setting, perseverance, endurance to mental strength, team spirit and a positive attitude, sports can prepare us to live a satisfied life; off the field. This holds true because there are innumerable examples of people who have excelled and made a mark in life after having learnt life lessons through sports.
One example that Socio Story brings to you is the inspiring story of Sakshi Chauhan from Uttarakhand who developed a positive attitude towards life by playing wheelchair basketball. Sakshi met with a grievous accident around 16 years back and just like any other day, Sakshi who lived in Tehri in Garhwal went to the market when the accident happened. While crossing the road, a bus hit Sakshi and the wheels of the bus ran over her legs. Sakshi who hails from a lower middle-class family was only 8-years-old when the incident occurred and both her legs were severely damaged.
"There was no ambulance facility way back then and it took more than 4 hours to reach the nearest hospital. I had lost a lot of blood and I went into a state of unconsciousness. The doctors had informed my parents that one leg needs to be amputated immediately before further complications arise. With no other option left, my left leg was amputated. During my stay at the hospital for three months, I could only feel the pain. But while I returned home, I felt shattered and devastated," recalled Sakshi adding that one of the statements from the doctor 'Your daughter may not stand on her legs for the whole life and you would have to take care of her', made her family more worried.
"I was soon shifted to Rishikesh as my village being located on a hillside was not wheelchair friendly. I was physically and mentally disturbed. When I used to see the other children playing on the fields, I realised that my life will never be the same again and I felt the world has come to an end. My friends no longer spoke to me as they got used to getting scared seeing me wrapped in bandages. I could not go to school anymore and the treatment/ comments from relatives added to my woes. Both my father and mother had to work hard to manage my hospital expenses," shared Sakshi who is now 24-years-old and is pursuing her graduation.
For one year after the accident, Sakshi found life very challenging. From going to school and returning back, it was a herculean task. But, with the help of prosthetics, Sakshi could manage herself and slowly got used to it. She was determined to prove the world that life is meant to be a challenge. With complete support from her parents, Sakshi started to actively take part in dance and singing competitions at school. Her talent was highly appreciated and this gave her a boost to do something big in life. "I have no regrets for losing my leg; since I am not made for walking but for flying," said a strong-willed Sakshi who started to actively participate in sports in her college days and is now a wheelchair basketball player.
Sharing that playing basketball has helped her in developing a positive attitude and having determination, Sakshi who plays for the Indian team in Wheelchair Basketball, added, "I represent Maharashtra team which had won the Nationals in Chandigarh in 2019. This was one of the best moments in my life and there has been no looking back since then. This gave me an opportunity to represent the country in the Asia Oceanic Wheelchair basketball qualifier held at Bangkok. Apart from this, I am also a regular marathon runner."
Sharing her views on the status of wheelchair users in the country, Sakshi said, "The understanding of disability in India remains a big concern as we are seen as aliens. Second, accessibility is yet another big challenge as most of the infrastructure and public places in India are not accessible for wheelchair users. In my view, the country needs to change its view about disability. They need to view us as contributing citizens and the fact that we need to be included in the society. This will lead to a common understanding which will surely lead to accessible and inclusive society."
This courageous girl is multi-talented as well. She is a writer, storyteller and a Gadhwali singer. She had even hosted an event called 'Shout' in Dehradun. She has been invited as a motivational speaker in Cochin, Chennai, etc to share her inspiring journey.
"I have accepted my disability; that's the key to move on in life. I am independent and I have travelled solo for my training, championships, etc. So, I will continue with my sporting career and at the same time, I would love to work and encourage persons with disabilities, especially the younger ones. They should learn to accept disability and work towards changing the way the world thinks of disability," concluded the young champ.
Important : If you are making an impact in the world, Please send us your story at : manoj@sociostory.in and we will try to cover you.