In the world of men in suits, 23-year-old Prasanth found happiness in agriculture
Nov. 25, 2020, 4:33 p.m.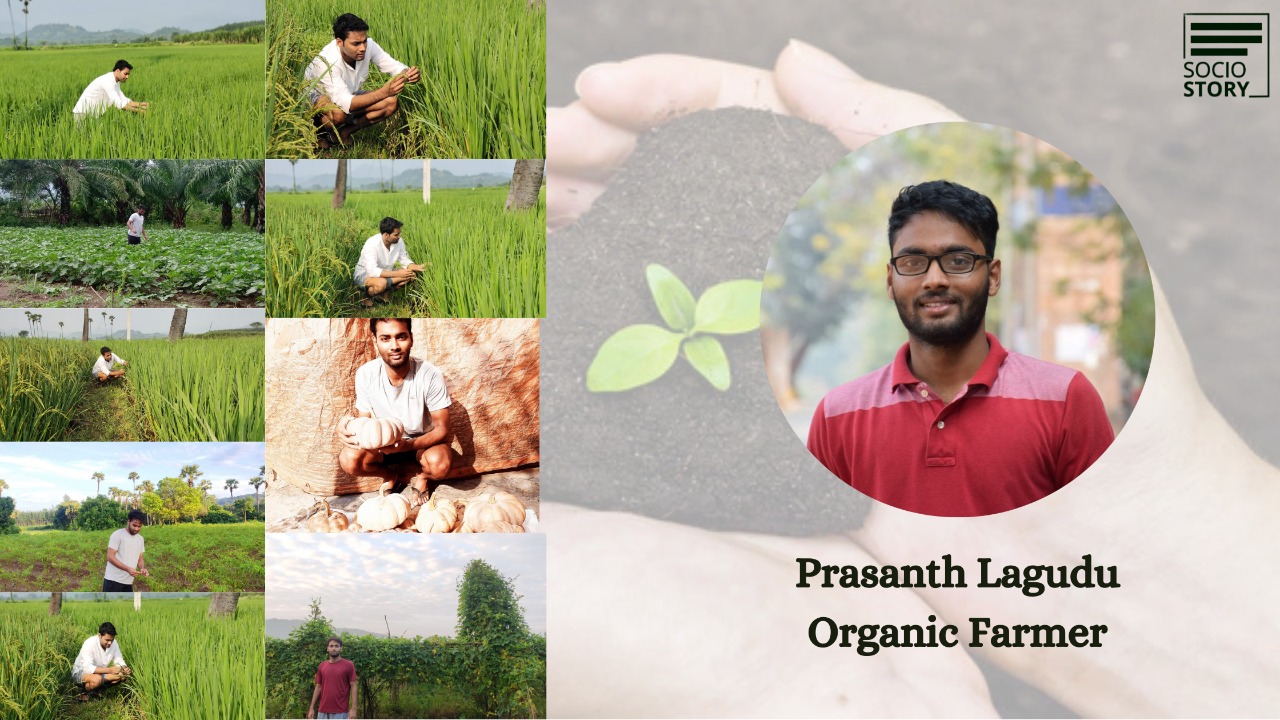 By:Reshma Jain
'Farming is a profession of Hope' and 23-year-old Prasanth Lagudu did not lose hope when he decided to channelise his potential towards organic farming. Prasanth was a brilliant student and pursued his M.Tech (Cyber security and Data analytics) from Andhra University College of Engineering, Visakhapatnam. But what was next? IT firm or Farm? Like anyone else, I thought it would be the former but Prasanth chose the latter. When he said that he tills and cultivates the land along with the other farmers, I was amazed.
On being asked what made him choose farming, Prasanth said, "I was always fascinated by farming since childhood. On my regular visit to the fields along with my parents, I realized the importance of agriculture and the need to educate farmers on farm technology. The topic 'Farmer suicides' in India disturbed me a lot and a thought to design a social enterprise model to enhance the revenue structure of farmers lingered in my mind. The idea was not only to make their living sustainable but also help farmers in overcoming the agrarian crisis. I started watching a lot of documentaries on organic farming and agriculture during my college days. A documentary named 'Nero's Guests' by P. Sainath (Ramon Magsaysay awardee) inspired me and here I am as a proud organic farmer."
Hailing from Krishnadevipeta village in Vishakapatnam, Prasanth was elected as a student coordinator and placement co-ordinator for three consecutive years in his college. During his tenure as a student coordinator, he organized nearly five blood donation camps and various social events in association with NCC and NSS with co-ordination of students from all the engineering colleges of Visakhapatnam.
Though he pursued engineering, his inclination was always towards working for a change, building networks, channelizing his potential to bring a difference. "We are all aware of the various problems in India and change is needed at every level. We neither have dearth of talent nor the youth population. The only gap is channelizing the talent in the right direction and preparing them to manifest their potential. Hence, I had started LEAP (Leadership, Empowerment and Policymaking) in Andhra University. The core idea of this organization was to bring the dynamic pool of youngsters under one roof, empowering and grooming them to become future nation-builders and leaders," shares Prasanth who was also very active in sports.
Children are sent to schools to prepare them to face the real world which is changing by leaps and bounds. They are also taught to face the challenges but Prasanth believes that experiences teach us better lessons. Unfortunately, our education system qualifies only 'men in suits' by preparing students for a rat race. Before getting trapped in the rat race, there was a kind of self-realisation when Prasanth was in his third year of engineering (2016). He thought that the corporate world will not help in finding real life solutions to the existing problems that the country is facing. He realised that agriculture was his calling and the thought of making farmers happy fuelled him to take it up.
And then started the journey of working on the fields. While experimenting in his father's farmland, Prasanth started working on organic mango plantations and other organic vegetables on a small scale. He developed more interest and started experimenting with new methods. Recently, he started paddy sowing in his field located in the village.
Speaking further, Prasanth said that he believes in value-based education. "Education must be a tool to solve grass-root problems and I believe agriculture is a value-based education to cater to the agrarian crisis. Farming is the way to understand the connection between food, farm and health. Farming is also something that teaches the best life lessons to progress ahead in anything one wishes to do," said Prasanth adding that farming is lucrative, provided it is channelized in the right direction.
"While I dug up the soil and felt the soil under my feet, I was elated as I felt close to my roots," said Prasanth who is doing his fellowship with Goonj on rural and urban engagement.
Just like co-operative farming in the earlier days where groups of farmers discussed among themselves over agricultural practices, there is a need to spread awareness on Farmer producing organizations (FPO). To tackle difficult situations, new ideas can be implemented for the benefit of the farmers. 'Kisan Cluster's can be formed to bring the group of farmers to do collective farming and indulge them in healthy discussions related to agriculture schemes etc. This would lead to financial enhancement and sustainable development of the farmer community. Through this cluster model farmers can also collectively give their representation to the government.
"Work with people, who believe they are on a mission to change. Always try to think out of box and let ideas excite you," concluded the young and happy organic farmer.
Important : If you are making an impact in the world, Please send us your story at : manoj@sociostory.in and we will try to cover you.