Indian Idol 12 finalist Shanmukha Priya conferred with 'Viswa Gaana Priya' title and makes an entry into the 'Wonder Book of Records'
Sept. 6, 2021, 7:17 p.m.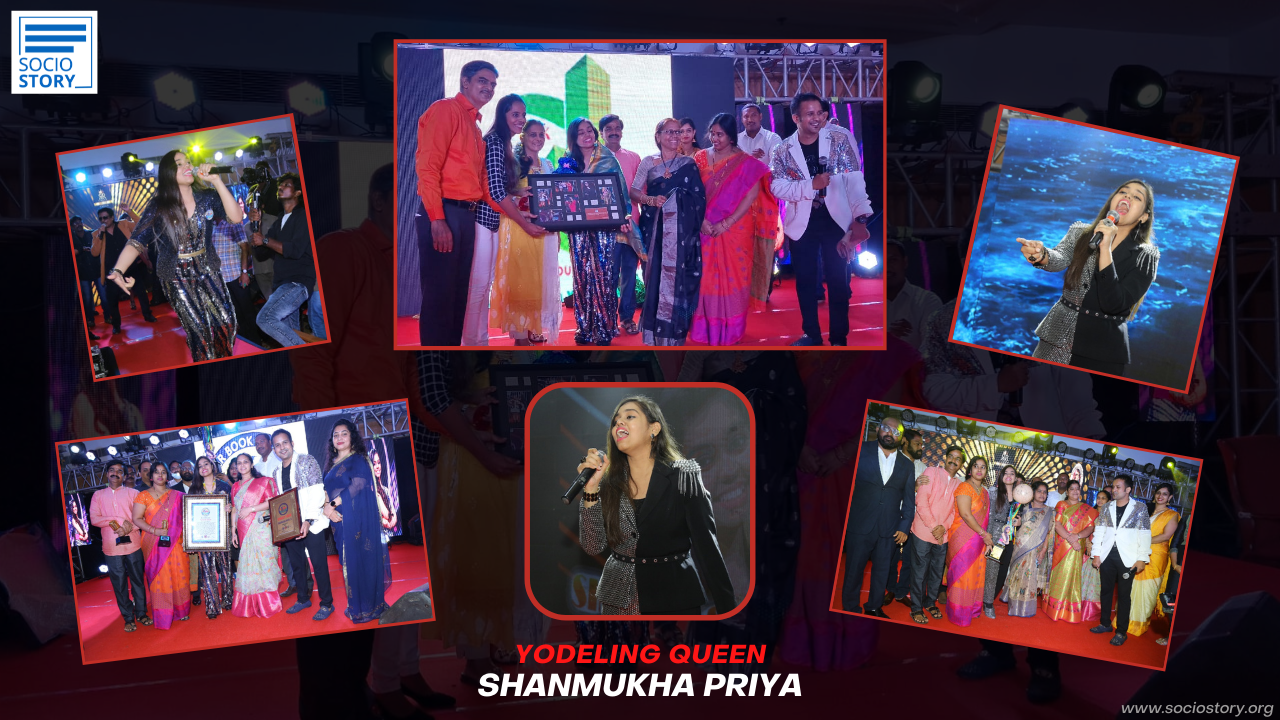 By:Reshma Jain
Dressed in a dazzling attire, donning a crown, holding the two golden mikes, waving to her fans with a bright smiling face, it was a moment of pride for the city of Destiny as the singing sensation Shanmukha Priya was grandly felicitated here in the city on Sunday night. Indian Idol 12 finalist Priya also made an entry into the 'Wonder book of records' as 'Young Rockstar of India' for her excellent work and achievements in the field of music.
While she was given a grand welcome in a horse chariot amidst her fans, she enthralled the audience with her breath-taking performances. A few numbers by Priya included hit songs like 'Humma Humma', 'Titanic title song', 'Kaala Chashma', 'Inkem inkem inkem kaavale', 'Jugal bandi', etc. After being felicitated by VBHAS Movies & RR group, she was honoured by various dignitaries present at the event.
GVMC Mayor Hari Venkata Kumari, GCC Chairperson Swathi, politician and film producer Malla Vijaya Prasad, CEO of RR Group Ratna Raj, V Vijay had conferred the young singer with the title 'Viswa Gaana Priya'. CMD of Vision VVK Housing V Vijaya Kumar also presented Rs 10 lakhs worth of plot to Priya and her family. On this occasion, the super talented girl was also felicitated by team Socio Story.
Adding a zing to the event, America's got talent artist Kranthi also known as the 'Drillman of Hyderabad' showcased his shocking talent to the audience with his acts. A special LED act by Vijay and beatboxing by DTS Anand kept the audience entertained. Singers Ravindra, Sekhar, Madhu and Sathya also gave soothing performances.
Born into a Telugu-speaking family where her father Srinivas Kumar is an instrumentalist of Veena and mother Ratnamala, a music teacher, Priya derives inspiration from her parents. When Priya was as little as a 3-year-old, her parents recognised her talent in singing. There has been no looking back since then as Priya has appeared in 12 reality shows till date.
Addressing the audience, 18-year-old Shanmukha Priya, said, "The support, blessings and encouragement from every single person has made me what I am today. It is indeed my pleasure to be back in my hometown and the love that I have been showered with is immense. I hope my well-wishers continue to support me in the same way while I will work hard to make my parents and country proud."
A.P Chief of Wonder book of records Veerumama, said, "We are going to organise these kinds of events in the future to encourage new talent and to promote culture."
Important : If you are making an impact in the world, Please send us your story at : manoj@sociostory.in and we will try to cover you.