Indian Tennis Player Sowjanya Bavisetti aspires to make her country proud
Sept. 2, 2021, 6:46 p.m.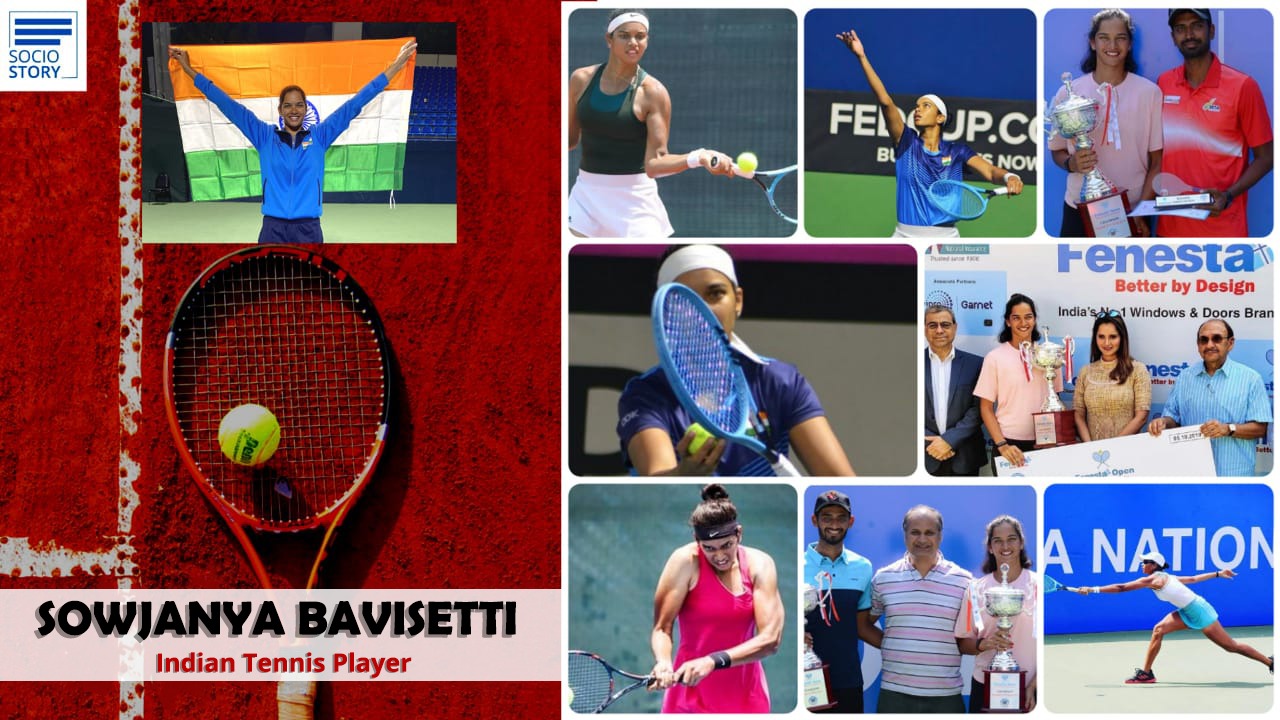 By:Reshma Jain
A National champion, an international women's tennis player from India having 3 International singles titles and 8 doubles titles to her name with current singles world ranking 620 and national ranking 4, this young tennis player from Telangana has bagged 2 Gold and 1 Silver for India at South Asian Games 2019.
Ranked number 1 in Telangana, Indian Tennis player Sowjanya Bavisetti shares her journey with Socio Story. While reminiscing about her childhood days, Sowjanya shared that her father is a huge fan of Steffi Graf, a German former professional tennis player. When Sowjanya's younger sister joined Tennis, she had gone to watch her play one day. "That was the day when I fell in love with the sport and there has been no looking back since then," said 27-year-old Sowjanya.
Having started her career at the age of 11, Sowjanya won many junior National tournaments across India. This young champ won her first Junior ITF International Title in both Singles and Doubles in 2010 and progressed towards Women's International Tennis and has been representing India across the world in many International Tournaments. She bagged a silver medal at the 34th National games held in Ranchi-2011 and silver medal in both individual and team events in the 35th National Games held in Kerala- 2015.
Bagging titles and medals was not a cakewalk. Sowjanya overcame a lot of challenges to carve a niche for herself in this competitive sport. "As I was transitioning from juniors to professional Tennis, I had to fight a lot of injuries. Not getting to play enough tournaments was quite challenging," she shared.
Sowjanya was crowned Fenesta Nationals Women's Champion in October 2019, in both Singles and Doubles events. A native of Visakhapatnam, this left-hander represented India at the 13th South Asian Games, held in Nepal. She has won 2 Gold and 1 silver medal in team and individual events. Presently based at Hyderabad, Sowjanya had made her debut in the prestigious FED CUP 2020 led by Sania Mirza, and claimed her 1st win as the team made history by getting qualified for the world FED CUP playoffs.
Stating that 'Life is sport for athletes', Sowjanya said, "Winning the Women's Nationals has been one of my fondest memories. My family flew in to support me on the final day. It was all so emotional, pure joy."
Sharing her views on the budding sports players in India, she said that there is a lot of raw talent which doesn't get enough attention. Since Indians are capable enough, the country would definitely win more medals, provided we get the right kind of support from our government. Sowjanya feels that National Associations can collaborate with the State associations to conduct talent hunt camps in the rural areas to nurture their talent and provide them with a platform.
"Everything I do in a day revolves around Tennis", added the young talented player who travels with her husband and coach Suresh Krishna.
"We cannot compare national competition with world competition. Every day, every match is different. I always focus on giving 100%. The goal is to improve my WTA rank, and reach as high as possible. Winning the national championships gives me the confidence'', said Sowjanya.
"My main goal is to play Grand slams and one day win a medal at the Olympics. And I aspire to inspire people. I want more girls to break the stereotypes and succeed. I want to be an example," concluded the young champ.