India's first mental health helpline (24*7) 'Kiran' launched following Raashi Thakran's massive campaign after brother's suicide.
Sept. 10, 2020, 3:48 p.m.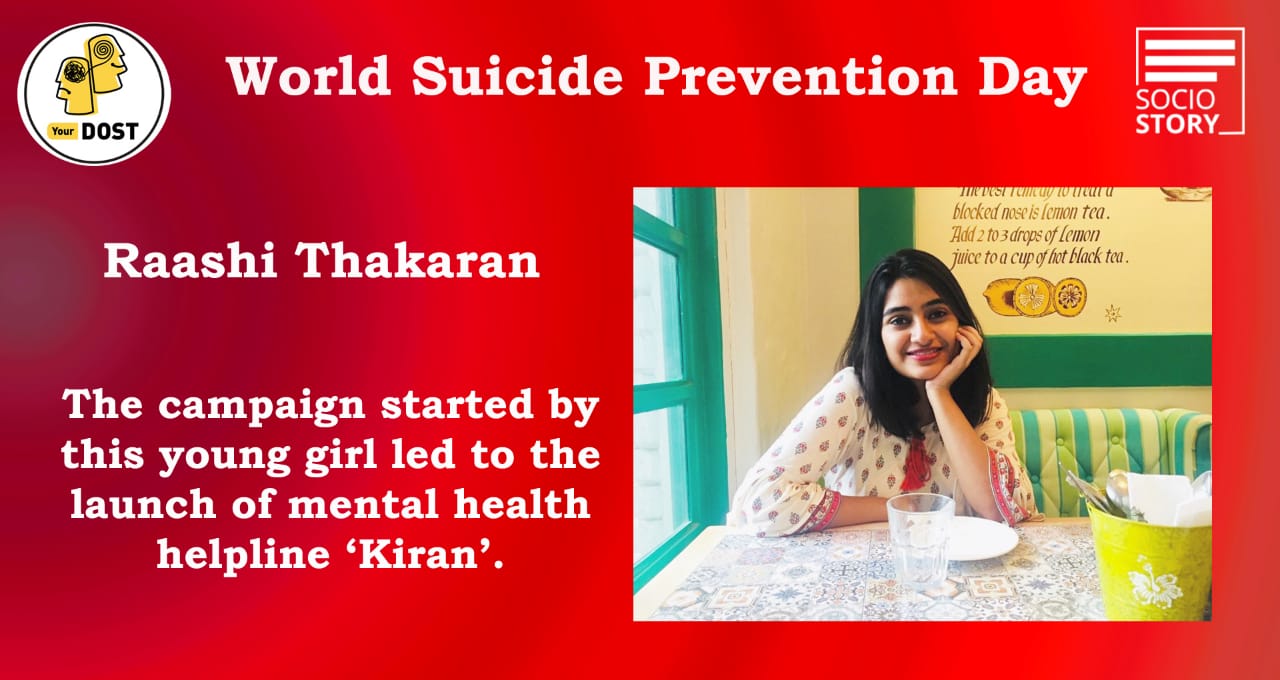 By:Reshma Jain
As the Ministry of Social Justice and Empowerment launched India's first round the clock mental health helpline, 21-year-old Raashi Thakran felt a sense of closure.
In January last year, Raashi lost her brother to suicide, leading her to launch a campaign on Change.org on July 9, 2019, asking the government of India to put in place a mental health helpline. Her petition was signed by 3,97,078 citizens, who backed her cause.
Last week on Thursday, the government of India launched "Kiran", India's first 24/7 mental health rehabilitation helpline number (1800-599-0019) that intends to provide early screening, first-aid, psychological support, distress management, mental well-being and psychological crisis management to citizens.
For Raashi, who had made it her life's mission to "create a safe space for anyone struggling with suicidal thoughts", it was a momentous occasion. The helpline will be managed by the Department of Empowerment of Persons with Disabilities (DEPwD).
Her petition on change.org, addressed to Dr Harsh Vardhan, Minister of Health and Family Welfare, is driven by her experiences of mental health accidents, her understanding of how widespread such issues are, and research into the lack of a national support system.
After she lost her brother, Raashi wanted to find out if people suffering from mental health problems like depression had access to credible, professional help. She was disappointed to discover that there was no national helpline number to address this issue. Previously existing helplines in the country were either defunct or rarely answered. "I dialled around 15 numbers but most of the calls went unanswered, some numbers were switched off. Only three responded," says Raashi.
"This is a huge step by the government in the right direction. I spoke to a psychologist working at "Kiran" and he said this will provide professional help to a lot of people in distress, who don't have anybody to speak to, or confide in. The fact is that this helpline number will operate through 25 institutions, and will be available in 13 different languages, to ensure it will make it more accessible," she adds.
As per the World Health Organization (WHO), mental illness accounts for 15% of the total disease conditions around the world. WHO has also labelled India as the world's 'most depressed country' as one in seven Indians suffer from poor mental health.
Although Raashi sees this as a win for people in need for mental health assistance, and also the nearly four lakh citizens who backed her, she believes the government will have to ensure that the helpline continues to work effectively, is accessible to all, and is able to provide quality intervention at the right time.
She hopes that the Ministry will do regular audits to ensure that the objectives are met, and if necessary, take corrective measures.
This story is brought to you in collaboration with YourDOST as part of the World Suicide Prevention Day campaign. YourDOST is an online counselling and emotional wellness platform which provides 24X7 emotional support to people all over the country. For more details do reach out to them at www.yourdost.com