Initiating Crusade against child servitude, Nobel Peace Laureate Kailash Satyarthi shares his journey
Aug. 14, 2022, 5:01 p.m.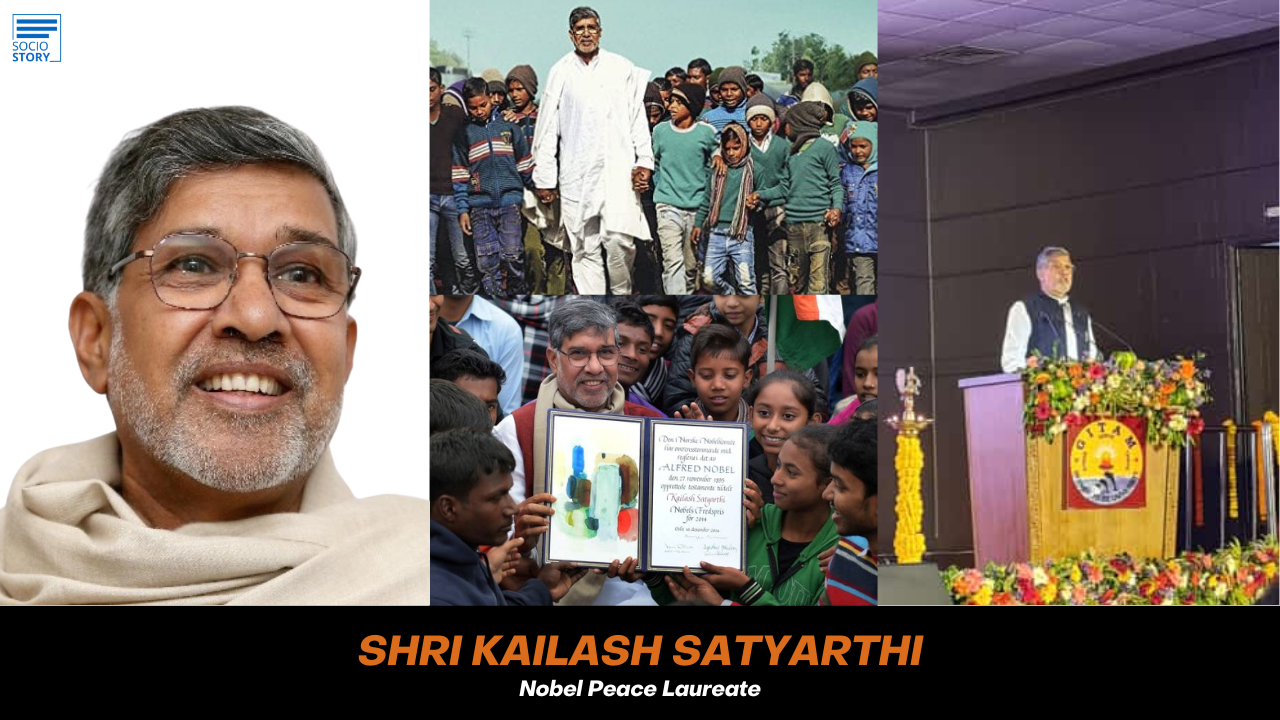 By: Reshma Jain
Independence Day is around the corner and while the entire country unites to commemorate 75 years of Independence- 'Azaadi Ka Amrit Mahotsav', Socio Story brings to you an interesting story of the man who advocated for the freedom of children from shackles of slavery. A Nobel Peace Laureate and an internationally acclaimed child rights activist from India, Kailash Satyarthi is one of the tallest leaders in the global fight against exploitation of children. During his visit to the city of Destiny to receive Gitam's Foundation award, he shared his journey and experiences as a part of Gitam Foundation Day celebrations.
"Freedom is non-negotiable," believes Satyarthi, a social reformer who has personally rescued thousands of children from the scourge of slavery. Satyarthi has survived life threatening attacks but it has not deterred his determination and dream to see the end of slavery in his lifetime. Satyarthi received the Nobel peace prize for his struggle against the suppression of children and young people and for the right of all children to education.
While addressing the gathering, Satyarthi reminisced the day he got the news of his achievement. "I did not get the exact message at that moment. A journalist had called me that day and out of excitement, he said, 'Kailashji, Nobel prize!' and did not complete the sentence. I thought someone would have got a nobel prize and the journalist was asking for my comment. I left the phone on my table as I did not want to be shown that I had no idea who won the nobel prize today before giving my reaction. I started searching on the internet- 'Nobel Peace prize 2014' and nothing appeared as it was a matter of a few minutes. Just then when I was working in my office, my colleagues and others from the office rushed to my room, some cried out of joy, hugged me, lifted me and then congratulated me. I then realised, Oh! It happened to me?"
Stating that it was a dream to receive an honour like the Nobel Peace prize, Satyarthi recalled his days when he was 12-13 years old. He said he read something about the nobel prize and people like Martin Luther King, his holiness Dalai Lama and he did dream that one day, he will sit with a nobel laureate and get a good photo. And then he would take this photo to all his rooms in his life when he has a better home. But that day never came for 50 long years.
"When I got the news and realised that I won the Nobel peace prize, I did not want to miss the chance to take a photograph with a Nobel laureate. So, I rushed to the washroom, stood opposite to the mirror and I clicked 10-15 selfies with myself," he said while the audience applauded.
Speaking about human values like sympathy, empathy and compassion, Satyarthi who is now 68-years-old said, "Compassion is feeling for the suffering of others as your own suffering with a drive/quest/urgency to end the suffering of others. So, you need to take initiative, risk, and leadership when you deal with compassion to alleviate the suffering of others."
Satyarthi is the founder of multiple social activist organizations, including Bachpan Bachao Andolan, Global March Against Child Labour, Global Campaign for Education, Kailash Satyarthi Children's Foundation, and Bal Ashram Trust. Kailash Satyarthi and his team at 'Bachpan Bachao Andolan' have liberated more than 86,000 children in India from child labour, slavery and trafficking. He also mentioned on how Covid has pushed a greater number of children into slavery.
Concluding his speech, Satyarthi shared 3D's which have shaped his life. 1. Dream - If you are allowed to dream, dream big, dream for yourself and for others. You should be driven by compassion and the urge for the betterment of others. 2. Discover- Your inner power, potential and possibilities. You have enormous power and discover opportunities to learn and move forward. 3. Do- Act. There is no substitute for action. Nothing can take away your character, skill and knowledge from yourself. So, reflect them in your actions. You are your own role model and the hero is inside you.