Instilling purpose of life and joy, Dhanya has shattered the stigma around people on wheelchairs
March 2, 2022, 2:57 p.m.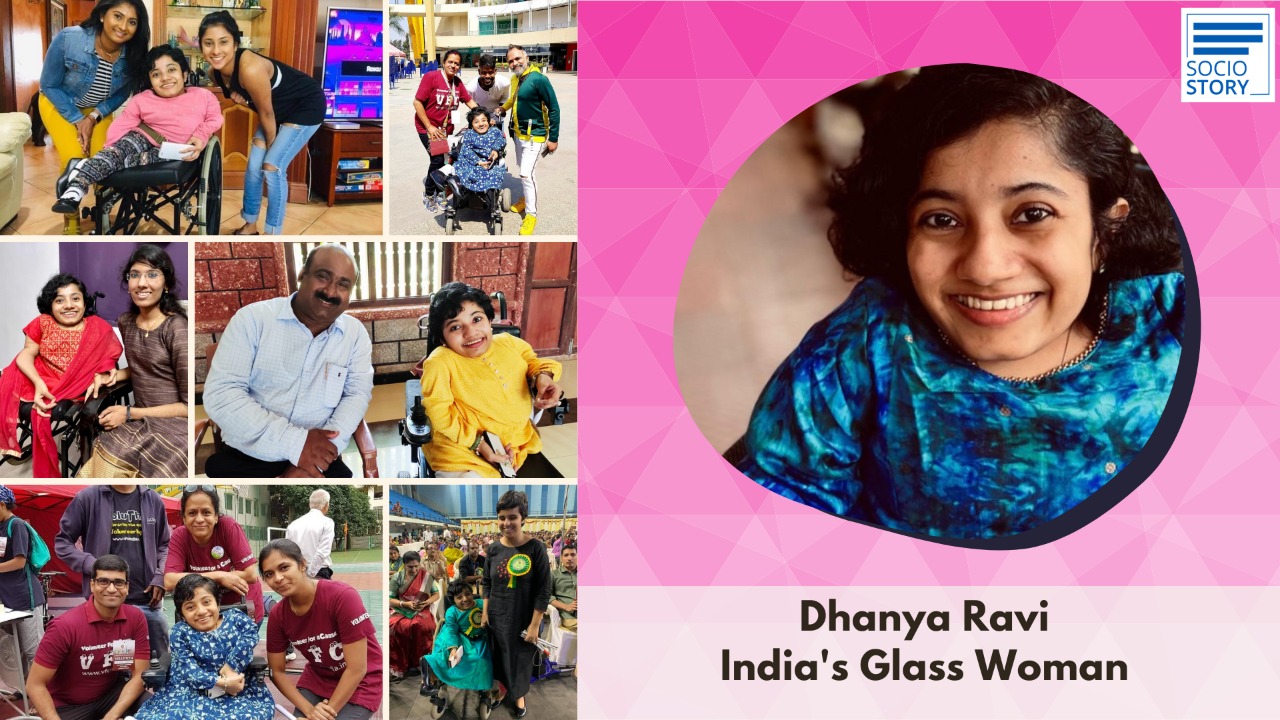 By: Reshma Jain
Popularly known as India's glass woman, Dhanya Ravi was born with a rare genetic disease called Osteogenesis Imperfecta (OI). The term "Osteogenesis Imperfecta" means imperfect bone formation. People with this condition have bones that break (fracture) easily, often from mild trauma or with no apparent cause. Multiple fractures are common, and in severe cases, can occur even before birth.
It was her early life difficulties of having more than 200 fractures in her body and lack of awareness regarding rare diseases that compelled Dhanya to be the voice for the disabled community. Dhanya was tutored at home until 10th grade. She then pursued a Bachelor of Preparative program from India Gandhi Open University and did an online novel writing certificate course.
Dhanya is now a freelance content writer, digital marketer and a disability evangelist. Dhanya advocates the need for a more inclusive society and strives to raise awareness about rare genetic conditions. Since there is no permanent cure for OI, she wishes to bring in a policy wherein it is mandatory to screen for genetic diseases at the early stages of pregnancy. Currently, she is active in mobilization and sensitization for OI, rare diseases and disabled community, both individually and in collaboration with different non-profit organizations (NGOs) in India and USA.
During the lockdown, she has been part of many webinars for college students and corporates, and has spoken on topics like inclusivity, mental health, social responsibility etc. Dhanya has addressed more than 5,000 people globally. She has personally inspired many differently-abled people to improve their lives and careers.
"The character of OI is that until teenagers we go through a lot of bone fractures. During my early childhood, there was not much awareness of this condition. Hence, it led to a lot of deformities in my physical structure. This gradually led to respiratory, dental and otolaryngology issues," reminisced Dhanya.
In her early 20s, a newspaper report compelled her into something which she identifies as her purpose in life. Her life stories and her experience of meeting different people around the globe through the Disability Awareness and Advocacy Program have brought her many testimonials. The women community has found a source of power to live a life of independency by her life message and mentorship.
"My journey in the social sector expanding upto 12 years, has been more of learning from other's experiences (in the community space) and helping each other within our limits. Life itself is a precious gift and no matter what life throws at us, we can still create meaning in our lives and build our identity," states the glass woman who believed in embracing every moment with gratitude each time she recovered from bone fractures.
She was instrumental in the formation of Amrithavarshini wherein she began creating awareness about OI through public speaking, news shows and TV interviews. Apart from numerous appearances on television programs including Idea Star Singer – 6 (reality show), Ningalkkum Akam Kodeeswaran (Who Wants to Be a Millionaire) and Ashwamedham (quiz show), she has been a part of the Happiness Project and TEDx shows. She has been part of many rare diseases programs by organising campaigns through talks, social media, short film, theatre drama and participation in walkathons and marathons. Dhanya is one of the founder trustees of Aasmaan Foundation Trust (2020 - Present) and also volunteers audio reading for persons with visual impairments.
Stating that using assistive aids is a huge barrier for a disabled person because they are made to feel inferior, Recipient of several awards, Dhanya shares that a wheelchair helps people like her to be more independent and to feel respected. Adding that she knows the struggle of a PWD and their parents, she added, "One of my greatest visions is to see a rare disease-free India, I hope the hospitals in our country bring up policies for mandatory genetic testing (for people who plan for a family). It is also important to have fetal medicine specialists, mandatory new-born screening and genetic counselling cells.
Dhanya said that she along with her friends were able to organise India's largest fashion show by differently-abled individuals. They were also instrumental in creating 'Olangal' - inclusive cover album which was released on maestro Ilaiyaraja's YouTube channel. Termed as 'Zelda', this is an initiative by Aasmaan Foundation Trust organised to celebrate womanhood in their community. Dhanya, apart from the other projects, is also working on a project to distribute powered wheelchairs.