"Its time to speak Out Mard- Against Domestic Violence on Men"
June 24, 2020, 9:18 a.m.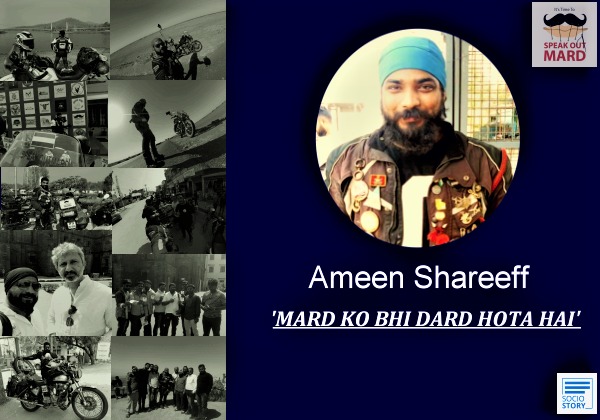 By:Reshma Jain
It was the picture of his three-year-old daughter buying chocolates at a store that flashed through his mind when he was on the verge of attempting suicide. He thought he will live for her and at the same time fight for equality and justice. Hence, the agony grew, tearing him apart.
He finally made his mind and geared up to vroom on his bike pan-India a few years ago. But, why? Well, to prove that 'Mard ko bhi Dard hota hai' (Men also feel the pain). 33-year-old Ameen Shareeff from the City of Destiny (Visakhapatnam) had embarked on an all-India solo mission on his electra royal enfield by covering all the States, Union Territories, neighbouring countries and covering more than 35,000 kms by sporting a placard written 'It's time to speak out mard'.
On the occasion of world Motorcycle Day (June 21), Ameen shares his bitter experiences on what made him campaign over an issue which is often kept aside? Ameen has been a victim of domestic violence- yes, he is a man but he could not bear the pain. He slowly ended up into depression and had attempted suicide.
'Boys don't cry', 'Be a Man', 'Men are strong' are the adages often heard. Be it friends or siblings, they used to mock at him if he told them that he was being tortured by his wife. Hence, he had no social system to support him and he decided to fight alone as ending life was not a solution. Lack of emotional and legal support made his condition worse.
The young biker known as 'Shareeff Hindustani', in a conversation with Socio Story, shares his experiences. He started a campaign titled "It's Time to Speak Out Mard - Against Domestic Violence on Men" for the men like him who have been a victim of 'Domestic Violence' in terms of physical, verbal, financial, mental abuse and unable to share their grief with friends, family, and colleagues due to the fear of being a laughter icon- thanks to the social stigma attached to it, where men are considered to be a masculine attribute and they don't feel pain and always hold the upper hand in the family or society as a whole.
Ameen questions, "In the "one-sided approach to this issue" when there is so much progress happening in the field of gender equality (which I truly appreciate and support) in all forms and fronts, why the government or the lawmakers are not taking cognizant of the fact that "Domestic violence on MEN is also possible" ? Why are all the agencies shying away in accepting this? When we approach any facet of society, like family, police, court of law, the natural tendency is to treat the case with a biased approach framing MEN as a default predator."
"This thinking has to be changed, hence I am trying to solve this issue by advocating and projecting the atrocities done to MEN by their respective wives. When there is gender equality, why can't we have a law which can take cases on 'Domestic violence against MEN'? I will not rest until the system accepts this global issue," stated the biker.
Concerned over the increasing rate of suicides being attempted and committed by men, Ameen feels that the laws are gender-biased and says, "Laws relating to domestic violence should be victim-based and not gender- based. Men who are victims of domestic violence need not feel ashamed. It's high time they should speak out, open up and share it with people whom they feel comfortable so that they are not mentally shattered. According to National crime records bureau, every 8.5 minutes a man commits suicide. I will now spread the message on gender equality," added Ameen who resigned from his job to create awareness among men.
On being asked on how does he inspire people, Ameen said that he is trying to give hope to people like him, where they can fight for their own rights. Ameen, in three points, speaks about the impact he created on society.
Self-realization: It took a while to gather the courage to set out for this campaign and communicate openly to the world that he was the victim of Domestic Violence. Now, he is an inspiration to the male victims of domestic violence.
Awareness: He combined his passion which was riding and his cause to spread awareness and amplified his message to reach out to the people who were in need of counselling and motivation.
Motivating/ Helping: He dedicates his time and resources in connecting the dots based on the need of the person. He helps other victims to get over depression and tries to motivate them at an individual level.
It is time to realize that "MARD KO BHI DARD HOTA HAI", signs off Shareeff Hindustani.
Important : If you are making an impact in the world, Please send us your story at : manoj@sociostory.in and we will try to cover you.