Journey of Maj Gen G D Bakshi in the Indian Armed Forces
Aug. 15, 2020, 4:43 p.m.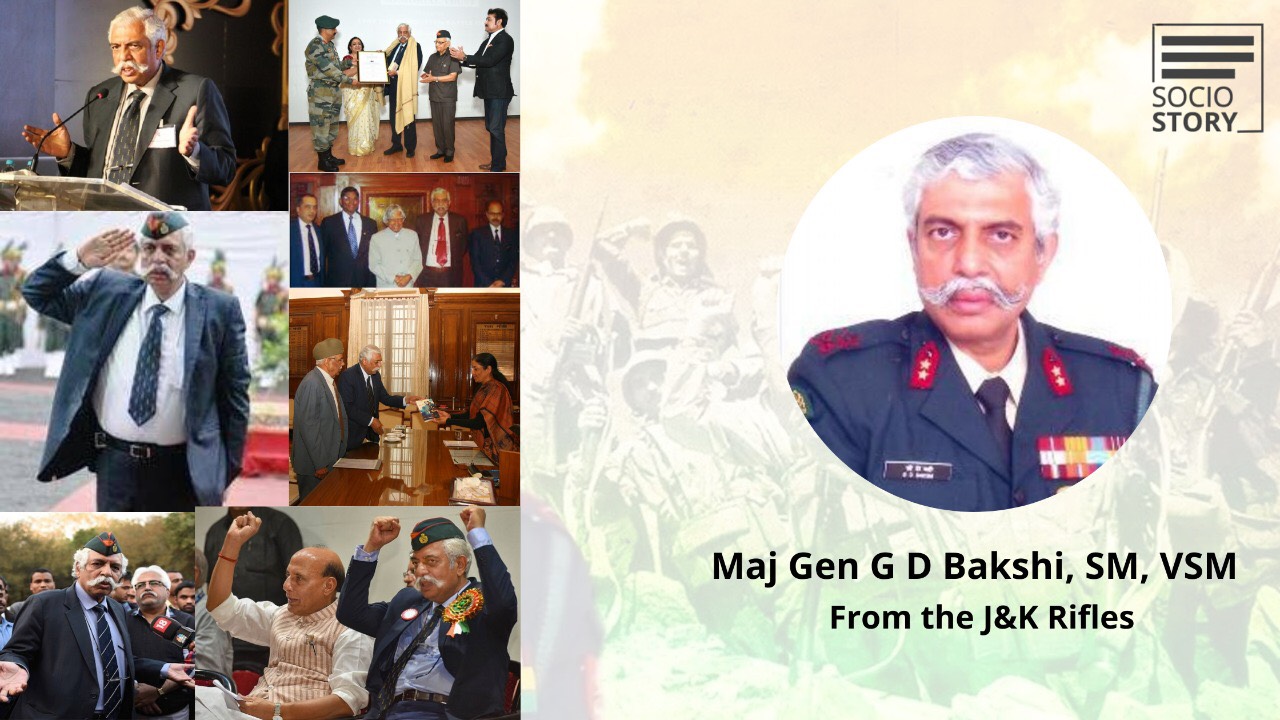 By:Reshma Jain
Independence Day is around the corner and Socio Story brings to you the story of Major General Dr Gagan Deep Bakshi, SM, VSM, a retired Indian army officer. But before getting into the story, we would like to tell you what made G D Bakshi get into the Indian Army. G D Bakshi had lost his brother Captain Srishthi Raman Bakshi, in a mine explosion during the India-Pakistan War of 1965. Captain S R Bakshi, the first martyr of the India-Pakistan war was only 23 years old at that time and his entire body was shattered to pieces in that mine blast. "When we wanted to perform the cremation, people collected whatever was left and burnt his body. Later, they gave us the urn with ashes, saying 'here, this is your brother'. I was furious. That was when I decided that I would join the armed forces and take revenge for my brother," stated G D Bakshi adding that the road in Jabalpur (where the ancestral house is located) is named after his brother.
G D Bakshi joined the National Defence Academy in June 1967 (a year and a half after his elder brother was martyred). Although he was selected as an Airforce Cadet, Bakshi switched to the Army to serve in the same unit, where his father and brother had served the Indian Army. After Bakshi graduated from the Indian Military Academy on 14 November 1971, he was called into action at the outbreak of hostilities in the Indo-Pakistani War of 1971. As a Lt Colonel, he volunteered to be posted at Kaksar in Kargil in 1987, five kilometres from the Line of Control, where a massive intrusion had taken place.
G D Bakshi, who is now 70-years-old is a combat veteran of many skirmishes on the LC and counter-terrorist operations in J&K and Punjab. He commanded his battalion in active operations in Kargil and was awarded the Vishisht Seva Medal. He volunteered to be posted to Jammu & Kashmir's toughest counter-terrorism sector, Kishtwar, where he served in the Rashtriya Rifles for 27 months, during which period several top terrorist commanders were eliminated.
He commanded a brigade in Counter-Terrorist operations in the very rugged mountains of Kishtwar and was awarded the Sena Medal for his distinguished services. He subsequently commanded the reputed Romeo Force during intensive Counter-Terrorist operations in the Rajouri-Punch Districts of J&K in the wake of Operation Sarp Vinash and succeeded in pacifying the area. In these repeated combat tenures – he became something of a turn- around specialist- turning defeat into victory.
G D Bakshi has served two tenures at the highly prestigious Directorate General of Military Operations (during Op Pawan and Op Vijay) and was the first BGS (IW) at HQ Northern Command where he dealt with Information Warfare and Psychological Operations.
He is a prolific writer on matters of military and non-military subjects and has published 35 books and over 200 papers in many prestigious research journals. He taught at the Indian Military Academy Dehradun and the Prestigious Defence Services Staff College at Wellington for three years each. He taught at the National Defence College at New Delhi for two years and retired from this prestigious assignment in June 08. He holds a Master's degree in Defence Science and an M Phil in Strategic Studies from the University of Madras. He later completed his Ph.D. from the same University on "Limited Wars in South Asia". Post retirement, he was a Senior Fellow at the Centre for Strategic Studies and Simulations at the USI and later served as Deputy Director Research at the Vivekananda International Foundation. He is currently the Editor of Indian Military Review. He is also the Senior Security Advisor (Consultant) to Reliance Industries Limited.
His books include, "Afghanistan-the First Fault line War," "War in the 21st Century", "The Indian Art of War", "The Paradox of Pakistan", "The Rise of Indian Military Power: Evolution of an Indian Strategic Culture" and "Limited Wars in South Asia." He has also written many books on Indian Philosophy both in Hindi and English. He appears regularly on all major TV News channels on the subjects of terrorism and national security.
He delivers lectures frequently at the Army War College, the College of Defence Management, the College of Materials Management, The National Defence Academy and the National Police Academy and also the IAS Academy Mussoorie. He has been featured in innumerable documentaries, talk shows on televisions on issues of National Security. He is an acknowledged thought leader in this domain.
Five decades, an illustrious career in the army, a PhD in military history, Bakshi has seen more war, insurgency and terrorism than even an average Army man. He was at the China front during 1971, in Punjab at the height of militancy in 1985, Kaksar in Kargil in 1987, Kishtwar, J&K, in 2000. His war-time experience is not restricted to the battlefield. He was a member of the Military Operations Directorate which is a planning body directly under the supervision of the Chief and Vice Chief of Army Staff. In the Ministry of Defence, Bakshi had helped plan the Indian Peace Keeping Force operations in Sri Lanka before he was sent to Siachen when tensions in the Kashmir Valley heated up.
Important : If you are making an impact in the world, Please send us your story at : manoj@sociostory.in and we will try to cover you.