"Life is closer to the spirit of Sport", says Mithali Raj- First Indian woman cricketer to score 10,000 international runs, second in world
March 13, 2021, 3:06 p.m.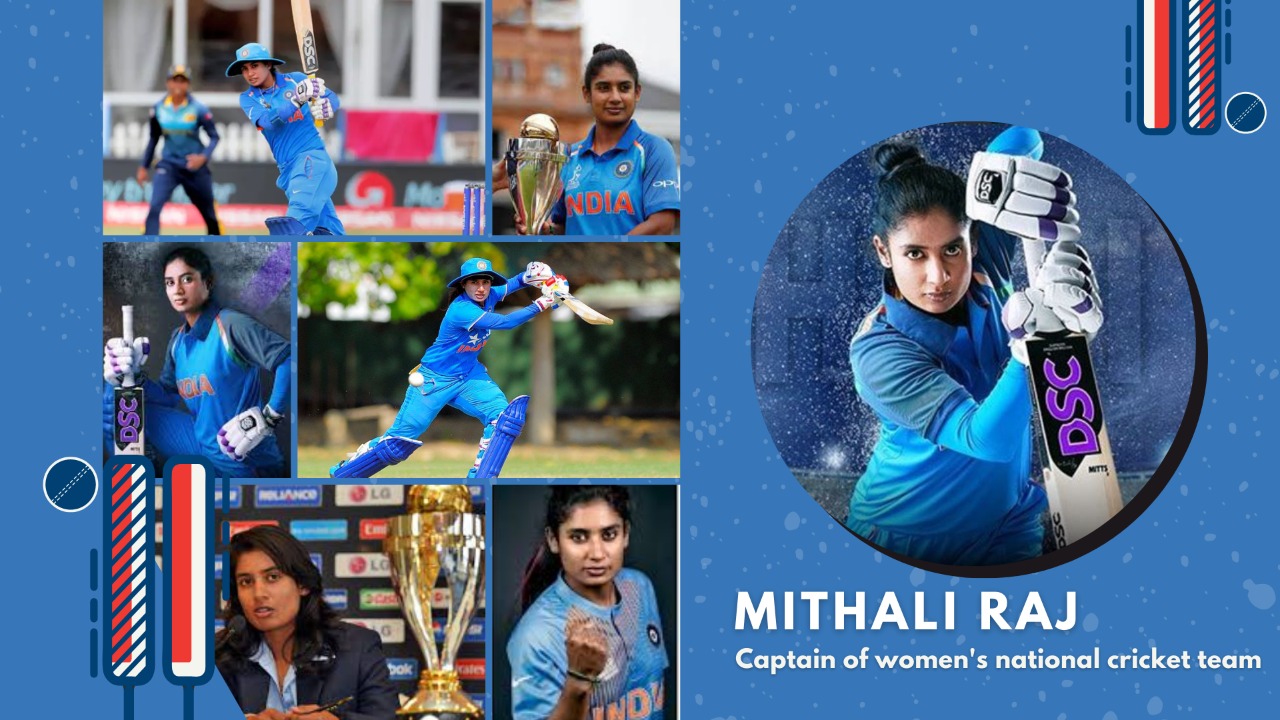 By:Reshma Jain
Adding another feather to her illustrious career, legendary Indian woman cricketer Mithali Raj became the first Indian woman cricketer and second internationally (after England's Charlotte Edwards) to complete 10,000 runs in women's international cricket. Raj made history by achieving this incredible feat, on March 12, 2021 during the third ODI against South Africa in Lucknow.
Having reached the milestone in her 212th ODI match, wishes poured in from the cricket fraternity. In June 1999, Raj made her international debut in an ODI in Lucknow against England and has so far played 10 Tests, 212 ODIs and 89 T20Is. The 38-year-old right-handed batter now has 663 Test runs at an average of 51.00, 6974 ODI runs at 50.53 and 2364 T20I runs at 37.52 to her name.
Socio Story brings to its readers an amazing read on the Champion cricketer Mithali Dorai Raj whose name is synonymous with the sport in the country. Born in Jodhpur to a Tamil family, Raj grew up in Hyderabad learning the basics alongside her brother Mithun Raj, having made the tough choice of giving up on her passion for dance. Raj was a passionate Bharatanatyam dancer and she learnt dance for eight long years. However, destiny had different plans for her and cricket happened by chance. And today, Raj has set records and has made her country proud, Bravo!
Raj started to play the game at a tender age of 10 and at the age of 16, she was picked for the Indian team. She made her One Day International debut in 1999 against Ireland and scored unbeaten 114 runs. She made her Test debut in the 2001–2002 season against South Africa at Lucknow. In August 2002, at the age of 19, in her third Test, she broke Karen Rolton's record of world's highest individual Test score of 209, scoring a new high of 214 against England in the second and final Test.
This Indian skipper is the highest run-scorer in women's international cricket and the only female cricketer to surpass the 6,000-run mark in women's ODI matches. She is the first player to score seven consecutives 50s in ODIs. She also holds the record for most half-centuries in Women ODIs.
During an 'Impact Conversation' with Socio Story a few days back, Raj who is an Arjuna awardee (2003) and Padma Shri awardee (2015), said, "Sports has evolved through the years. It had to go through it's own journey and I believe every sport goes through phases and challenges, especially when it comes to women sports in our country. When I started playing cricket way back in the 90's, I was not even aware if women's cricket existed in our country. Cricket then was only oriented towards 'Men's cricket'."
"When I was young, my role models were male athletes like Kapil Dev or Sachin Tendulkar. But now, things have changed and a small girl aspiring to make a career in sports would definitely look up to woman athletes as role models. This is a transformation," added Raj.
Speaking on the importance of sports which should be a necessity, Raj said, "Children, irrespective of gender should have access to playgrounds. Unfortunately, over the years schools are only building blocks and there are no playgrounds for them to go out and play. Life is lived outside the classrooms and to face the world, one needs to learn from the ground. Sports gives opportunities for a child to grow, adapt and to learn to be flexible. Apart from physical fitness, sports teach a lot of life lessons like accepting failures and enjoying success."
"These days children are not able to accept competition and face failures. They get into depression and it is alarming to see the statistics. Sports teaches you to face challenges and inculcates the habit of fighting spirit and giving your best," shared Raj, a woman with the longest career in the history of the game, having crossed the two-decade milestone in October 2019.
Speaking about her foundation which Raj started an year back, she said, "There are a lot of young girls, especially in women's cricket who come from the interiors of the country. If we can organise camps and set smaller academies in the district, it can help more girls to get access to facilities to take up sports as a lucrative career."
"Since my dad had struggled financially to fund me to get the best equipment, I decided to learn from my experiences. My father taught me that when I am in a capable position, I should be able to help the other players who are needy. I used to sympathise when I saw young boys and girls playing with worn out equipment, torn clothes and shoes. That is when I used to share with my parents and they suggested that I start something which can benefit the needy at large," said Raj who is the youngest female cricketer to score 100 on debut.
I am grateful to the people who pitched in and supported me while I played higher levels. So, I wanted to give back to players who are passionate about sports, fund them or give access to facilities so that they can keep their passion burning," added Raj by concluding that when you have passion, you always find ways.
Did you know?
Raj is the youngest female cricketer to score 100 on debut
Holds record of 214 by any Indian in a test innings, second in the world
Highest run scorer and first bats-woman to reach 6,800 run mark in one day internationals
Represented India in 5 one day international world cups and captained in 3 one day international world cups
First woman cricketer to have played more than 200 matches in one day internationals
India played 272 one day internationals in their history, Raj featured in 209 of them with 76.83% of the total matches
ops the list for most 50s in women's one day international
World record for 7 consecutive 50's
First male/female cricketer to score 2000 runs in T20 for
Captained India in 132 one day international's matches and 32 T20Is
Captained India twice to runners up in World Cup 2005 & 2017 and the only captain in male/female to do so
Tops the list of most matches captained for country in history of women's cricket and most runs as captain in one day internationals (117 innings 4402 runs)
Highest average of 107.15 in successful run chases for India
Youngest player to play 100 one day internationals when she was 25 years
Represented India in 6 T20 world cups and have captained in 3 editions 2012, 2014 and 2016
Longest International careers (Indian Cricketers) – second only to Sachin Tendulkar, 22 years and still playing
She was part of the first world XI team and also chosen to lead world XI team.
Important : If you are making an impact in the world, Please send us your story at : manoj@sociostory.in and we will try to cover you.